November 14, 2012
by: Tammy Gibson Willet
Living Independently
UCP of Greater Cleveland is dedicated to the belief that adults with developmental disabilities should be able to live a full life in the least restrictive living environment of their choice. Through our Independent Living Program (ILP), UCP of Greater Cleveland provides support to individuals so that they are able to live in the community, either on their own, with family or with roommates. The agency provides personal care, homemaking services, community outings and other supports based on the individual's level of need.  That may mean stopping by a few times a week to check on the individual, assisting them with bill paying and housework or it could mean 24-hour care.
Independent Living helps individuals in the program or those entering the program locate accessible housing in neighborhoods with proximity to banks, grocery stores, places of worship, public transportation and other frequently used services. Clients are encouraged to take full advantage of the opportunities and services available in their communities.  UCP employees assist clients in going to the grocery store, meal preparation, running daily errands and attending community events.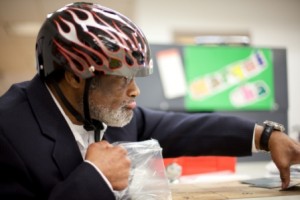 So exactly what does it mean to achieve independence through living in the community?
For Joe this meant moving into his own apartment at sixty-three after a childhood of living in an institution.  Joe now lives with three roommates in a small house, where they receive twenty-four hour care from a UCP direct support professional.  Joe can now go to the coffee shop when he wants to, invite friends over, have dinner parties and sleep in on the weekend.  For Joe, it means living as an independent adult for the first time in his life—and he loves it!
And for Anthony?  Click on the video to hear in his own words why Anthony really loves the support provided by UCP of Greater Cleveland.
The Independent Living Program at UCP of Greater Cleveland is certified as a Supportive Living Provider by the Ohio Department of Developmental Disabilities.  If you or someone you know has a disability and would benefit from a more independent life with supports from UCP of Greater Cleveland, please contact the Residential Services Department at (216) 791-8363, ext. 224 or residential@ucpcleveland.org.
---