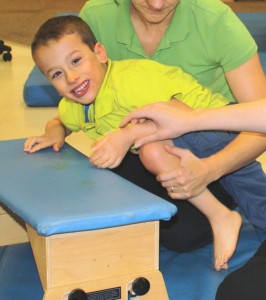 Six-year-old Anthony is a loving and playful six-year-old boy with an infectious smile. If you would ask his parents, Joey and Megan, some of Anthony's favorite activities, you might think he is just a typical 6-year-old who enjoys playing with his friends, swimming, horseback riding and playing fetch with his dogs.
"Really the only word that Anthony dislikes is bedtime," his dad jokes.
But Anthony is much more than your average 6-year-old, for he has had to overcome many obstacles to do things that other people take for granted.
Anthony first started coming to UCP of Greater Cleveland when he was two years old. He could not sit up by himself, his back was rounded and his head faced down and forward. He was most content being held or lying on his back, and did not like being placed in a sitting position.
Anthony has always enjoyed one-on-one interaction and attention. For the past four years, he has been working jointly with a physical therapist to build his gross motor skills and an occupational therapist to build his fine motor skills.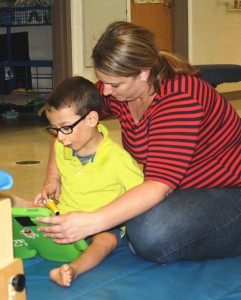 Last year Anthony started using his hands to hold onto a surface to help keep his balance when standing.  At first he needed someone's hands on top of his to help keep them on the surface. Anthony's mom and dad listened to the therapy team's recommendation to practice having Anthony hold himself up rather than giving him that hand-over-hand assistance. They mounted bars in their house so that he could practice holding on to surfaces independently.
Because of all the hard work Anthony put in at home as well as in therapy, he is now he is able to hold onto surfaces without help. In the past, Anthony had never enjoyed using his hands, so this was a big step in allowing him to be more independent. Now he is able to get up from the floor and assist his parents with toileting, holding a toothbrush, opening doors and getting dressed.
Another big milestone for Anthony is being able to push himself up from the floor onto his hands and knees, bearing weight through his arms.  This was a huge step for Anthony because he had always hated being in this crawling position. He would arch his back, cry and pull his hands away. But now he is pushing himself up from lying on his belly, onto his hands and knees, and then sitting upright.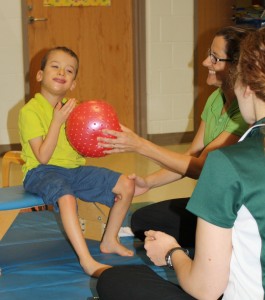 Anthony's therapists said it takes awhile for him to incorporate a new skill, but he has become braver and is not as resistant to trying new or challenging tasks.
The next step for Anthony will be learning how to use a reverse walker. Anthony has been walking with a gait trainer or one person assisting him at the shoulders for two years, but he has not had the strength or coordination to use a walker independently.
It will take a lot of hard work and determination, but Anthony and his parents are up for the challenge. Our amazing clients have proven time and time again that nothing is impossible at UCP!