March 5, 2014
by: OakLeaf Services Contributor
How Far We've Come…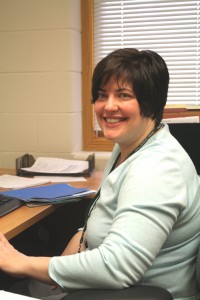 This week's blog post is from Daneen Crawford, UCP of Greater Cleveland's Vocational Services Operations/ Quality Assurance Specialist. Daneen has the unique experience of attending UCP of Greater Cleveland as a child, and is now employed here as an adult. In her blog, Daneen discusses how far society has come in their acceptance of people with disabilities.
In 1987 President Reagan declared March as Developmental Disabilities Awareness Month. Shortly after, in 1990, the Americans with Disabilities Act was passed. These things laid the foundation for social change where people with developmental disabilities were concerned. Since then there have been many advancements in society's ideology that have helped to breakdown the stigma that was once attached to being a person with a disability. To understand just how far we've come, it's important to take a look at where we've been. I remember the time before Developmental Disabilities Awareness.
I was born two months premature in 1972. It was a complicated delivery during which I sustained a brain injury, and at eleven months of age, after not meeting any of my milestones, doctors diagnosed me with Spastic Diplegia (the most commonly diagnosed form of CP). Today, thanks to much advancement in medicine and the fact that early intervention services and programs are publicized, this diagnosis is most likely not as traumatizing to parents; they realize that though their child will have special needs, they will lead a very full and productive life. Back then, things were vastly different. My mother recalls being very anxious and overwhelmed because though they could tell her what was wrong with me physically, they couldn't provide her with any direction on how to best help me. In fact, she remembers a family member suggesting she put me in an "institution and try again for a healthy child." Thankfully, she did not take the advice. Instead she began a search effort for services that would help her help me to reach my full potential.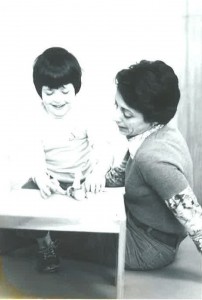 In 1975, my mom found United Cerebral Palsy Association of Greater Cleveland and I was enrolled in their nursery school. She remembers feeling hopeful because she finally found a group of people who were willing to help. She recalls physical therapists taking the time to show her how to stretch my muscles and increase my mobility, she remembers teachers pointing her in the direction of other available community resources, and she remembers feeling relief with the realization that she had a child who could accomplish the same things as other children … just my way of accomplishing those things would, at times, be different. I remember PT and the teachers too, but I was too young to understand how I was benefitting from them. I was just playing fun games with really nice people.
From UCP I went on to Sunbeam, a school for disabled children. Here my physical and occupational therapies were worked into my school day. In addition to reading, writing and math, I remember special classes where we were taught about our disabilities and how to explain them to others. I was taught what to do when other people were staring at me. They only stared because they didn't understand my disability and it was MY job to help them understand. This became the most important lesson I learned and what I drew strength from the most when I was mainstreamed to regular public school in the early eighties.
I don't remember a lot of people staring at me then, but I do remember my mother and I having to explain many things about my disability; unlike today, when explanations are often unnecessary. For instance, since I was now going to be switching between classrooms rather than staying in one room, I remember having to explain that I would need more than the allotted four minutes between bells. Scenarios like this one continued throughout my upper elementary and high school career. They even went on through my early years of college!
In 1991 I was the first disabled student to live on campus at John Carroll University; I remember my mother having to provide an in-depth explanation why my room needed to be on the ground floor of a dormitory with no elevator! Today, though, JCU has what they've named an SSD (Services For Students With Disabilities) office that provides accommodations and support for disabled students and whose mission it is to "provide students with disabilities an equal opportunity to competitively pursue a college education."
In summary, I think it's easy to see just how much societal attitudes toward disabled people have changed and for that I'm grateful. On the other hand, I'm also grateful to have had the exact experiences I did because they helped shape me into the person I am.
---