June 18, 2014
by: Emily Hastings
In the Spotlight – Beth Eaton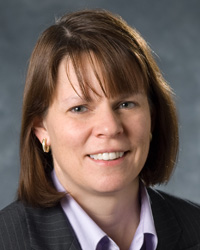 Beth Eaton has been active in nonprofit organizations at the Board of Directors level for over fifteen years, both in Albany, NY and again after moving to Northeast Ohio with her family in 2003. "While every individual and family has challenges, I feel fortunate in many ways," said Eaton. "I believe strongly in giving back to the community."
She decided to join the Board at UCP of Greater Cleveland because of her ties to the organization in Albany where her children attended a day care program. "I was incredibly impressed by the children in the program who had special needs," said Eaton. "When looking for a new Board opportunity in 2008, I learned that UCP of Greater Cleveland had openings on its Board. Once I learned about the mission of the organization and met the current Board members and senior staff, it was an immediate fit."
A year after joining the Board, Eaton was given the opportunity to serve as Treasurer and Chair of the Finance Committee. She also took an active role in the agency by participating in the Cleveland Triathlon for five years as a member of Team UCP & Team Elsie, noting that the triathlon has been an amazing and inspirational experience watching the UCP families cross the finish line.
In 2012, Eaton had the idea to start a 5k race. An avid runner herself, Eaton had participated in a number of 5ks for charity, and thought UCP should consider hosting its own race. After some deliberation, it was determined that a 5k would be a nice complement to Team UCP at the Cleveland Triathlon. It could serve as an early training opportunity for the triathlon, and it could also appeal to an even broader audience of potential participants.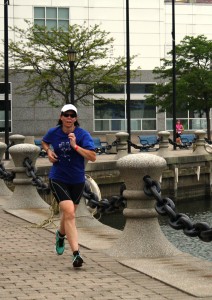 Last year's race was an even greater success than anticipated, due in large part to Eaton's hard work and dedication to make the race both "runner friendly" and "family friendly." With over 575 racers and a terrific outpouring of corporate and individual donations, the race brought in almost $19,000 in net proceeds.
"I was thrilled with the team effort that led to the success of our inaugural event last April," said Eaton. "The success of the 5k is attributed to every participant, volunteer, and supporter that embraced the race. I think that anyone who was able to attend the inaugural event left with a smile on their face."
By hosting an inclusive event that welcomes participants of all abilities, the race embodied UCP of Greater Cleveland's mission to empower children and adults with disabilities to advance their independence, productivity and inclusion in the community. "Watching Ben, one of the children served by UCP, finish his first one mile walk brought smiles and tears to everyone who was lucky enough to witness the event," said Eaton.
Eaton will be transitioning off the Board at the end of the year after six great years at UCP. Although her vivacious personality will be greatly missed, Eaton has left a lasting legacy by playing a vital role in the successful implementation of the Race to Empower 5k and One Mile Fun Run.
"I am very grateful for my experience on the Board," said Eaton. "Like all worthwhile efforts, there has been no 'easy button,' yet our hard work as Board members in furthering the mission of UCP is extremely rewarding. The children and adult clients of UCP take on new challenges fearlessly. The inspiration that I draw from their efforts is something that I will carry with me always."
---