June 30, 2014
by: Emily Hastings
Team Emily
This week UCP of Greater Cleveland is happy to welcome Emily's mom, Mary, as our guest blog contributor.  This will be the third year that Team Emily has participated in the Cleveland Triathlon after taking a four year break. We are so happy to have them rejoin Team UCP!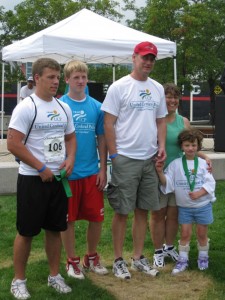 We participated in the Cleveland Triathlon back in 2009 and 2010 because of all the help we received from UCP, so it was our way of giving back. As a mother and a caregiver of a special needs child, it is very complex. When we first went to UCP for therapy, it was amazing how supported I felt. Aside from the awesome therapy services Emily receives, the support the parents receive is also great.
In 2009, my husband, my oldest son and I did a relay, and my younger son volunteered. None of us had ever participated in a triathlon before – we just did this triathlon because UCP was involved. It was so moving to see all the families cross the finish line that my son and I were crying.
The second year the team grew a bit. We told our family they had to come and experience the triathlon. Even if they didn't want participate in the race, they had to at least see it. That year my oldest son and his girlfriend did a relay together and my younger son did the Sprint distance all by himself. My husband, a family friend and I also did a relay. Both grandparents and some family friends were also there to support Team Emily.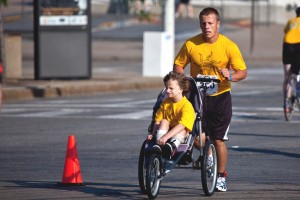 Emily crossed the finish line both years with us. The first year my son pushed her across the finish line in a jogging stroller and the second year she got out and walked across the finish line.
I felt compelled for Team Emily to make their return to Team UCP at the Cleveland Triathlon because Emily has spent quite a bit of time at UCP receiving therapy. I have watched not only the therapists with her, but have seen how the aids interact with the adult clients and everyone who comes through the doors of UCP. I am in awe every time I see it – there is so much grace and love with all the clients.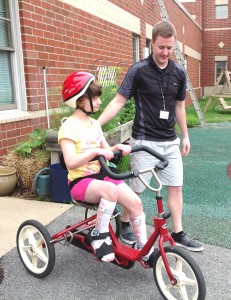 This year Team Emily's relay will consist of my husband who will be swimming, my father (who is in his late 70s) who will be biking and my mother-in-law who will be walking. In the past, both grandparents came and watched, but now they decided they wanted to participate. We also might have a community relay team. We hope to have Emily cross the finish line on her adaptive tricycle with her grandma. She just learned how to steer and peddle this year.
We really like the fact that UCP is a nonprofit organization and that they don't turn anybody away for financial reasons. When we fundraise for UCP of Greater Cleveland, I feel very confident asking for donations knowing that it is going directly towards helping kids like Emily. So far we have sent out about ten donation request letters, and we have already received $1,000 because of what UCP stands for and who they are as an organization.
Team Emily is ready to TRI again this year! We hope to see you there!
If you would like to support Team Emily and UCP of Greater Cleveland, please make a donation on their Cleveland Triathlon fundraising page at http://www.active.com/donate/teamucp2014/TeamEmily2014.
---