July 9, 2014
by: Emily Hastings
2014 Boots Fisher Memorial Award Winners
Every year at the Annual Meeting, UCP of Greater Cleveland honors one client from each program who has made significant gains in community integration during the past year. These accolades, called the Boots Fisher Memorial Awards, are named after Elaine "Boots" Fisher, who is an instrumental member of the UCP of Greater Cleveland story and former member of the Women's Committee. Below are this year's five exemplary Boots Fisher Memorial Award winners.
Residential Services – Charles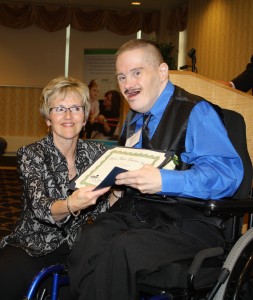 Charles is a 51 year old gentleman with a magnetic personality and easy going demeanor. He exemplifies kindness and strength. Prior to his admission to UCP's Memphis House, Charles resided at home in West Virginia with his mother, who was his primary caregiver until her death about five years ago. After enduring this loss, Charles' niece decided to assume the role as his guardian, so Charles moved to Ohio.
From there, he experienced even more changes as his guardian faced the need to seek a more suitable yet loving home environment for him to reside in. This was a very difficult decision but Charles persevered. He opened himself to the idea of finding a new home and eventually took the step to move away from the only family he had ever known.
Chuckie, as he also likes to be called, moved to Memphis House in November 2012. After only a few days, he quickly made several friends. Since his move, he has had to adjust to now living with 7 other individuals that are in wheelchairs and that have some level of communication challenges. He also had to adapt to a more structured daily routine.
Despite all of these transitions, Charles continues to demonstrate courage, tenacity, optimism and an extremely positive attitude. It also comes as no surprise that he has brought so much joy to his housemates because of his sense of humor and caring ways. Charles has also become more social. He enjoys going to out to dinner, movies, and to work Monday through Friday, as he would say, "to make money."
Charles is not only an inspiration to others going through similar challenges, but a great inspiration to us all.
Adult Day Support – Gabe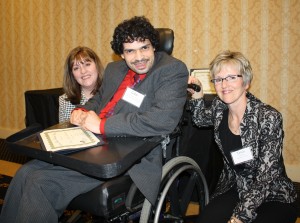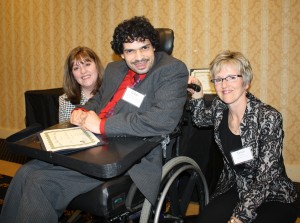 Since his start in 2005, shortly after graduating high school, Gabe has been one of the most enthusiastic participants in the Adult Day Support program. He loves coming to UCP and getting involved in the in-house activities such as Music Therapy, Swim Therapy, Dancing Wheels and Art Therapy. If it involves music, you can plan on Gabe being there and sitting in the front row! You can also catch him on the work floor earning money, which he will most likely spend on magazines about trains or nature.
It hasn't always been an easy road for Gabe. But through working with staff and finding the right programs for Gabe, we have seen great improvements in his behavior. Staff have discovered Gabe's environmental triggers and body language signals and developed ways to help him accordingly. Gabe enjoys his independence and taking control of his environment and making personal choices of programming options. He likes to know what his day will be like as well as the next activity he will be participating in. This year, Gabe is learning the alphabet in sign language and starting to spell his name along with other signs in order to communicate more both at UCP and in the community. The goal started in 2011 and asked for Gabe to identify and spell his name and has grown from there to reflect the progress he has made! He uses signs at home to tell him mom Thank You, Please, Sorry, Eat and Drink.
Gabe recently learned how to maneuver himself around the building with limited supervision after being told where to go. He also propels himself every morning to his activity room and knows to go to his locker and put away any items he needs to. Gabe also enjoys cooking and preparing meals, so a program was implemented this year for him to start learning how to use the microwave with staff assistance.
Gabe has a very strong family bond which makes them very involved in his life. He lives at home with his mother and is frequently visited by his grandmother. His caregiver, John, has worked with Gabe for just over a year and a half and has become a family member to Gabe. He continues his efforts at gaining more independence at home by using his computer to watch videos and listen to music.
Organizational Employment – Keri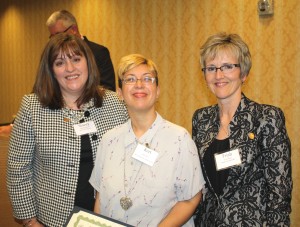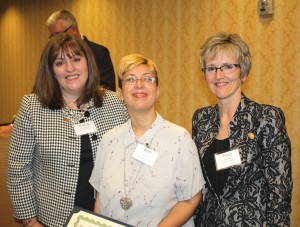 In 2001, after graduating from high school, Keri began working in UCP of Greater Cleveland's Organizational Employment program. She was able to perform any job assigned to her, but needed to improve at being assertive, particularly at asking questions or asking for assistance when needed.
Keri went beyond the typical Organizational Employment programming when she began volunteering to sanitize equipment in the Children's Service Department as well as cleaning the Client Lunchroom. When an opportunity to work at the Cleveland Metroparks Zoo during the summer of 2012 presented itself, Keri eagerly agreed to try. She worked at the Aramark Food Service concession cleaning tables. At the end of the summer, Keri returned to Organizational Employment at UCP, where she continued to work on necessary independent skills identified over the summer.
She was asked to return to the Aramark job for the summer of 2013, and was so successful that her team worked with Aramark and Metroparks staff toward creating a permanent employment opportunity for her. In September of that year, Keri began working at the Rain Forest Café for Aramark. Her co-workers have commented on how much they appreciate having Keri working in the Café.
Keri is a very dependable employee with an excellent attendance record. Most days Keri arrives early for work. She capitalizes on this time by learning new vocabulary/ sight words or traveling around the zoo to visit the animals. Keri also enjoys taking photos of the animals for her scrapbooking hobby. Since Keri began working at the zoo, her family has noticed Keri making great advances in the area of independence. She knows how to use a zoo map and navigate to all of the buildings and animal exhibits. Keri has an appreciation of her unusual work environment, and she truly enjoys her position at the Rain Forest Café.
Community Employment – Darrell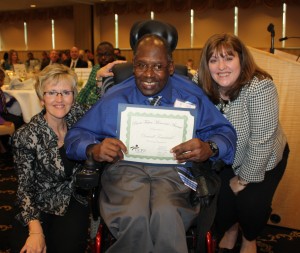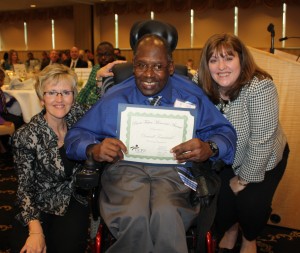 Darrell is employed at the PNC Supported Employment Site and is the senior member of the client group. He started at the then-National City Bank Operations Center in 2004, after having worked at Charter One Operations Center since 2001. He is a mentor and advocate for the other members of the team as well as people with disabilities in the community. Darrell is also the one-man sales team promoting UCP throughout the bank processing center.
Darrell helped guide other members of the UCP/PNC team through many transitions this last year. There have been numerous changes in staff and clients that challenged the daily operations at PNC. Darrell demonstrated to team members how to handle these changes with professionalism and dignity. Several UCP employees had a difficult time when two site supervisors left. Darrell encouraged each of these employees to talk about their problems and concerns with the new supervisor. He offered support and advice to them as well as modeling appropriate behavior. As always, he is the first to encourage and support other clients in good times and bad. Because Darrell has many years of service, he provides a wealth of resources and information that he shares with the rest of the team.
Over the years, Darrell has been an advocate and representative for people with disabilities. He has served on the Advisory Council for Quality Assurance Review Board with CCBDD and was on the Easter Seals Board. Currently, Darrell lives independently with minimal assistance. He resides in an apartment building that accommodates many people with disabilities. He serves as Vice President of the tenant's association and helps to solve problems between fellow residents and with management. Darrell also assists other residents with issues they are having at work, with services from various agencies, paratransit, etc. They come to him because of his knowledge and understanding of the life skills necessary to function at home, in the community and at work. If Darrell does not have an answer to a question, he knows where to refer a person to get help.
Darrell represents all that is good about UCP. He has worked hard to continue to move forward every year not just for himself but for other people with disabilities. He is determined that more people with disabilities will be present in the work place and will have productive, meaningful jobs. He speaks out each and every day for more opportunities in the community as well. Darrell symbolizes the success that is possible for all people with disabilities.
Children's Services – Tristen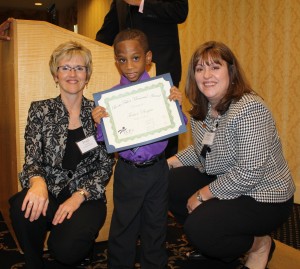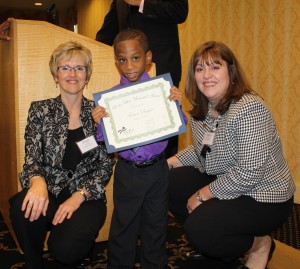 Tristen was born in 2007 at 26 weeks weighing 1lb 2oz and was 12 inches long. When he first came to UCP of Greater Cleveland at two and a half years old, Tristen was able to sit and crawl on his own, but didn't have a strong initiative to walk by himself. He also wasn't speaking yet and used gestures and body language to communicate with his family.
He began receiving physical, occupational and speech therapy in Children's Services and very quickly he began to stand on his own. Within a year he was using single words to talk and began using a reverse walker to take independent steps. By the time he was six, Tristen was walking independently, stepping over objects in his way and climbing stairs on his own.
Tristen now at age seven is climbing stairs, walking and jumping on his own! You should see him run, catch a football or shoot hoops! Tristen has also become very social and is rapidly learning new words to communicate with his family, therapists and friends. Because of his hard work and consistent efforts, Tristen has made steady progress toward independence! All of us at UCP of Greater Cleveland cannot wait to see what he will accomplish in the future!
---