July 16, 2014
by: Emily Hastings
Team Rizzo
This week UCP of Greater Cleveland is happy to welcome Julia's mom, Heather Rizzo, as our guest blog contributor. This will be the second year in a row that Team Rizzo has participated in the Cleveland Triathlon. Go Team Rizzo!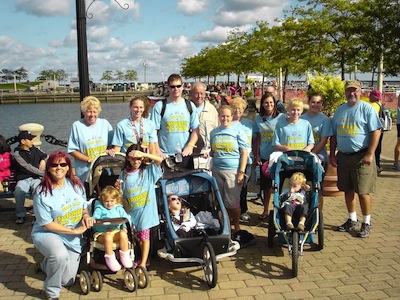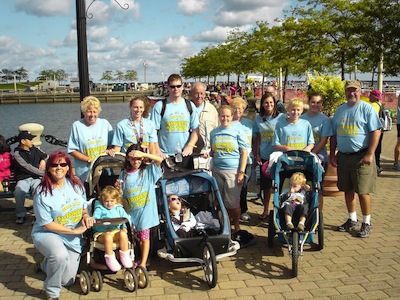 Our daughter Julia started receiving therapy services at UCP of Greater Cleveland in spring of 2013. Last year we decided to participate as part of Team UCP at the Cleveland Triathlon because as a family, we enjoy running & bike riding, so we thought it would be great to do something we enjoy & help raise money for UCP, which is such a wonderful organization.
My husband, John, was the only one with triathlon experience. He had done a Sprint Tri in July 2010 to raise money for the Cleveland Sight Center, the Ronald McDonald House of Cleveland and Cleveland Clinic Children's Hospital.
We spent lots of time training on the towpath trail with Julia and her brother, John. We pushed Julia during runs and pulled her on rides in her Wike bike trailer. Julia loves to be outside and especially loves riding in the bike trailer, and she will often let you know with a little yell when you start to go too slowly!
Last year we did the sprint distance as a relay. We requested a volunteer for the swim, and UCP connected us with Maggie. She did a great job & hung out with the rest of Team Rizzo during the race. My husband did the bike leg and I did the run.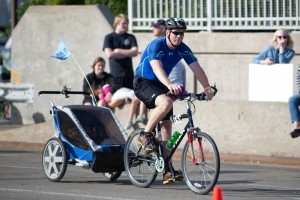 It was a truly inspiring experience. One way or another, we always include Julia in everything we do. To be able to include her in a triathlon was very special. Not many five year olds can say that they have finished a triathlon. It was also very inspiring to see all the other families finish the race. We watched many families cross the finish line and each showed such strength, determination, and perseverance that it would be hard to not be inspired.
This year we are going to do a sprint relay again. We're so happy Maggie agreed to do the swim leg again this year. She has become a part of Team Rizzo!
We are very lucky to have a long list of family & friends that are part of Team Rizzo. Julia's Aunt Carolyn volunteered last year, and Julia's grandparents, aunts, uncles, cousins and friends were spectators cheering her on when she crossed the finish line.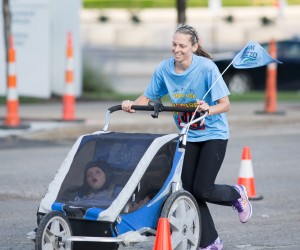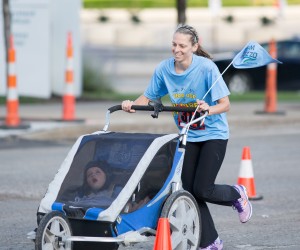 We are "Inspired to TRI" for the second year because UCP is a great organization that does so much for Julia and kids like Julia that we are happy to be able to help raise money for them. The race is so well run and it was such a joy to participate in it last year, we absolutely wanted to be part of it again. You can't explain how good you feel when you see the kids and families cross the finish line.
If you would like to support Team Rizzo and UCP of Greater Cleveland, please make a donation on their Cleveland Triathlon fundraising page at http://www.active.com/donate/teamucp2014/HRizzo2.
---