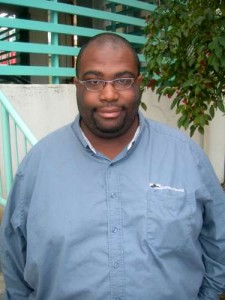 Warren Mitchell's career began within UCP's Supported Employment Program. He started at the Cleveland Clinic/Lyndhurst Supported Employment Site in June of 2008, where he assisted in various clerical tasks. Warren later transferred to the Reese Pharmaceutical Site in April of 2009 and began packaging over-the-counter medications. He was later trained in shipping and custodial duties. In July of 2012, after showing much promise in both packaging and cleaning duties, Warren was requested by Reese management to transfer to their new E. 40th Street location. This move proved to be a significant one for Warren as he continued to work more independently and with less supervision.
Recently, in May of 2014, Warren successfully transitioned into competitive employment and started a full-time job with Standard Parking. Warren is currently in charge of the cleaning and general upkeep of two employee parking garages located on University Hospital's main campus. Warren continues to work independently and is able to accomplish all of his duties in a timely manner. He is well liked and respected by his Standard Parking peers.
Warren is a great example of someone transferring their training, skill building and positive experiences from UCP's Supported Employment Program into a competitive employment position.