This week's blog is from Michelle, who has been a resident of UCP's Edendale Group Home since 1999. Michelle enjoys Edendale's Friday afternoon cocktail hour (where they serve sparkling grape juice), watching TV with her roommate and playing games on the Wii console. She also likes dressing up for special occasions. Read on to hear how UCP has helped Michelle be more independent.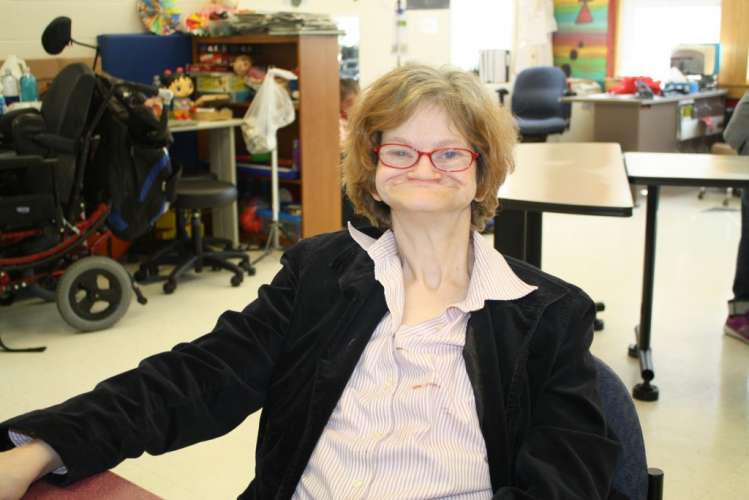 I lived with my mother and brother before moving to Edendale House. I decided to move to the house because I took a look at it and I liked it. It was accessible which was good. I was excited to live with other people. I get along with my housemates. I have a roommate too. I decorated our room beautifully. (The staff make it very homey for the clients. They make everyday life special for them by hanging the housemates' art on the walls, decorating for holidays and helping to display their personal items.) I like to play with my (stuffed) animals in my room. They're my babies. I love them with all my heart.
The UCP staff help me. They are there for me when I need them. I learned that they love me and respect me. They help me to the bathroom when I need it, treat me with respect and love me.
They also help me go shopping. They help me with all kinds of things actually. There is always someone to help me. I like to go to shopping at Bath and Body, Avon and a boutique. I like to buy perfumes. My favorite staff person there is Michelle (click here to read a separate blog about UCP staff member Michelle). She helps me with everything. She is very nice.
I like living at this home because it's way out there in the open (in the community) where I can be. I also like their food. My favorite is chicken and spaghetti and meatballs. It is possible that I might move to another house. I would be excited to move.
To learn more about UCP of Greater Cleveland's two Group Homes, please contact Eula Ott, Group Home Program Manager, at (216) 299-3881 or eott@ucpcleveland.org. Or visit our website at http://www.ucpcleveland.org/services-for-adults/group-homes.