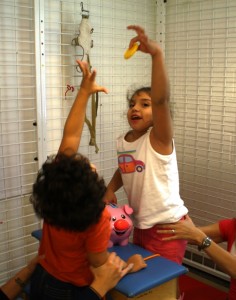 Carmen and Nathaniel are siblings who attend UCP of Greater Cleveland together. Seven-year-old Carmen is a natural leader with a determined and energetic spirit. She enjoys baking, dressing-up and being able to "play therapist" for her brother by holding toys out for him to grab and encouraging him to keep up. Four-year-old Nathaniel is a fun-loving boy who loves Matchbox cars, puzzles and basketball. The therapists look at the siblings' individual personalities, as well as their relationship, to use it as part of their treatment. This cooperation and special bond have been an important part of their progress.
Carmen and Nathaniel had been attending Children's Services Traditional Therapy program for over two years. In the beginning, they needed a lot of assistance in their daily lives doing things that we may take for granted, like getting out of bed in morning. Their mom, Barbara, was responsible for their everyday living because of the spasticity (tightness or stiffness of muscles) they were experiencing. Spasticity is a very common occurrence among children who have cerebral palsy, which is why UCP's partnership with Dr. T.S. Park at St. Louis Hospital is so important.
Dr. T. S. Park specializes in pediatric neurosurgery and treating children with cerebral palsy using the surgical procedure selective dorsal rhizotomy (SDR) at St. Louis Children's Hospital. SDR is a procedure that minimizes the effect of the damaged nerve cells that cause the spasticity in a person with cerebral palsy, while allowing the healthy cells to remain intact. This surgery is just one of many medical options available to children with cerebral palsy, depending on their individual evaluation and diagnosis. In May 2014, after an initial assessment by UCP therapists, Carmen and Nathaniel were thought to be good candidates for the SDR procedure and were referred to Dr. Park.
These siblings started the intensive Steps to Independence program after having the major surgery to decrease spasticity in their legs. They now come to therapy three days a week for two to two and a half hour sessions. These sessions allow carry-over from what the doctors started during the SDR surgery. It is important for them to have consistent therapy after the procedure in order to retrain their muscles to move in a more functional manner. It is also helpful in gaining some of the muscle strength back that was lost.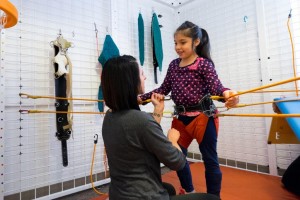 Working as a team together and with our therapists, Carmen and Nathaniel have improved core strength, are taking longer steps with their walkers and are transitioning from sitting to standing with minimal assistance. Their commitment to attending therapy has been strengthened because they are able to see how the consistency has had such a positive effect. It has also enabled their mom to allow them much more independence with minimal supervision and hands-on help. Their progress has been impressive and their therapists are hopeful that both children will be walking independently within the next couple of years.
For more information about UCP of Greater Cleveland's Children's Services programs, please contact childrens@ucpcleveland.org or (216) 791-8363, ext. 1250.