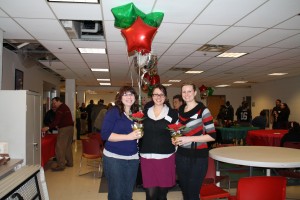 All during April UCP of Greater Cleveland is celebrating our amazing volunteers and the contributions they make to our organization.  Our agency would not be able to accomplish everything we do without volunteers, from our Board of Directors that guide strategic planning and governance to the hundreds of one time volunteers at events like Team UCP at the Cleveland Triathlon.
Volunteering takes time and energy.  It can be a little nerve wracking, especially when you are one of the founding members of a new group.  But the rewards for success are vast.  Cami Thompson (pictured center, during the Community Employment Holiday Party) understands the difficulty of finding the right place to volunteer and the work it takes to get a new group up and running smoothly.  She has been at the forefront of the Friends of UCP Young Professionals committee since it was established in 2011.
Cami first became involved with UCP through a Young Nonprofit Professionals Network (YNPN) event.  She was looking for the right place to volunteer and felt like UCP would be a good fit.  She works for a higher education nonprofit and she has a family member with a disability, both which helped Cami connect with UCP.  Cami also was intrigued by the challenge of being on the front lines as a new volunteer group was being formed and being a part of deciding its purpose and goals.
The first step in starting the Friends of UCP Committee was to assemble a small core group of young professionals to determine where they fit in with the agency.  The group took some time to figure out their collective strengths, the needs of the agency and where their combined energies could best be used to benefit UCP of Greater Cleveland.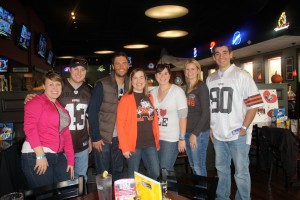 2012 was the first full year for the group, and it was a successful one.  The Friends Committee hosted their first public fundraiser, a Browns Tailgate and Watch Party, which exposed a new group of potential supporters to the organization.  The Friends Committee also sponsored the annual Winter Holiday Party for the clients of the Community Employment Program, which many expressed was the best party they have had in years.  Cami says the holiday party was also her favorite event so far.
The Friends Committee has found their niche and where they feel their efforts will make the most impact.  This year they will host another tailgate party and the Community Employment holiday party, as well as other events, all supporting UCP's Vocational Services Community Employment Program.
For Cami and other members of the Friends of UCP Committee, it is all about making a difference in people's lives.  If you feel the Friends of UCP Young Professionals committee would be a good fit for you, or if you are interested in other opportunities to volunteer with UCP of Greater Cleveland, please contact Emily Hastings, Development Associate, at 216-791-8363 ext. 1232 or ehastings@ucpcleveland.org.