March 25, 2011
by: Renee Canfield
Michelle Anderson, Residential Services Edendale Group Home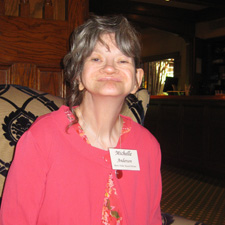 Michelle Anderson has been a resident of UCP of Greater Cleveland's Edendale Group Home, as well as the Organizational Employment Program since 1999. Over the course of the past several years, she has made continual gains in self-sufficiency and independence.
Up until the year 2009, Michelle was transported to UCP for work in the agency's transit bus, which is a service arranged by UCP staff. She was apprehensive utilizing public transportation and was not comfortable participating in group community outings for local attractions or performances. UCP of Greater Cleveland staff worked with Michelle to discuss opportunities for increased community inclusion, the benefits of socialization and recreational outings and how she could benefit from learning what the area has to offer.
In August, 2009 Michelle began to arrange her own transportation through RTA's Paratransit System. She arrives daily at UCP's Wolstein Center ready to work, doing so with great confidence and knowing she has the ability to plan her own activities and workday. Michelle has also started to engage in more outside social activities, including group theatre outings. She enjoys entertaining (especially dinner parties), surfing the Internet and shopping.
In 2010, Michelle was honored with the Boots Fisher Memorial Award for her strides toward independence, and she continues to reach personal goals and make gains in both of the programs she participates in at UCP.
---