August 8, 2011
by: Renee Canfield
Team Children's Services Spotlight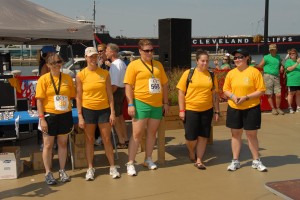 At UCP of Greater Cleveland, we recognize that a strong, dedicated relationship between therapist and child is an important determinant of success or failure of therapy. And to make sure that relationship stays firm, the Physical, Occupational and Speech/Language therapists of UCP's Children's Services department work around the clock in order to make sure our clients receive the best care they possibly can.
This year, Children's Services staff is going above and beyond their call of duty in another way. Over 20 therapists and administrative staff make up Team Children's Services, the largest department team raising funds and awareness on behalf of Team UCP at the 25th Anniversary Cleveland Triathlon! Many are participating, several are volunteering, and ALL of them will be cheering! Many of them are even bringing their spouses, siblings and children!
Those who are participating have been training throughout the year to show the children that the hard work they put into their therapies is a sign of strength and heroism, and that while every employee at UCP collectively works hard to empower these children, they are equally empowered by merely witnessing their determination and accomplishments.
Intesar Taye, Director of Children's Services states, "We are fortunate to work with children who strive to do more every day; who put forth tremendous effort to show what they CAN do; who refuse to give up. We pay tribute to them on race day and every day."
UCP is often described by parents as extension of their own family. What the families may not realize is that the Children's Services staff often times reciprocates those sentiments. Earlier this year, Children's Services suffered a big loss. Seven year old, Matthew Pajak passed away. As a tribute to Matty and his family, Team Children's Services is racing alongside the Pajak family in his memory.
Help Team Children's Services reach their goal of $10,000. Every penny raised will help to ensure that no child is turned away regardless of their financial circumstances! Donate here!
---