September 15, 2011
by: Renee Canfield
Team Payton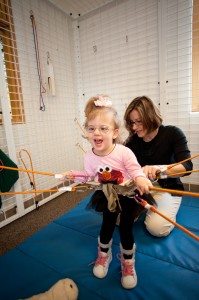 Payton Light was diagnosed with cerebral palsy just months after her first birthday. Her parents, Bob and Carrie, were overwhelmed by the prospect that their daughter may never walk, talk or reach the same developmental milestones as her twin sister, Jillian. When Bob and Carrie first heard about UCP of Greater Cleveland, and decided to learn more about what UCP had to offer, they were simply looking for 'a little hope.'
Intesar Taye, Director of Children's Services, played with Payton and watched how she interacted with her surroundings. She assured Bob and Carrie that with the right therapies, Payton would thrive. This news gave Bob and Carrie the hope they were looking for. They enrolled their daughter in physical and occupational therapy at UCP and saw immediate progress. Over the past eighteen months of traditional therapy and two sessions of UCP's intensive Steps to Independence® program, Payton is now sitting up independently, crawling all over the house and is walking with the aid of her gait trainer/walker. These accomplishments are more than her parents ever imagined possible.
But it's not just the support of UCP that has helped the Lights through difficult times. Their support system made up of family and friends are truly what keep them grounded. One friend in particular, Lisa Santos, has been an invaluable part of the Light's life. She was more than supportive of Bob and Carrie when they decided to race in the 24th Annual Cleveland Triathlon in honor of Payton and her accomplishments. Not one to race in a triathlon, Lisa came down on race day and volunteered on behalf of Team UCP, and cheered her friends on as they swam, biked and ran to the finish line.
Lisa was in awe. She didn't know what to expect coming out on race day, but she soon learned that for members of Team UCP, the Cleveland Triathlon was much more than getting from Point A to Point B. It was a way for families to go beyond their limits! Parents were pulling their children in bike trailers and pushing them in jogging strollers. Families worked together as teams to cross the finish line. Lisa knew she had stumbled upon something much bigger than she had ever expected. She decided to take her status as a Team UCP member to the next level.
At the end of 2010, Lisa committed herself to the Triathlon Committee. Over the past several months, she has sat next to Carrie at meetings providing new perspectives on ways to increase corporate and individual support, ways to expand the participant base, and different ways to reach out to the general community. She created a partnership with her employer, the Cleveland Clinic, to help raise funds and awareness on behalf of Team UCP. And in just two weeks, she will be racing in the 25th Anniversary Cleveland Triathlon alongside dear friends, Bob, Carrie, Jillian, and of course, Payton.
There is no question that the UCP clients and families are amazing – we see evidence of this on a daily basis. And each day, they help spread the word about UCP in their own support systems – and those family members, friends and colleagues become a part of UCP as well. It is because of families like the Lights, friends like Lisa Santos, all of the aunts, uncles, grandparents and cousins we see in the waiting room and at events, as well as so many unnamed athletes and community members that UCP and Team UCP have become the place and the movement they are today.
---