July 27, 2012
by: Guest Contributor
Triathlete's Guide to an Enjoyable Race
A third-year triathlete's guide to an enjoyable race. (It's not what you'd expect.)
I have never been camping. I understand the general idea:  you need a tent, food, and a way to cook it. Don't ask me the finer points on what to bring for the weather or where to go to the bathroom.   I predict that I wouldn't enjoy camping (let alone survive it) if I didn't research the life out of it and find some advice.
The same is true of triathlon.  Most people know you swim, bike, then run, but they might not know the finer details to ensure an enjoyable (and survivable) race.  And yes, that is really the goal—to enjoy it and celebrate your accomplishment.
Anytime a new challenge is taken on, there is a goal involved.   If I said I wanted to camp (which I haven't yet), I'd first research the basics and get my gear together.   I wouldn't just pack a bag and wing it.  That would make for a miserable, yet very memorable trip.   So why do so many people think they can do this with triathlon?  The first step is to learn about it:   what it involves, different distances, equipment needed, etc.   Other questions to answer could be: how do you train for three sports at one time?  What on earth are T1 and T2?   What if I **gasp** have a flat tire on the bike???
Most importantly, WHAT DO I WEAR?????
I scoured websites, visited libraries and read books, and learned basic bike maintenance to be self-reliant.   I even joined an online forum which has been a great help. (More on that later.)
Once you know what you're getting into, set your goal–determining which race is "yours."   Cleveland was the first race marked in my calendar.   I also made sure to include several practice races earlier in the season to experience what to do and more importantly, what not to do.
But before races, comes training.   While triathlon is a race, 99% of it is training.   And my point of view is this—the more consistently you train, the easier and more enjoyable the race is.  (You can quote me on this.)   I researched three to four training plans and mashed them together to make a season-long schedule that works for me and my family.   Planning around vacations, days off from school, the husband's travel schedule, and then I coordinate it with any and all races I picked. From there, it's practicing the plan.   I put time into making a training schedule—I need to USE IT, not just blow it off!  Now, in my third year of this addicting sport, the process is easier.   Since I made my training plan first and make it a priority daily, everything else falls into place… well, sometimes dusting or sweeping fails to get crossed off the to-do list. Oh, well. Dustbunnies rank up there with the certainties of life- just like death and taxes…
Now, I can't guarantee you'll have a fantastic, pain-free, trouble free race if you research, set goals, make plans, and train.  I cannot promise that rainbows and butterflies will fly overhead as you reach the finish line.  However, I can guarantee you an enjoyable race. Here are a few tips from "Age Grouper Robin" for race day:
Do not experiment with strange foods, spicy foods, or lots of fiber the day (or two) before your race.  This will not be pleasant for you during (or even before) the race.
Pack your equipment the night before.  You already have to wake up "crazy early."  Get your stuff together the night before.  Do I sound like your mom, yet?
Get to the race early (yes, that early) to talk to others and enjoy the camaraderie.  It will help you relax.
Be familiar with the course.  Good thing about Cleveland tri—the course is easy to memorize.  Know how many laps you need to do. Bad thing—you cannot ride it on your bike prior to the race unless you have a death-wish.  On your first lap, memorize the location any BIG potholes you see.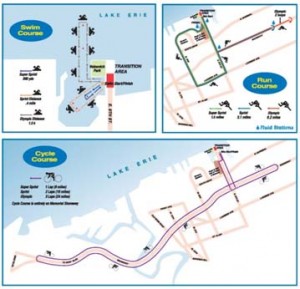 When in doubt, ask.  Triathletes love to help.  I have never heard any sarcasm or attitude come from a fellow participant if they were asked a "silly" question.
When the gun goes off, take a deep breath, smile, and remember why you're there and how hard you worked to get to this moment.  (Just don't do it while swimming. It's REALLY hard to breathe and smile underwater.)
Finally, as you pass them while biking or running, thank the volunteers who are handing out water, at the turnarounds, helping with food, or in transition.  You wouldn't be racing without them.
Lastly, be respectful of others in transitions.  Please don't be "that person" who has their stuff over everyone else's. Notice the transition area:  there's not that much space for anything.
Now, I am in no way paid, endorsed, sponsored, or bribed by these companies (although I wouldn't mind).   All of these books or websites are just helpful things I have found along the way. Hopefully they may be of help to you on your triathlon journey:
Books: Be Iron Fit by Don Fink and Starting Out Triathlon by Paul Huddle and Roch Frey
Free online triathlon forum with lots of great training advice and tracking, race searches, and a lot of general silliness: www.BeginnerTriathlete.com
Race searches: www.trifind.com
Your personal race results from any and all races you've done:  www.athlinks.com
Rules: www.USAT.com
Race day gear customizable checklist: http://www.beginnertriathlete.com/discussion/training/race-checklist.asp
Pacific sports has also put together a nice beginner's list of things to know: scroll to bottom of the page. http://www.pacificsportsllc.com/cleveland-tri-event-info/
There are less than two weeks left!   Keep training, and I'll see you there!
Robin Muskopf
Team UCP Member
---