August 3, 2012
by: Renee Canfield
Team Devan!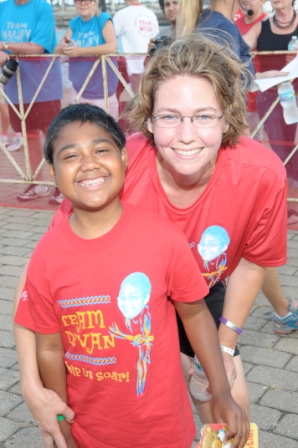 "Date night" for the McKinneys doesn't a follow traditional format— UCP Parents Julie and Scott often spend their limited couple time on Sunday mornings training for the Cleveland Triathlon by doing a twenty-five mile bike ride or a long run before they head off to church. But this family has never been one conform to traditional definitions or been willing to set limits on themselves.
The McKinney's became foster parents to thirteen-year-old Devan when he was just sixteen months old and officially adopted him when he was three. Julie was working at Hattie Larlham when she first heard Devan's story and quickly decided that she and Scott needed to become his parents. Devan had complex special needs, including an auto-immune disorder called IPEX Syndrome, which causes the body's immune system to attack against its own tissues and organs. They were told that Devan wouldn't ever be able to walk or talk. But luckily, Julie and Scott chose to not set limits on what Devan could accomplish and have always concentrated on what he CAN do, pushing and supporting him to grow and develop to his highest ability.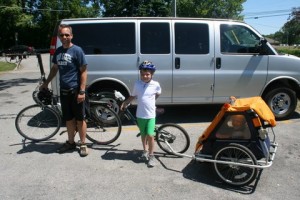 Devan first started coming to UCP over ten years ago, and participated in the UCP Conductive Education Program for three years. He now participates in therapy at UCP, including the intensive therapy program, Steps to Independence. He shares his parents' attitude and doesn't set limits for himself. Devan has defied doctors' predictions by walking independently and talking a mile a minute to those close to him. He has a fantastic smile and is a typical big brother, teasing his four siblings often. This last year he unfortunately broke his foot and had to be in a cast, but he didn't let it slow him down. After getting out of his cast, Devan spent time in the pool and riding his adapted bike for pain relief. Now he is walking without pain again and working on building his endurance in therapy.
Juli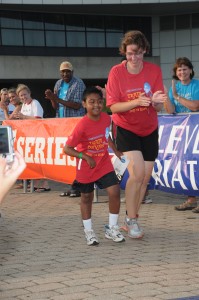 e heard other UCP parents talking about Team UCP and the Cleveland Triathlon last year, and felt it would be a great opportunity for Devan to participate and feel a part of something. She did the Super Sprint distance in 2011, pulling Devan during the bike portion and pushing him in a stroller during the run. Devan was encouraging the entire way, asking questions and having a great time. He walked across the finish line beside his mom with a huge smile on his face!
This year, Devan and his mom Julie are challenging themselves to do the Sprint distance. Devan understands even more this year about what the triathlon is and is really excited to be a part of it. The family has gotten creative with training—exactly how do you train with two adults, two bikes and five kids? The McKinneys have figured out a way to do it and they look forward to seeing YOU at the finish line!
If you would like to support Team Devan and UCP of Greater Cleveland, please make a donation on their Cleveland Triathlon fundraising page at http://www.active.com/donate/teamucp2012/teamdevan.
You can also support their goals by supporting the newest Team Devan member, Dr. Sarah Adams, the McKinney Family's pediatrician, through her Cleveland Triathlon fundraising page at http://www.active.com/donate/teamucp2012/SAdams1466.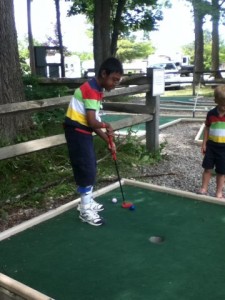 ---