October 26, 2012
by: Renee Canfield
Filling a Need Leads to Success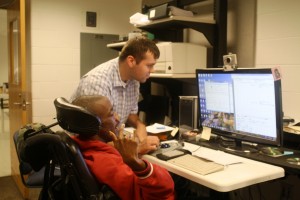 When your computer won't let you log on, or the A/V projector won't project onto the screen or the latest virus ends up on your hard drive, who do you call for help in your office?  For the employees at UCP of Greater Cleveland, we rely on Austin.
Since starting at UCP as an employee almost two years ago, Austin has made himself indispensible.  He learned early on in high school that he had a knack for computers.  While attending Euclid High School, Austin got the chance to participate in a program which taught young teenagers from all over Cuyahoga County how to repair computers.  Austin liked the work and decided to stick with it.  After graduation, he got a job through a vocational program at Goodwill Industries repairing computers.  He would repair donated computers to sell at the Goodwill stores and sometimes fixed computers for people who brought them in for repairs.  While Austin enjoyed repairing computers, the work at Goodwill was not really a challenge for him, and he got bored quickly.  He started to let some of his work habits slip.
It was suggested that Austin come to UCP of Greater Cleveland for a job assessment to see if he would excel in different work environment.  He began to work in the computer lab and met regularly with Job Coach Greg Zaryk.  Greg worked with Austin on improving his work habits – things all of us struggle with from time to time,  such as arriving to work on time consistently and methods for communicating with co-workers effectively.  Austin did such a great job and was so well liked by his co-workers that UCP offered him a job to come on board as a UCP employee.
Austin now works with David Modic, UCP's Assistive Technology Practitioner and IT Administrator.  He spends time assisting other employees with computer problems, solving issues with software and hardware, setting up A/V equipment for meetings and setting up new computer equipment around the building.  He also spends time assisting clients in the computer lab, helping them with new software, setting up new assistive technology equipment like switches and trackballs and teaching clients how to use them.  He supervises the clients that perform data entry work in the Organizational Employment program, and steps in as the IT Administrator when David is on vacation or out of the office.  Austin says he enjoys the challenge and really likes working with both the clients and the other employees.
Outside of work, Austin loves playing video games, biking and having fun with his family and friends.  His next challenge is to get his Networking Certification.  It's hard for most of us at UCP to remember that Austin came to us as a client of the Community Employment Program, and honestly, that is the way that it should be.  An inclusive workforce is one that recognizes the talents each employee brings to the table.  Austin's computer talents are a valuable asset for UCP, and we are happy to have him as part of our team.
---