April 4, 2013
by: Renee Canfield
The Young Entrepreneur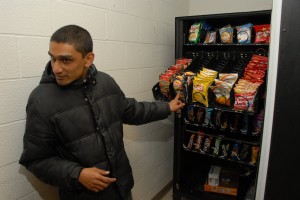 Being a young adult with Autism trying to find employment can be stressful.
Even with the loving support of his mother and father, Sankalp's journey from a high school graduate to business owner has been challenging.  He and his parents tried working with multiple agencies but Sankalp could not find the right fit.
Sankalp tried working in with UCP Supported Employment in an industrial setting and he tried working in retail shops.  Sankalp is smart, has lots of energy, is detail oriented and has an amazing memory.  But with all of his skills, there was always something in each job situation that did not seem to be a good fit.
So the family changed tactics and began looking into ideas for customized employment that would lead to an independent business.  Along with a team of other agencies, UCP of Greater Cleveland provided input and support to the family as they went through this process.  Sankalp and his team came up with more than fifty ideas of potential businesses.  When Sankalp decided to open his own vending business, UCP of Greater Cleveland signed up to be one of the first businesses to partner with him as a place to have a vending machine.
One of SanKalp's loves is sports.  He found a connection to sports from an early age and continues to participate in NEO Challenger Softball as a coach, and competes in a whole host of events with Special Olympics including track, softball and golf.  In order to help Sankalp make a strong connection to his business, his parents thought of the idea to "wrap" the vending machines in a vinyl with all types of sports pictures.  When Sankalp needed to choose an agency to provide job coaching and support for the new business, he and his parents chose UCP of Greater Cleveland. They wanted an agency that was client-focused and who would modify services to meet the needs of the SanKalp's best interests.  From previous experience, they knew that the agency's staff would provide excellent job coaching and support for the family.  Ultimately, Sankalp's parents knew the level of excellence in services provided by UCP Community Employment would help Sankalp be successful in his new business.
Now Sankalp is an entrepreneur, with seventeen machines in different businesses around the Cleveland community.  He is able to do his work well, and is now challenging himself to be a good representative for his business.  His parents' goal for their son is to run his business as independently as possible with the least amount of support from the family.  They also want to be an example for other families.  Solutions are possible if you are willing to think outside the box.
Along with running his business, Sankalp stays busy doing things he enjoys, like sports, horseback riding, cooking in the kitchen with his mom and listening to Indian music.  The future holds a great deal for Sankalp!
---