June 20, 2017
by: Emily Hastings
2017 Boots Fisher Award Winners
Every year, UCP of Greater Cleveland honors clients who have made significant gains in community integration during the past year. These accolades, called the Boots Fisher Memorial Awards, are named after Elaine "Boots" Fisher, who is an instrumental member of the UCP of Greater Cleveland story and former member of the Women's Committee. This year, UCP of Greater Cleveland recognized four individuals who have made great strides toward independence.
Adaja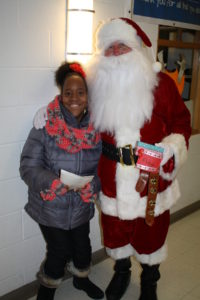 Adaja is an extremely outgoing and energetic young woman who has been in therapy with LeafBridge at UCP of Greater Cleveland since 2011.
Over her years in therapy, Adaja has made excellent gains due to her hard work and dedication.  She must work extremely hard to walk, but does not let it slow her down and she never complains about fatigue. She has also improved her balance and strength by taking on the responsibility of regularly completing her home exercise program that includes stretches and strengthening.
Adaja also sets high goals for herself.  This year, as she turns 17, she is working on making her own lunch and becoming more efficient at using the computer. She is also beginning to explore community employment options with the goal of finding a job shortly after graduation.
This vivacious young lady brightens every room she walks into, and we have no doubt her future holds limitless possibilities for success, due to her hardworking spirit and positive attitude.
Emily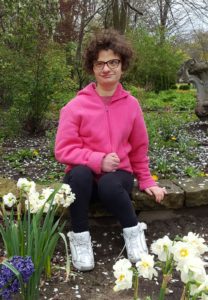 Emily has been participating in LeafBridge Services at UCP of Greater Cleveland since 2008, when she was nine years old. She has a rare genetic syndrome and is the only known person in the world with her diagnosis. Over the years, Emily has made progress in therapy, but the progress was quite slow.  She was fearful, hesitant and often overwhelmed by the world around her.
In 2013, her parents decided to support Emily in a different way.  They decided that Emily needed a very unique school placement in a controlled environment, in order to make progress.  Emily became the very first student in LeafBridge's Alternative School Program.
Each day, Emily comes to LeafBridge at UCP and works on skills of daily living, communicating and personal interactions with others. Her progress can be described as nothing less than amazing.  She has transformed from a fearful, hesitant girl to an outgoing, social and determined young woman. 
She can now perform many daily living skills independently.  She makes snacks, swims in the pool, visits with everyone throughout the building, and most importantly, laughs without reservation.
Everyone at LeafBridge and throughout UCP is so proud of Emily and the progress she has made in the last couple of years, and we cannot wait to see what she accomplishes next.
Jim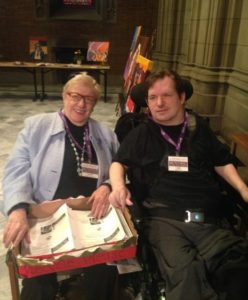 Jim has been participating in OakLeaf Day Services at Westlake for over nine years. He loves joking around with staff in his program and especially enjoys reading Chicken Soup for the Soul books.
Jim was selected for the Boots Fisher Memorial Award for broadening his independence and community activities through volunteering at the Trinity Cathedral Brown Bag Concert Series, which he has been attending for a couple of years. Jim has really enjoyed listening to the music and being with other individuals in the community.
When OakLeaf Day Services first started exploring volunteer options with Jim, volunteering at the concert series seemed to be a perfect fit. He began volunteering in 2016 every Wednesday during lunch by handing out programs and welcoming patrons.
At first, he was very shy and reluctant to say hello to the patrons.  He worked with his OakLeaf Case Manager, Latora, on practicing appropriate greetings and etiquette for music events. Jim has pushed himself to meet his volunteer responsibilities. He now knows many of the concert series patrons by name and greets them with a strong "hello" and a smile. He also helps to pass the collections basket.
The volunteer coordinator at Trinity Cathedral, Cathy, remarked that, "Jim has become a valued member of the Brown Bag Concert team.  He arrives on time, greets guests and shares his enthusiasm in every action and task…He has become a great asset to the concert series, and we treasure him greatly!"
Jennifer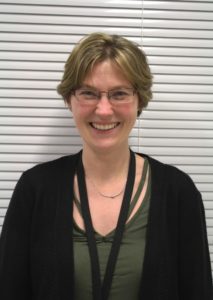 Jen is a graduate from Olmsted Falls High School and participated in the OakLeaf Partners Community Employment Program. After graduating from high school and completing an internship at the Cuyahoga County Recorder office, Jen found that she was having a hard time finding a job.  She was referred to OakLeaf Partners at UCP of Greater Cleveland for assistance.
She completed a successful assessment at PNC and was officially hired into the OakLeaf Supported Employment group at the PNC site.  There, she worked with a team of OakLeaf clients under the direction of OakLeaf Supervisor, Mary Ellen. Mary Ellen worked with Jen to overcome her significant anxiety, practice appropriate workplace etiquette and to gain confidence in the quality of her work. 
After a while, Jen needed very little support from Mary Ellen and was working independently.  The PNC employees and supervisors took notice of Jen and her strong work ethic, and started to challenge her with new and more complex tasks.
In July of 2016, Jen started working with a Job Placement Specialist to find an independent job.  They worked on identifying her career goals and practiced her interview skills through mock interviews.
Recently, Jen was hired into a full-time position by New York Community Bank as a messenger/ mailroom clerk.  She is responsible for FedEx and UPS packages, mail sorting, and delivering packages throughout different departments at the bank. Her supervisor says she is a pleasure to work with and pays attention to detail, which is very important in a mailroom.
---