July 13, 2017
by: Christine Mencini
Tom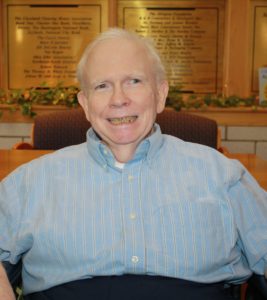 "If you stop moving, you'll never be able to start again."
These wise words come from OakLeaf client Tom, one of the original patrons of UCP of Greater Cleveland, who has been with UCP since he was five years old when he was diagnosed with ataxia cerebral palsy. Ataxia is the least common form of cerebral palsy, with tremors, speech and oral problems as some of the symptoms. Tom is a self-proclaimed "fighter" and he never lets anything hinder his happiness, which is evident today at 70 years young.
Tom started his journey back in 1951 at one of UCP of Greater Cleveland's first programs at the Sunbeam school, where he first received specialized support and therapy. After graduating from Sunbeam, Tom transitioned into applied community employment with the help of what would eventually become our OakLeaf Partners Community Employment program.
He has held different jobs, but Tom's most memorable job was with Hospeco. Hospeco is a healthcare company that provides prepackaged materials for the restrooms on the Ohio Turnpike and employees were tasked with packaging products for the restrooms. He enjoyed packaging so much that he spent 11 years with the company.
When Tom left Hospeco, it was about time for him to retire; but anyone who knows Tom understands that he is determined to always do more, and he simply was not ready to retire. He was reluctant because, "if you stop moving, you'll never be able to start again." Tom decided to continue to work at the OakLeaf Job Training workshop at UCP of Greater Cleveland.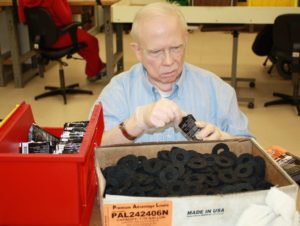 The OakLeaf Job Training program provides an on-site workshop and computer lab to offer individuals the opportunity to learn and practice work skills with necessary supports. The agency contracts with area businesses to provide paid work for participating clients. Tom's favorite days at UCP are when he gets to do paper shredding on the work floor and assemble parts for the Ford Motor Company.
When Tom is not at UCP, you will find him hanging on tightly to his most prized possession, his handheld radio. His radio is valued so highly since he uses it as his resource for opportunities to win contests on his favorite station, WMJI. Tom wins so frequently that he must keep a record of every win to ensure his eligibility for the next contest! Even during the periods when he is not eligible, he still calls the station to talk to his favorite anchor and friend, Mark Nolan. Outside of WMJI, Tom is a frequent caller to many radio stations in Cleveland, and he is a favorite caller of many morning show hosts—everyone in the Cleveland radio scene knows Tom!
Mark was Tom's surprise guest at his 50th anniversary within UCP's workforce back in 2015. Tom also received a watch and a cake for his anniversary, which paled in comparison to the attendance from his friend. Tom credits everyone in his life for helping him become the man he is today. He can even remember all of the names of his coworkers, teachers, therapists and friends, and makes an effort to maintain contact with as many of them as possible.
Tom is a perfect example of how UCP can make a difference throughout the entire lifespan of our clients. Not only did UCP provide the therapy, job training and employment opportunities for Tom, but UCP also helped to create meaningful relationships with staff and friends along the way.
---