October 11, 2018
by: Emily Hastings
2018 Boots Fisher Memorial Award Winners
At UCP of Greater Cleveland's 68th Annual Meeting, we presented four Boots Fisher Memorial Awards. These awards are given out each year to deserving clients in honor of Elaine "Boots" Fisher, a founding member of our agency and a committed supporter throughout her life.  The Boots Fisher Memorial Awards are given to those individuals in each program who demonstrate great strides towards independence.
Deidre – OakLeaf Day Services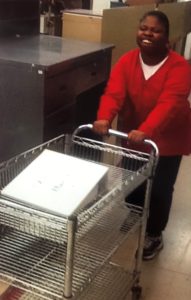 Deidre has been with OakLeaf Day Services for about 2 ½ years.  When she arrived, she was shy and averse to touch and was reluctant to eat independently.  Today, she has no issue with eating on her own and interacts very well with her peers and the staff.  In fact, she walks room to room each morning greeting all with a hug or a kind hand to hold.  Deidre was selected for this award due to her significant growth in socialization, independence and self-determination.  She is now involved with the community through her volunteer work at Devon Oaks and Renaissance nursing facilities.   Residents look forward to seeing Deidre.  This quiet-natured, kind and gentle young woman is now making a difference in the lives of others.
Clinisha – OakLeaf Job Training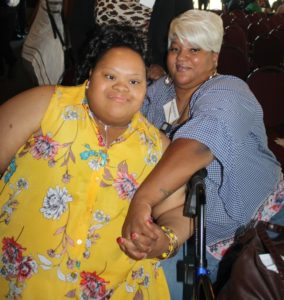 Clinisha started with OakLeaf Day Services in November 2015 at just 19 years old.  Within just a few months, we all recognized her potential and she transferred to OakLeaf Job Training.  Initially, Clinisha struggled with this transition – she was very unhappy, not speaking with peers or staff and not open to be consoled.  Then, a few months later, she suddenly started talking non-stop!  Not only is she now happy and friendly, she even shows a caring nature toward others.  Clinisha is the first to approach newcomers, making them feel comfortable at UCP.  In addition, she likes to work and is meticulous in her quality of work.  She has come a long way at a young age, in a short period of time.  We see a bright future for Clinisha!
Sam – OakLeaf Partners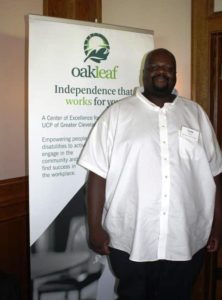 Sam began working with OakLeaf Partners in 2015 working a summer job at the Cleveland Metroparks Zoo gift shop.  There, with the assistance of OakLeaf Partners staff, Sam fine-tuned his social skills and ability to stay on task.  He was then ready for competitive employment. Sam worked for six months with GCA Services as a cleaner in the Calfee law offices until he was laid off.  Within just a couple of months, he landed at NovaGard Solutions in an assessment or "work try-out" situation.  It is important to note that NovaGard had never hired anyone with a disability so Sam had a lot to prove.  He passed that assessment with flying colors last September and, today, holds the title of Special Materials Handler with NovaGard Solutions.  In just over a year, he has become an integral part of their team!
Rena – LeafBridge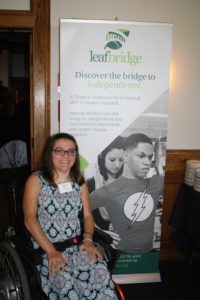 Rena has been attending LeafBridge therapy services for more than 12 years!  Over these many years, Rena has worked incredibly hard both in the clinic and at home.  She continuously pushes herself to defy the odds and continually increases her strength, balance and independence.  Rena's newest challenge is maneuvering curbs with her walker.  She meets or exceeds all of the goals that the therapists set for her and the goals that she sets for herself.  In addition to her work at UCP, Rena swims, takes voice lessons, sings in her high school choir and is involved with Youth Challenge in their drama performances and social events. We are so proud of Rena and have been privileged to watch her grow into an accomplished and kind young woman.
---