Current Openings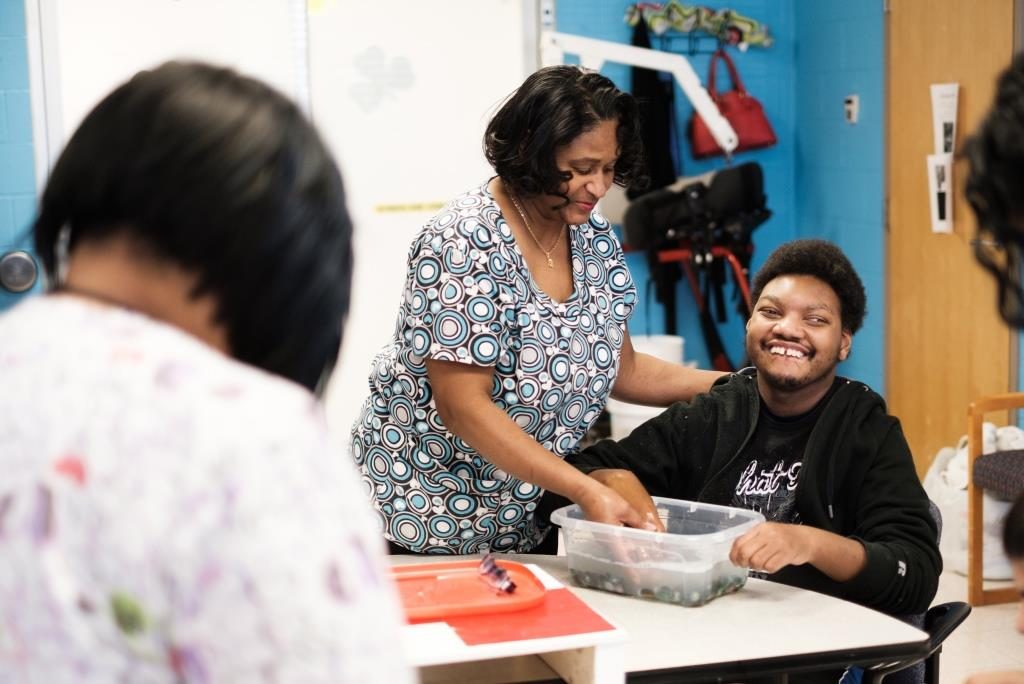 Thank you for your interest in working at UCP of Greater Cleveland.  To apply for an open position, please go to our UCP of Greater Cleveland Employment Application. You can also upload a cover letter and/or resume to include with the completed application (not required for all positions, but recommended).
Current Employment Opportunities
Administrative Assistant – Oakleaf – Cleveland Location
Under the supervision of the Associate Director of OakLeaf Services, performs administrative tasks to support the daily operations of OakLeaf Services. Assure that accurate information is generated and maintained as required by regulatory bodies, accreditation and funding sources.  High school diploma or equivalent and a minimum of one to three years' office administration experience required.  Proficiency in Microsoft Office required.  Detail oriented, reliable, organized, excellent written and verbal communication skills, able to work independently and problem solve.  Possess a valid Ohio driver's license with no more than two (2) moving violations.  Perform OakLeaf Services clerical functions, including coordination of office and clinical supplies, creating department information and postings, monitoring petty cash flow and reconciliation, generating forms, documents, correspondence and meeting minutes, coding invoices and expense reports, and maintaining office equipment.  Help maintain accurate records pertaining to attendance, units of service and transportation as related to individual services and reimbursement through various funding sources.  Assist with staff payroll process including generating timesheets, collecting timesheets and time off requests, and assisting with the accrual task.  Assist with coordinating staff training and continuing education. Register and track external training for staff. Obtain necessary signatures and generate certificates where necessary.  Maintain current staff lists and update regularly.  Perform filing tasks including archiving information from client case files.  Update client demographic information as needed.  Coordinate transportation of individuals with outside vendors as requested.  Update relevant forms and operations manual procedures to reflect revisions and additions on a regular basis, as requested by the Director. Ensure that department members receive and update agency and personnel manuals as needed.  Answer telephones; receive and direct visitors and staff.  Provide coverage for UCP front desk receptionist as needed.  Attend departmental, OakLeaf Services and agency staff meetings as required.  Regularly communicate with other OakLeaf Services staff to coordinate services, share information and problem solve.  Perform other reasonably related job duties as requested.
Certified Occupational Therapy Assistant – Cleveland Location
Under supervision of Occupational Therapist, promote physical development of clients through varied appropriate therapeutic techniques within guidelines as established by Ohio Law and Rules covering the Practice of Occupational Therapy and within the context of the established code of ethics.  Graduate of an accredited Occupational Therapy assistant program, licensed by the State of Ohio, certification from the State Department of Education, and the ability to lift a minimum of fifty (50) pounds. Minimum of one (1) to two (2) years work related experience required. Possess a valid Ohio driver's license with no more than two (2) moving violations and have reliable daily transportation.  Gather and review pertinent data from client's records.  Assist in the evaluation of client's functional abilities with a licensed Occupational Therapist.  Assist in the development and updates of individual plans, objectives or activities for clients under the direction of an OTR/L.
Implement programs that reflect goals.  Instruct teachers and other direct care persons regarding implementation of selected activities, handling techniques, and use of adaptive equipment.  Monitor ongoing programs and maintain documentation.  Participate in appropriate interdisciplinary team meetings.  Attend inservice presentations and professional meetings and share knowledge.  Fabricate and adapt equipment under the direction of an OTR/L.  Maintain up-to-date documentation for all clients served according to standards established by Medicaid and CARF.
Direct Support Professional, OakLeaf (full-time & part- time positions available) – West Side and East Side Locations
Multiple shifts/times available, including first shift, no weekends.  
Provide daily living skills training and supportive direct care services to clients as identified in their Individual Service Plan (ISP); for example, meal preparation, housekeeping, toileting, bathing, dressing, feeding, assisting with or administering medications, shopping, attending appointments, transporting, performing health care related activities, etc. Ensure the safety and well-being of clients, including shoveling snow to clear walkways. High school diploma or GED required. Possesses a valid Ohio driver's license with two (2) or less moving violations and has reliable daily transportation. Knowledge of and ability to lift, turn, position and transfer persons with physical disabilities in a safe and comfortable manner. Able to lift 50 pounds or more safely and operate a "Handi-Move". Has reliable transportation available, when working, in order to transport self to work, meetings, and between sites; Able to operate common household appliances including stove, oven, microwave, dishwasher, iron, vacuum, clothes washer and dryer, etc. Able to work pre-established hours, including weekends, based upon the needs of the program and clients.
Environmental Service Technician II – Cleveland Location
Under the general supervision of the Maintenance & Facility Manager and with occasional direction from the Environmental Service Team Leader, clean and maintain United Cerebral Palsy's facilities in a manner to ensure a safe, clean and comfortable environment for clients, visitors and staff members. Ability to work independently with minimal supervision.  High School diploma or GED. Have knowledge of floor equipment and maintenance and cleaning supplies and materials. Be able to perform minor mechanical, electrical, and plumbing repairs. Undertake minor carpentry and drywall projects. Have knowledge and ability to paint or stain. Must have a valid Ohio Driver's License with two (2) or fewer moving violations. Be able to stand and bend for 8 hours, climb stairs and ladders and lift at least 50 pounds. Have eyesight and hearing ability sufficient to see if areas are clean and to listen to instructions and requests. 
Therapeutic Teaching Aide – Cleveland Location
Provides support and assistance to the Speech Language Pathologist, Occupational Therapist, Physical Therapist, and Intervention Specialist for the students enrolled in the Day Program. Provides direct care to students in the Day Program to support the development of basic life skills, communication, and functional academic skills as outlined in their Individualized Educational Program (IEP.) Works cooperatively with all staff to provide comprehensive services to clients in a safe, clean and comfortable environment. Assists all staff before, during, and after treatments at times when the Day Program is not in session.  High school diploma is required. Associate degree is preferred. One-two years experience working with children and/or young adults with physical and development disabilities is preferred. Physical capacity to perform lifting (minimum of 50 lb.) and assume body positions related to routines of therapeutic activities personal care tasks (e.g. pushing, pulling, bending, twisting, reaching, crouching, stooping, kneeling, and lifting). Sufficient vision to monitor quality control. Verbal ability to communicate client needs and direct them to appropriate staff. Professional manner and willingness to work as part of a team. Possess a valid Ohio driver's license with no more than two (2) moving violations and have reliable daily transportation.
---
It is the policy of UCP of Greater Cleveland to provide equal opportunity employment to all employees and applicants for employment.  No person shall be discriminated against in employment because of race, religion, color, sex, age, national origin, disability, military status, genetic information, or any other characteristic protected by applicable federal or state law.  UCP of Greater Cleveland will provide reasonable accommodations for qualified individuals with disabilities.
Save
Save