UCP Therapy Services are team-based and often involve two or more therapists working together to determine appropriate goals and developmental milestones for children (birth to 22 years) with a range of disabilities.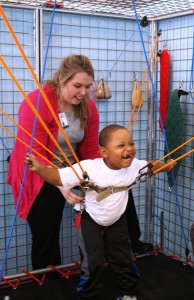 Physical Therapy promotes strong gross motor and balance skills. Therapists work with children to increase range of motion, coordination and mobility to assist them with sitting, crawling, walking, running and other activities.
Occupational Therapy focuses on improving fine motor control, sensory processing and visual motor coordination to assist with daily living skills, self care and play. Fine motor skills may refer to use of hands, wrists and arms, as well as body posture and mechanics.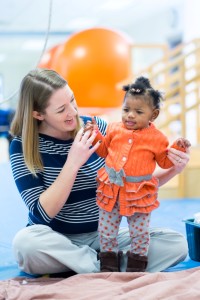 Speech/Language Therapy works to improve children's ability to communicate and to manipulate foods and liquids involved with feeding. This may include utilization of sign language, augmentative/computer devices and/or other alternative methods of communication.
Steps to Independence Intensive Therapy is a unique, intensive therapy approach that helps children with motor disorders achieve a higher level of functioning. For more information on this program, please visit the Steps to Independence page.
All UCP therapists are pediatric specialists, and are certified and trained in the latest equipment, treatment techniques and modalities. These may include, but are not limited to:
Kinesio Taping
Functional Electrical Stimulation
Threshold Electrical Stimulation
Pediatric Treadmill with Lite-Gait
Sensory Integration
Fees may be reimbursable by insurance companies and Medicaid. UCP of Greater Cleveland has a sliding fee scale linked to income for those fees not covered by third party payer.
To inquire about services for your child, please contact Children and Family Services Manager Celia Chesnick at (216) 791-8363, ext. 1260 or cchesnick@ucpcleveland.org. You can download and complete the Intake Application here.