Current Openings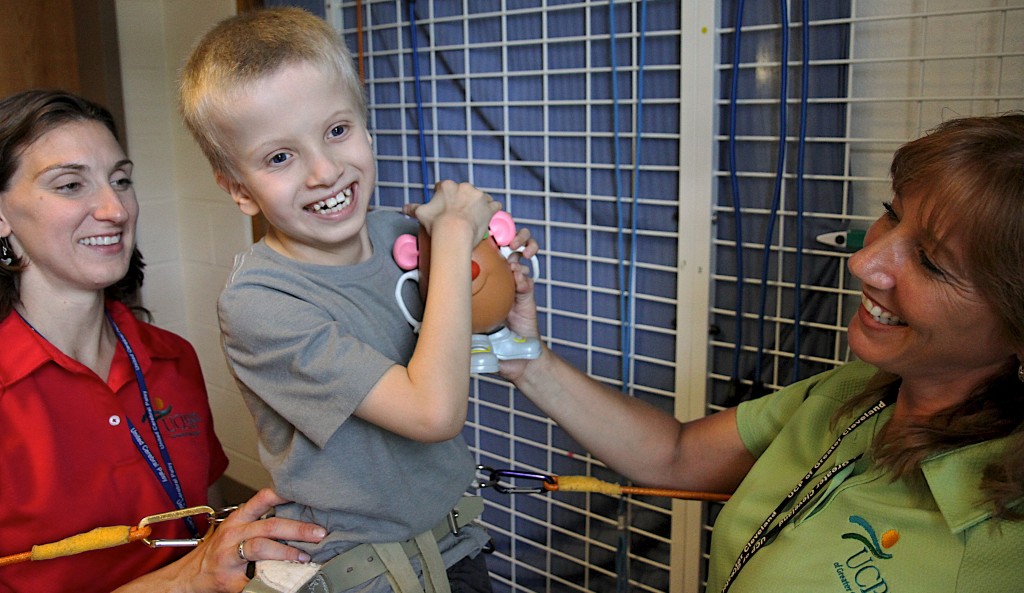 Thank you for your interest in working at UCP of Greater Cleveland.  To apply for an open position, please go to our UCP of Greater Cleveland Employment Application. You can also upload a cover letter and/or resume to include with the completed application (not required for all positions, but recommended).
Current Employment Opportunities
Day Services Community Connector – Cleveland and Westlake Locations 
Provides support services, training and delegated nursing for a group of adults with multiple disabilities (i.e., physical, developmental and/or mental) in basic daily living, recreational and work-related habilitation activities to maximize independence and community integration in accordance with their Individual Plan (IP) goals. Carries out IP programs and works cooperatively with OakLeaf Day Services and other staff members in providing comprehensive services to program participants to ensure that their needs are met efficiently and that they are served in a safe, clean and comfortable environment. Assumes a leadership role by acting as main assistant to the manager, organizing, monitoring and directing the client-related activities in their activity room.  High school diploma or GED required. Two year's direct care experience serving adults with multiple and/or severe disabilities required. One year's experience in an ADS activity room or a sheltered workshop, and/or additional training, coursework or relevant program experience preferred. Physical capacity to perform lifting (minimum of 50 lb.) and assume body positions related to routines of personal care of clients (e.g. pushing, pulling, bending, twisting, crouching, stooping, kneeling, and reaching) required. Ability to complete state-approved medications administration course and competency to perform delegated nursing tasks as evaluated by the agency nurse required. Verbal and writing skills necessary to effectively communicate and document client needs. Professional manner and willingness to work as part of a team. Possess a valid Ohio driver's license with no more than two (2) moving violations and has reliable transportation.
Development Associate – (part-time/20 hrs. per week) – Cleveland Location
Under the direction of the Director of Development, the Development Associate manages the fundraising database and administrative components of the Development Department and assists with the preparation and tracking of fundraising campaigns, proposals and agency reporting.  Associates degree and/or three (3) to five (5) years administrative experience required. Must have excellent written, oral and interpersonal communication skills. A high degree of computer literacy is mandatory. Experience working with Raiser's Edge or other donor management software preferred. Fundraising or development experience a plus. Must have reliable transportation and a valid Ohio driver's license with two (2) or less moving violations.  Manage all aspects of Raiser's Edge database including accurate input, updating information and generating necessary reports for the Development, Finance and Operations Departments. Manage gift records and donor acknowledgements.  Manage all administrative aspects of the Development Department, including but not limited to, meeting coordination, minutes, data entry, correspondence, mailings and assist with the production of printed materials.  Provide proofreading support for all materials produced by the department.  Prepare packets and other materials for members of the UCP organization.  Maintain development filing and ensure that documentation is filed accurately.  Manage all department mailing lists including annual sustaining fund, newsletters, donor stewardship and event invitations.   Assist with preparation and implementation of agency events as needed.  Participate in professional functions that are relevant to the position and the agency; present the agency and its clients in a positive manner consistent with the mission.  Seek out and willingly accept additional duties and responsibilities.
Direct Support Professional, OakLeaf (part time positions available) – West Side and East Side Locations
Provide daily living skills training and supportive direct care services to clients as identified in their Individual Service Plan (ISP); for example, meal preparation, housekeeping, toileting, bathing, dressing, feeding, assisting with or administering medications, shopping, attending appointments, transporting, performing health care related activities, etc. Ensure the safety and well-being of clients, including shoveling snow to clear walkways. High school diploma or GED required. Possesses a valid Ohio driver's license with two (2) or less moving violations and has reliable daily transportation. Knowledge of and ability to lift, turn, position and transfer persons with physical disabilities in a safe and comfortable manner. Able to lift 50 pounds or more safely and operate a "Handi-Move". Has reliable transportation available, when working, in order to transport self to work, meetings, and between sites; Able to operate common household appliances including stove, oven, microwave, dishwasher, iron, vacuum, clothes washer and dryer, etc. Able to work pre-established hours, including weekends, based upon the needs of the program and clients.
Director of Development
Responsible for managing initiatives to strengthen the base of contributed income to the agency. This includes, but is not limited to the annual fund, special fund campaigns, special events, volunteer events, planned giving, and cultivation of community relationships/sponsorships. Oversee marketing and public relations that increase community awareness of the agency and its mission in ways that result in positive outcomes. Plans, directs and coordinates designated projects for the Development Department and agency.  Bachelor's degree, seven to ten years of proven fundraising/development experience. Master's degree preferred. Excellent written, oral and communication skills. Must have the ability to generate a positive image of the agency with all contacts and communications that represent the agency. A high degree of computer literacy required, experience using donor management databases preferred. Must have reliable transportation and a valid Ohio driver's license with two (2) or less moving violations.  In partnership with the Chief Operations Officer and the Development Advisor, develop and implement a strategic development plan and financial strategy for the Development Department.  In partnership with the President & Chief Executive Officer, the Chief Operations Officer and the Development Advisor, bring engagement and cultivation strategies to effectively acquire, retain and upgrade donors to fruition.  Manage and oversee all aspects of the agency annual fund, including the development of letters and other vehicles for support and the creation of continuous plans for gifts via direct mail and online contribution programs.  Manage and oversee all aspects of the foundation relations/grants plan, including the identification of new funders and opportunities for program and operations support. Cultivate and strengthen relationships with foundations and act as a liaison with United Way of Greater Cleveland and oversee all budgets, proposals and reporting.  Develop continuous plans for agency special events, including sponsorship and attendance; oversee logistics and event marketing and communications. Work with the Development Advisor on corporate sponsorship planning and development.  Manage all special event committees of the agency as well as the Young Professionals Committee. Monitor progress and lead recruitment efforts for all committees.  Develop, manage and evaluate a comprehensive marketing, communications and public relations program that will enhance the agency's image and position with key stakeholders and the community. Oversee related activities and materials (publications, media relations, collateral pieces, etc.), as well as other facets of the program including (but not limited to) brand identification, brand promotion, stakeholder and community outreach and web-based and social media.  Manage communication of the agency's desired image and position and assure consistent communication of image and brand throughout the agency to all constituencies, including internal and external parties.  Manage media interest in the agency and maintain regular contact with the target media and relevant responses to media inquiries.  Manage and oversee work of the Development Committee of the Board of Directors.  Present the agency, clients and staff in a positive manner consistent with the agency mission, including public speaking, site visit tours and other avenues that will educate and familiarize donors and the community with the agency.  Oversee donor record and gift acknowledgment.  Oversee the volunteer program of the agency.  Other job related duties as assigned.
Intervention Specialist
Under the supervision of the Specialized Services Manager, the Intervention Specialist provides appropriate learning experiences for clients/students with for clients/students with a range of disabilities from birth through 22 in an individualized functional skills program primarily with one on one and small group instruction. The Intervention Specialist collaborates with team members to plan, develop, and evaluate specialized programs and learning environments. Ongoing professional development is required for this position, with emphasis in the areas of Cortical Visual Impairment (CVI) and developmental vision deficits.  Bachelor's degree in Special Education.  Current ODE license as an Intervention Specialist.  Minimum of 2-3 years of teaching experience.  Exceptional interpersonal skills.  Passionate, collaborative, and energetic disposition.  Excellent verbal and written communication skills.  Commitment to professional development particularly related to Cortical Visual Impairment.  Ability to maintain high level of confidentiality and use sound judgment.  Proficient in computer applications including MS Office Suite, email, and internet.  Ability to lift a minimum of fifty (50) pounds.  Possess a valid Ohio driver's license with no more than two (2) moving violations and have reliable daily transportation.  Preferential consideration for candidates with the following: Experience with Cortical Visual Impairment (CVI), Experience with Severe and Multiple Disabilities,Willingness to pursue coursework and licensure requirements to become a Teacher of students with Visual Impairment (TVI) preferred.
Project Search Skills Trainer
Responsible for providing on-site training, supervision and support to high school student interns participating in the Project Search school-to-work transition program. The Skills Trainer serves as a liaison between the host employer, school, vocational rehabilitation and developmental disabilities partners and UCP to promote the agency's mission and to facilitate the integration of persons with disabilities into the community work setting (including the worksite internship rotations and/or a competitive job).  High school diploma or GED required.  Two years of related experience working with students or adults with developmental and/or physical disabilities in a school-to-work transition or vocational capacity strongly preferred, or a combination of education and experience typically represented by an Associate's degree in a human services field.  Ability to use standard English effectively in oral and written communication required.  Professional appearance, attention to detail, accuracy, ability to plan and organize work efficiently, and the ability to interact effectively in a professional environment and with all stakeholders involved in a client's program.  Computer-literacy in Microsoft Office computer applications required.  Ability to display enthusiasm and an overall positive attitude required.  Adaptable in dealing with individual and cultural differences required.  Availability to work occasional evenings and/or weekends if needed.  Demonstrated reliability and dependability.  Ability to perform physical activities related to job coaching duties, including the capability to perform lifting (at least 50 lbs.), pushing, pulling, bending, twisting, crouching, stooping, kneeling and reaching.  Possess a valid Ohio driver's license with no more than two (2) moving violations and have reliable daily transportation.
---
It is the policy of UCP of Greater Cleveland to provide equal opportunity employment to all employees and applicants for employment.  No person shall be discriminated against in employment because of race, religion, color, sex, age, national origin, disability, military status, genetic information, or any other characteristic protected by applicable federal or state law.  UCP of Greater Cleveland will provide reasonable accommodations for qualified individuals with disabilities.
Save
Save