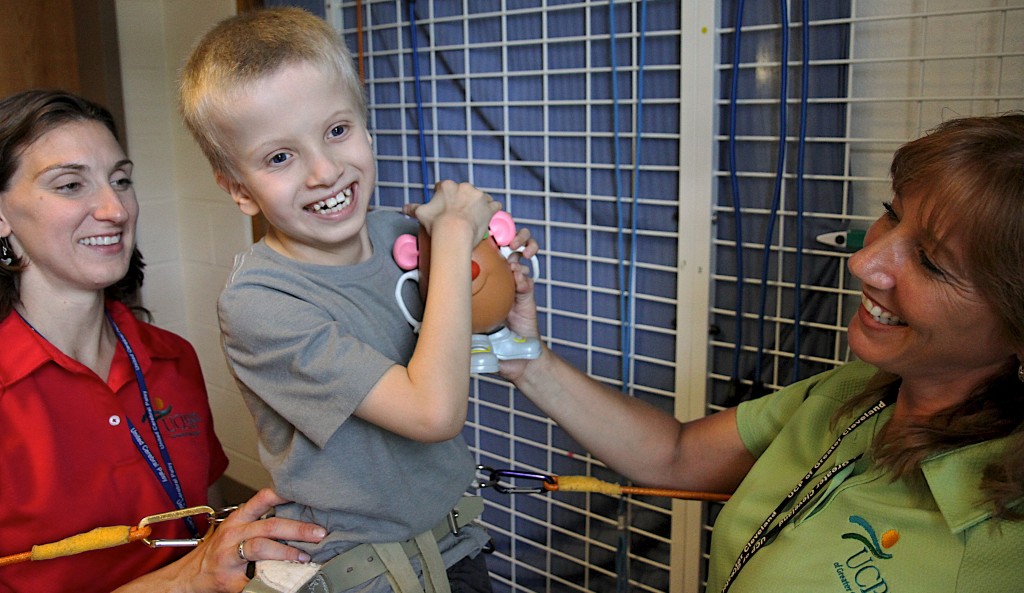 Thank you for your interest in working at UCP of Greater Cleveland.  To apply for an open position, please go to our UCP of Greater Cleveland Employment Application. You can also upload a cover letter and/or resume to include with the completed application (not required for all positions, but recommended).
Current Employment Opportunities
Direct Support Professional – Part-Time – West Side and East Side Locations
Provide daily living skills training and supportive direct care services to clients as identified in their Individual Service Plan (ISP); for example, meal preparation, housekeeping, toileting, bathing, dressing, feeding, assisting with or administering medications, shopping, attending appointments, transporting, performing health care related activities, etc. Ensure the safety and well-being of clients, including shoveling snow to clear walkways. High school diploma or GED required. Possesses a valid Ohio driver's license with three (3) or less moving violations and has reliable daily transportation. Knowledge of and ability to lift, turn, position and transfer persons with physical disabilities in a safe and comfortable manner. Able to lift 50 pounds or more safely and operate a "Handi-Move". Has reliable transportation available, when working, in order to transport self to work, meetings, and between sites; Able to operate common household appliances including stove, oven, microwave, dishwasher, iron, vacuum, clothes washer and dryer, etc. Able to work pre-established hours, including weekends, based upon the needs of the program and clients.
Environmental Service Technician
Under the general supervision of the Maintenance & Facility Manager and with occasional direction from the Environmental Service Team Leader, clean and maintain United Cerebral Palsy's facilities in a manner to ensure a safe, clean and comfortable environment for clients, visitors and staff members. High School diploma or GED. Must have a valid Ohio Driver's License with three (3) or fewer moving violations. Be able to stand and bend for 8 hours, climb stairs and ladders and lift at least 50 pounds. Maintain and clean windows, floors, woodwork, ceilings and walls. Maintain and clean public areas, classrooms, treatment rooms, production area, storage areas, lunchrooms and offices by sweeping, mopping, vacuuming, washing, dusting, polishing and waxing. Collect trash by emptying wastebaskets and maintains dumpster area. Make deliveries. Respond to emergencies. Set up rooms for functions and meetings. Receive and store necessary supplies. Maintain grounds by cutting lawns, trimming shrubs, picking up trash, cleaning and clearing walks and driveways and removing snow (using snow blower, shovel and salt distributor.) Floor care and equipment (buffing, stripping, carpet cleaning). Must be flexible with hours in wintertime to accommodate snow removal.
Occupational Therapy Position (Schools and Facility-Based Therapy Program), Children's Services
With general supervision, plans, organizes and participates in medically oriented occupational therapy programs to habilitate clients with developmental disabilities in center-based or school based programs. Combination of education and experience normally represented by a Bachelor's Degree in Occupational Therapy, licensed by the State of Ohio, and certification by the American Occupational Therapy Association. Minimum one (1) to two (2) years related work experience required. Possess a valid Ohio driver's license with no more than three (3) moving violations and have reliable daily transportation.
Registered Nurse
Ensure adequate monitoring and appropriate intervention with regards to the best possible health for each individual. This requires interaction with the physician, the individual, all disciplines and staff. The nurse takes full responsibility for any delegated tasks and the direction of LPN's and STNA's in the care of individuals served. Registered Nurse with current Ohio R.N. license. Minimum Associate Degree of Nursing with three (3) to five (5) years of nursing experience; knowledge of delegated nursing practices and experience with persons with mental retardation and developmental disabilities. Certified instructor for CPR, State Medication Classes, and First Aid.Able to transport self to work and meetings. Must have reliable transportation to travel between sites. Posses a valid Ohio driver's license with no more than three (3) moving violations.  Knowledge of general nursing practice, principles of wellness care, assessment and signs and symptoms of illness and other issues affecting persons with disabilities.Knowledge of state and federal rules and regulations of nursing and for persons with mental retardation and developmental disabilities in residential and vocational settings.Knowledge of and ability to lift, turn, position and transfer people with severe physical disabilities in a safe and comfortable manner. Able to lift fifty (50) or more pounds.
Therapy Aide –22-1/2 hours per week
Provides support and assistance to all therapy staff before, during, and after treatment. Works cooperatively with all staff in providing comprehensive services to clients to ensure that their needs are met efficiently and that they are maintained in a safe, clean and comfortable environment. Support and provide assistance to therapy and other Children's Services staff in completion of home programs and other clerical duties as assigned. High school diploma is required. Associate degree is preferred. One-two years experience working with children and/or young adults with physical and development disabilities is preferred. Physical capacity to perform lifting (minimum of 50 lb.) and assume body positions related to routines of therapeutic activities personal care tasks (e.g. pushing, pulling, bending, twisting, reaching, crouching, stooping, kneeling, and lifting). Sufficient vision to monitor quality control. Verbal ability to communicate client needs and direct them to appropriate staff. Professional manner and willingness to work as part of a team. Possess a valid Ohio driver's license with no more than three (3) moving violations and have reliable daily transportation.
---
It is the policy of UCP of Greater Cleveland to provide equal opportunity employment to all employees and applicants for employment.  No person shall be discriminated against in employment because of race, religion, color, sex, age, national origin, disability, military status, genetic information, or any other characteristic protected by applicable federal or state law.  UCP of Greater Cleveland will provide reasonable accommodations for qualified individuals with disabilities.