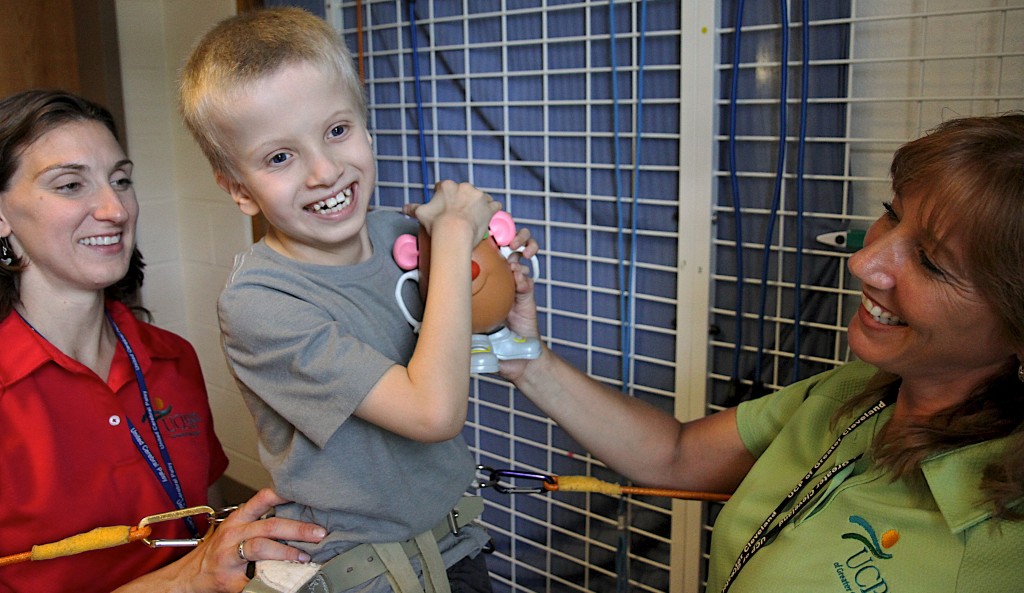 Thank you for your interest in working at UCP of Greater Cleveland.  To apply for an open position, please go to our UCP of Greater Cleveland Employment Application. You can also upload a cover letter and/or resume to include with the completed application (not required for all positions, but recommended).
Current Employment Opportunities
Certified Occupational Therapy Assistant (COTA)
Under supervision of Occupational Therapist, promotes physical development of clients through carried appropriate therapeutic techniques within guidelines as established by Ohio Law and Rules covering the Practice of Occupational Therapy and within the context of the established code of ethics.  Candidates must be a graduate of an accredited Occupational Therapy assistant program, licensed by the State of Ohio and certification from the State Department of Education, with a minimum of one (1) to two (2) years work related experience.  Other requirements include possessing a valid Ohio driver's license with no more than three (3) moving violations, having reliable daily transportation, and the ability to lift a minimum of fifty (50) pounds.
Community Employment Manager, Vocational Services
Provides management and administrative support services for the Community Employment program.  Works cooperatively with employers, supervisors, UCP staff and clients, and referral sources to coordinate and deliver quality services that will ensure the successful job adjustment and performance of the program participants and the satisfaction of host employers.  Works collaboratively with other VS Program Managers to assist clients in moving to more integrated employment settings.  Provides information regarding the Community Employment Program to potential employers, the UCP Development Department and the community to promote the hiring of individuals with disabilities in general.  Must possess a valid Ohio driver's license with no more than three (3) moving violations and have reliable daily transportation.  Bachelor's degree in vocational rehabilitation, special education, social work, business or related human service field required, Master's degree preferred.  Three to five years experience in the supported employment or job development/placement fields working with individuals with developmental and/or physical disabilities strongly preferred.  Minimum of two year's supervisory experience required.
Development Associate, Administration
Under the direction of the Associate Director of Development, the Development Associate manages the fundraising database and administrative components of the Development Department and assists with the preparation and tracking of fundraising campaigns, proposals and agency reporting.  Bachelor's degree preferred.  Must have excellent written, oral and interpersonal communication skills.  A high degree of computer literacy and attention to detail is required.  Experience working with Raiser's Edge or other donor management software preferred.  Fundraising or development experience a plus.  Must have reliable transportation and a valid Ohio driver's license with three (3) or les moving violations.
Home Manager, Residential Services
The Home Manager is responsible for ensuring the health, safety and rights of the individuals served. Other functions include training, scheduling, supervising and evaluating staff, delivery and documentation of services as stated in the Individual Plan (IP), implementation of directives from the management team, the R.N., QDDP, and therapists, and the coordination of activities related to maintaining a well-functioning home(s) and vehicle(s). Managers must be available by cell phone to handle emergencies and provide direction to staff. Home Managers are expected to work a schedule that allows for the majority of their hours of work to coincide with times when individuals and/or staff are in need of support and/or supervision. Provide direct care as needed.  Must have a valid Ohio driver's license with no more than three (3) moving violations and have reliable daily transportation.  Three (3) years experience in social services field and/or working with individuals with developmental disabilities with at least one (1) year supervisory experience preferred.
In Home Care Aide/Direct Support Professional, Residential Services
1st Shift, 2nd Shift, 3rd Shift.  Locations in East & West Sides (Various full and part-time positions available)
No certification is required. These positions are located in either one of our group homes or in the clients' own homes. These individuals provide direct care such as meal preparation, feeding, bathing, dressing, toileting and housekeeping to adults with disabilities. We require a high school diploma or GED, a valid driver's license with no more than 2 moving violations, reliable transportation, must be at least 21 years old and have the ability to lift 50 pounds or more. Other duties as assigned.
Occupational Therapist, Children's Services
Plans, organizes and participates in medically oriented occupational therapy programs to habilitate clients with developmental disabilities in center-based or school-based programs.  A combination of education and experience normally represented by a Bachelor's degree in Occupational Therapy, licensed by the state of Ohio, and certification by the American Occupational Therapy Association required.  One to two years of related work experience required.  Must have a valid Ohio driver's license with no more than three (3) moving violations and have reliable daily transportation.