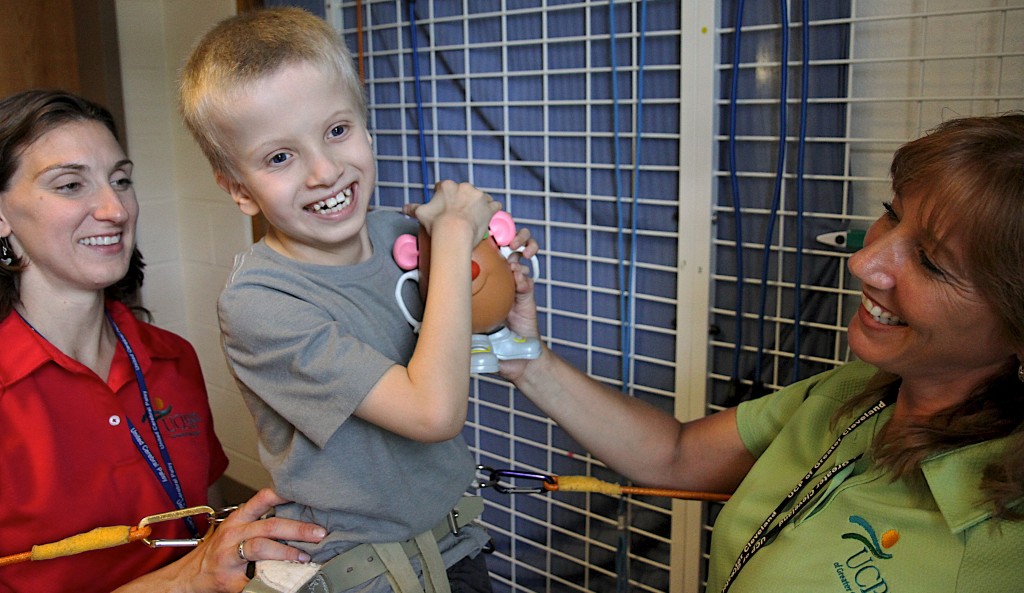 Thank you for your interest in working at UCP of Greater Cleveland.  To apply for an open position, please go to our UCP of Greater Cleveland Employment Application. You can also upload a cover letter and/or resume to include with the completed application (not required for all positions, but recommended).
Current Employment Opportunities
Adult Day Services (ADS) Assistant, Adult Services
Provides support services, training and delegated nursing for a group of adults with multiple disabilities (i.e., physical, developmental and/or mental) in basic daily living, recreational and work-related habilitation activities to maximize independence and community integration in accordance with their Individual Plan (IP) goals. Carries out IP programs and works cooperatively with ADS and other staff members in providing comprehensive services to program participants to ensure that their needs are met efficiently and that they are served in a safe, clean and comfortable environment. High school diploma or GED required, along with one year's direct care experience in an ADS activity room, sheltered workshop, or residential setting, with additional training, coursework and/or relevant experience serving adults with multiple and/or severe disabilities required. Must have a valid Ohio driver's license with no more than three (3) moving violations and have reliable daily transportation.
Billing and Accounting Assistant, Adult Services
Performs billing and administrative functions for Adult Services. Obtains appropriate authorizations from funding sources for client services, tracks utilization, maximizes reimbursement from all funding sources, and assists with collection issues. Performs client funds management duties.  A minimum of a High school diploma and two years of administrative/clerical, bookkeeping or billing experience required. Intermediate level skills in Excel and other Microsoft Office Products required. Proficiency with basic Adobe Acrobat skills preferred. Possess a valid Ohio driver's license with no more than three (3) moving violations and
has reliable daily transportation.
Home Manager, Adult Services
The Home Manager is responsible for ensuring the health, safety and rights of the individuals served. Functions include training, scheduling, supervising and evaluating staff, delivery and documentation of services as stated in the Individual Plan (IP), implementation of directives from the management team, the R.N., QDDP, and therapists, and the coordination of activities related to maintaining a well-functioning home(s) and vehicle(s). Managers must be available by cell phone to handle emergencies and provide direction to staff. Home Managers are expected to work a schedule that allows for the majority of their hours of work to coincide with times when individuals and/or staff are in need of support and/or supervision. Three (3) years experience in social services field and/or working with individuals with developmental disabilities.  At least one (1) year supervisory experience preferred.Must posses a valid Ohio driver's license with no more than three (3) moving violations and has reliable daily transportation.
Job Placement Specialist, Adult Services
Under the direct supervision of the Transition Services Manager and general direction from the Community Employment Manager, the Job Placement Specialist creates, coordinates and delivers individual job placement opportunities in integrated, community settings for clients participating in the Job Placement & Transition Services programs. Contacts prospective employers and matches clients to existing or "carved out" positions in the business community that fulfill mutual employment needs. Particular focus may be on working with young adults in the Project SEARCH school-to-work transition program.  Bachelor's degree in vocational rehabilitation, special education, social work, business or related human services field preferred.  A combination of education and experience normally represented by an Associate's degree in a human services or business field, or a minimum of five years practical experience in the job development and placement field required.  Reliable transportation and a valid Ohio driver's license with no more than three (3) moving violations, and the ability to visit businesses in several counties throughout Northeast Ohio also required.
---
It is the policy of UCP of Greater Cleveland to provide equal opportunity employment to all employees and applicants for employment.  No person shall be discriminated against in employment because of race, religion, color, sex, age, national origin, disability, military status, genetic information, or any other characteristic protected by applicable federal or state law.  UCP of Greater Cleveland will provide reasonable accommodations for qualified individuals with disabilities.