Employment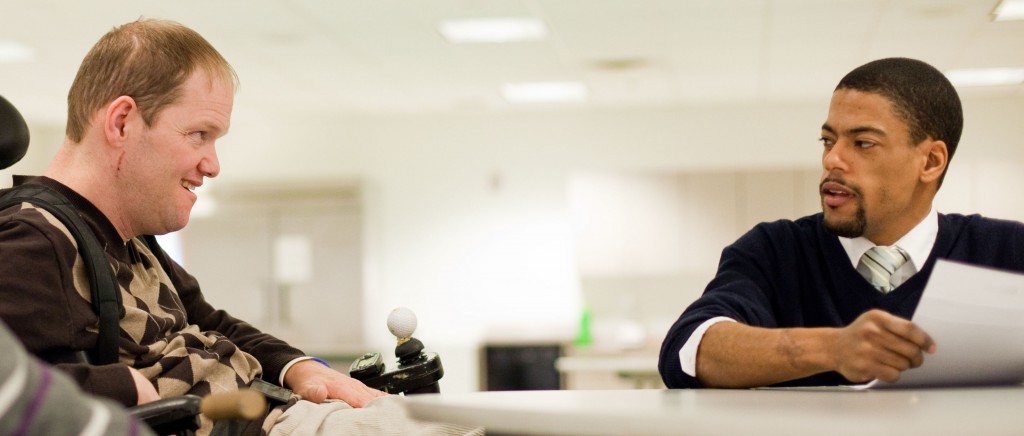 Disability services are an exciting, challenging, and rewarding field. Commit yourself to helping build healthier, happier more independent lives for children and adults with disabilities by joining the UCP of Greater Cleveland team.  UCP serves over 1,000 children and adults with disabilities each year, empowering them to reach their personal goals of independence through vocational and therapy services.  UCP employs approximately 195 caring men and women in both full-time and part-time positions, ranging from direct care to executive level management.
UCP offers competitive salaries, comprehensive benefits and opportunities for on-going professional growth in a positive atmosphere.  The shared core values of being client-centered, collaborative and providing services with compassion and integrity guide our employees in all they do.
UCP of Greater Cleveland is a great place to work.  Listen to Speech-Language Pathologist, Rebecca Guenther talk about her experience working at UCP.
For current employment opportunities, please search current job openings.
There are several convenient ways to apply:
Online: Apply now through our online process.  You can also upload a cover letter and/or resume to include with the completed application (not required for all positions, but recommended).
In person: Our state-of-the-art facility is located at 10011 Euclid Ave., Cleveland, OH 44106. We accept applications Monday through Friday 8:30 – 4:00.  Free parking is available.
Fax: Resumes are accepted via fax to (216) 721-3372, Attn: Director of Human Resources.
Mail: Please mail your resume to UCP of Greater Cleveland, 10011 Euclid Avenue, Cleveland, Ohio  44106, Attn: Director of Human Resources.
If your application meets the qualifications for a current position, the Human Resources Department will contact you via phone.  Individuals whose applications are not currently under consideration for a position will be notified via mail within two weeks.
If you are interviewed and considered for employment with UCP:
Your fingerprints will be submitted to the Bureau of Criminal Identification and Investigation.
Your driving record will be checked through the Bureau of Motor Vehicles.
We will call your previous employers to verify your employment.
It is the policy of UCP of Greater Cleveland to provide equal opportunity employment to all employees and applicants for employment.  No person shall be discriminated against in employment because of race, religion, color, sex, age, national origin, disability, military status, genetic information, or any other characteristic protected by applicable federal or state law.  UCP of Greater Cleveland will provide reasonable accommodations for qualified individuals with disabilities.
Save
Save
Save