Therapy Services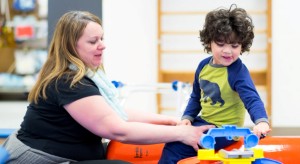 LeafBridge has been providing expert family-centered therapy services for more than 65 years. Using a comprehensive team approach, therapists support children and their families in achieving the goals and milestones that are most important to them. Therapy services at UCP include physical therapy, occupational therapy, speech-language therapy, intensive therapy services and specialty clinics.
Physical Therapy: for gross motor development including crawling, standing, walking, running and wheelchair mobility
Occupational Therapy: for functional skills of childhood including play, self-care skills, wheelchair access and participation in education
Speech-Language Therapy: for social skills, language development and essential oral motor skills for feeding
Case Management: Provides coordination of care while promoting family community engagement and connection to resources
Steps to Independence® Intensive Therapy Program: Research indicates that a skillfully implemented intensive therapy model at specifically timed intervals can result in more successful outcomes. Developed with the philosophy that children with motor disorders, much like athletes, require rigorous stretching, strengthening and conditioning, this program uses a multi-disciplinary approach to therapeutic intervention. Therapists in LeafBridge commit to consistent advancement of their education and treatment strategies to help your child achieve their goals.
Families who are interested in the Steps to Independence® intensive therapy model will be evaluated by occupational therapy, physical therapy and speech-language therapy to determine the appropriate level of intervention from each discipline.
Specialty Clinics: LeafBridge therapists have completed specific training in evidence-based intervention strategies. The following specialty clinic services are available:
Serial Casting Clinic – for children with upper extremity or lower extremity range of motion limitations
Feeding Clinic – a unique intervention team approach to advancing a child's skills with chewing, swallowing and food selection
Mobility Clinic – with a focus on advancing independent mobility, children have an opportunity to complete ongoing trials and training with specialized mobility equipment including power wheelchairs, manual wheelchairs, walkers and gait trainers
Assistive Technology Clinic – therapists holding the advanced credential of Assistive Technology Professional (ATP) evaluate children for technology that supports their independence in mobility, computer access, alternative augmentative communication (AAC), home access, reading, writing and more
To inquire about services for your child, please contact Children and Family Services Manager Celia Chesnick at (216) 791-8363, ext. 1260 or cchesnick@ucpcleveland.org.
Save
Save