Facilities & Equipment
The UCP Wolstein Center is an advanced facility which offers state-of-the-art therapy and rehabilitation areas, including a heated therapy pool, an on-site job training facility and fully equipped adult day support rooms.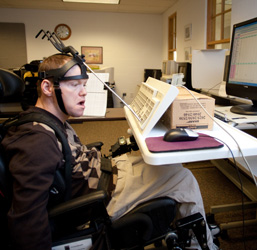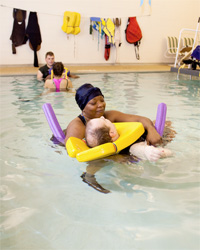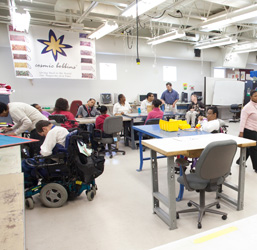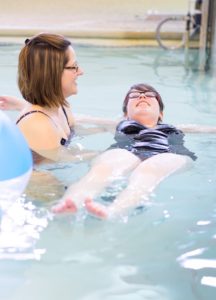 UCP utilizes an on-site pool for both therapeutic and recreational programming for children and adults with disabilities.  Use of aquatic therapy and recreation allows individuals with physical disabilities the ability to move their bodies in ways that may be difficult on land, build strength and endurance, learn control and provide opportunity for socialization and relaxation.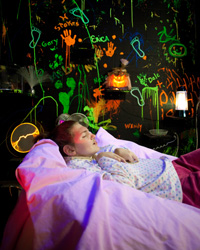 Multi-sensory spaces provide an opportunity to introduce sensory experiences to an individual in a controlled setting to promote relaxation, nonverbal communication and sensory exercises.  Sensory materials give visual, auditory, tactile, olfactory and proprioceptive stimulation.  UCP has multi-sensory spaces in each of the Adult Day Support rooms to assist with stress, anxiety, agitation and pain management.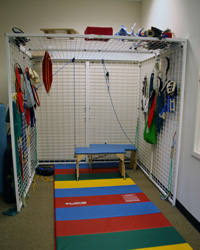 The Universal Exercise Unit is a unique and dynamic metal structure equipped with a system of pulleys, weights and bungee cord attachments to improve strength, range of motion and muscle flexibility.  This can be achieved through a pulley system or suspension system (aka the Spider).  Developed in Poland more than 60 years ago, the device is especially effective when used in intensive therapy.  UCP was the first agency in Greater Cleveland to implement the use of the Universal Exercise Unit.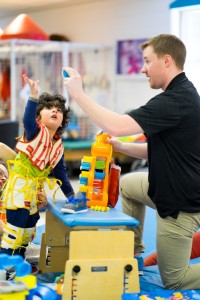 The Therasuit, another cutting-edge device utilized in the agency's intensive therapy program, has its origins in Russian space suit technology designed to minimize the physical effects of space flight upon cosmonauts. The Therasuit provides joint compression and subsequently stimulates muscle activity, thereby diminishing muscle weakness and loss of bone density.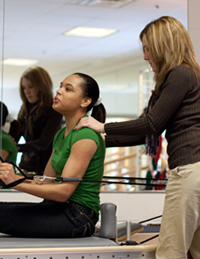 Pilates has a wide variety of innovative applications for use in therapy, offering versatility for strength and flexibility training, balance, motor learning, proprioceptive re-education, as well as other positive effects. UCP added the use of a Pilates Reformer in 2007.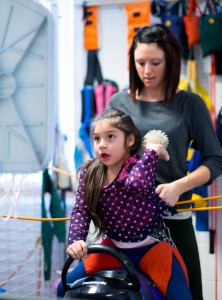 The Panasonic Core Trainer promotes the strengthening of core muscles to improve posture, efficiency of movement, balance and coordination.
UCP of Greater Cleveland maintains several other modalities and types of equipment for use in therapy, habilitation and recreation.  For more information about the cutting edge equipment used, please contact info@ucpcleveland.org.