November 7, 2012
by: Guest Contributor
Understanding Organizational Employment
During the month of November, blog posts will highlight different programs at UCP of Greater Cleveland and how they each support our agency mission to empower children and adults with disabilities to advance their independence, productivity and inclusion in the community.  This week, we take a look at the Organizational Employment Program and how this important employment program provides meaningful work for adults with disabilities that may not otherwise be able to participate in the workforce.
Organizational Employment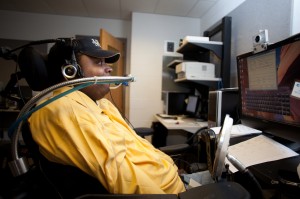 Every weekday more than forty client employees gather at UCP's Wolstein Center to take part in the Organizational Employment Program. Organizational Employment is an employment and activities based program, with a strong focus on work, that promotes financial responsibility and independence for adults with disabilities. Organizational Employment clients are able to spend time challenging themselves by working in a safe environment, while receiving the supports and services they may need. Piece-rate work is contracted from local businesses, and clients are paid based on their productivity. This work can include tasks such as document shredding, light assembly, packaging, sorting, bulk mailing and data entry. Between the work floor and the computer lab, there are usually tasks that each client enjoys doing.
Clients work with a habilitation specialist to develop personal goals for improving their individual employment skills and work habits, often referred to as "soft skills." Types of employment goals may range from improving computer skills, increasing speed and accuracy on specific tasks, or getting along with co-workers.  The most highly requested type of work among client employees is secure document shredding.  During the last year, UCP of Greater Cleveland has also contracted with a local Ford Motor Company factory to sort plastic plugs for reuse by the factory when building engines.  Clients enjoy the work and joke that they are helping build cars.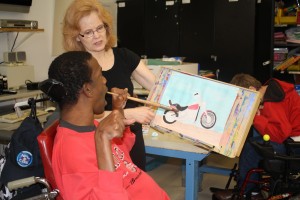 When client employees are not working, they participate in a variety of activities and groups that enhance their opportunity for socialization. Some of the activities that are offered are aqua therapy, writing, spending time on the computer and art therapy. There are educational groups the clients can join, such as the Healthy Living Group, which educates the clients on nutrition, and how they can make healthier eating choices for themselves. A favorite group of the clients is the Giving Back Group, which raises money throughout the year to give to local charities. The Giving Back Group also organizes different campaigns, such as the Hat and Scarf Campaign in the winter, and making Thanksgiving food baskets in the fall, for less fortunate families. Last year, they raised enough money to put together eight baskets full of Thanksgiving food, and this year their goal is to assist twelve families with Thanksgiving Dinner!
The goal of UCP of Greater Cleveland's Vocational Services Employment programs are to provide employment opportunities in the least restrictive environment possible for the individual.  Organizational Employment is an important first rung of the employment ladder for many client employees. For some individuals, it is an opportunity to build skills and independence before moving into a community based job.  For others who have a more involved support needs that complicates their ability to work in the community, it offers meaningful work and a level of financial independence in a safe environment.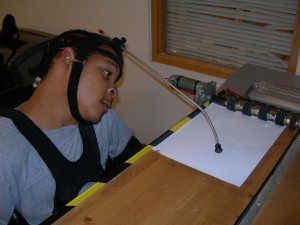 Partnership with local businesses that have piece rate or data entry work is critical to the success of this program.  Please call the Organizational Employment Habilitation Services Manager  to find out more about partnering with UCP and to receive a competive job quote at 216-791-8363 ext. 263 or vocational@ucpcleveland.org.
This blog post was prepared by UCP of Greater Cleveland Intern, Alexis Vaitekunas and edited by Tammy Gibson Willet
---