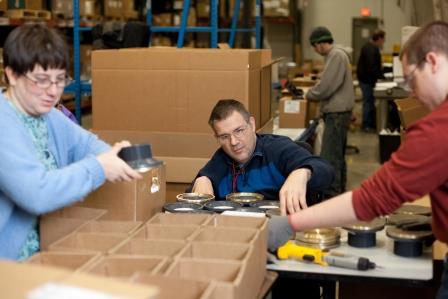 What's the third largest market segment in the United States? The answer might surprise you. It's not a particular race, gender, or age group. It's people with disabilities. The size of this population—54 million strong—surpasses Hispanics, African Americans and Asian Americans, as well as Generation X and teens. Add in their families, friends, and associates, and you get a trillion dollars in purchasing power.
Want a slice? Any smart business owner would. As with any customer segment, one of the best ways to tap into the disability market is to ensure it is represented in your workforce. Employees with disabilities can help businesses understand and meet the needs of this important and expanding customer base. What's more, research shows that consumers both with and without disabilities favor businesses that employ people with disabilities, and that people with disabilities can provide your business with the flexible, innovative thinking required for a competitive edge in the 21st century.
By identifying, adopting, and refining effective and meaningful employment practices that welcome people with disabilities, you business can have a vibrant, diverse workforce. Where do you start?
BUILD THE PIPELINE: OUTREACH AND RECRUITMENT
"Where can I find qualified applicants with disabilities?" Companies have expressed concern that one of the greatest barriers they face regarding the hiring of individuals with disabilities, including veterans with disabilities, is the inability to find qualified candidates. The adoption of effective outreach and recruitment strategies is essential to ensuring that your workforce includes qualified individuals with disabilities.
To effectively build a pipeline of qualified applicants with disabilities, your company will need to develop relationships with a variety of recruitment sources.   This is where UCP of Greater Cleveland can help.  Our Community Employment Program connects qualified individuals with disabilities with employers needing employees with their skills and talents.
HIRE (AND KEEP) THE BEST: PERSONNEL PROCESSES
It is important for businesses to review their personnel processes, qualification standards, and job descriptions (including the essential functions of each position) to determine whether they facilitate or impede the hiring and advancement of qualified persons with disabilities, including veterans with disabilities.
ENSURE PRODUCTIVITY: REASONABLE ACCOMMODATION PROCEDURES
Some individuals with disabilities may need "reasonable accommodations" in order to perform the essential functions of a job. Federal law and regulations define employers' obligations to provide reasonable accommodations. According to the Job Accommodation Network (JAN), more than half of all accommodations cost nothing. Furthermore, JAN's statistics show that most employers report financial benefits in the form of reduced insurance and training costs and increased productivity.
Our Community Employment Program Job Coaches can also guide employers to identify reasonable accommodations that will promote employee success and, most importantly, get the job done!
COMMUNICATE: EXTERNAL AND INTERNAL COMMUNICATION OF COMPANY POLICIES AND PRACTICES
To maximize a company's ability to attract qualified individuals with disabilities, it is important to communicate its commitment to employing individuals with disabilities and an inclusive and diverse work environment to the public, including subcontractors and vendors, as well as internally to your existing employees.
GROW SUCCESS: ACCOUNTABILITY AND CONTINUOUS IMPROVEMENT SYSTEMS
While the adoption of written policies, practices, and procedures is necessary to enhance employment opportunities for qualified individuals with disabilities, the ultimate objective is ensuring their implementation. Best business practices include putting systems in place to ensure accountability and continuous improvement relating to training; establishing accountability measures; establishing accountability and continuous improvement mechanisms; and designating responsible individuals.
To find out more about how UCP of Greater Cleveland can help you meet your diversity goals, build your business and create a work environment that is inclusive of individuals with disabilities, please contact Paul Soprano at 216-791-8363 ext. 1258 or psoprano@ucpcleveland.org.
This article is an excerpt shared from:  Business Strategies that Work: A FRAMEWORK FOR DISABILITY INCLUSION, created by the Department of Labor Office of Disability Employment Policy.  The document in its entirety can be found at:  http://www.dol.gov/odep/pdf/BusinessStrategiesThatWork.pdf