In the Spotlight: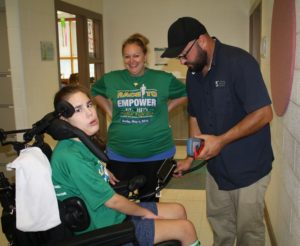 The AT Mobility Clinic is a brand-new venture for UCP's LeafBridge Therapy Services. The clinic opened this year one day per week as a pilot program to help our young clients become mobile, communicate more effectively, see and hear better, and participate more fully in learning activities using Assistive Technology (AT).
When an individual needs an AT device, they must prove medical necessity to the insurer through a written recommendation by a physician or therapist. Mobility clinics allow time for therapists to complete an assessment of need, trial and fit equipment, prepare recommendations and medical necessity paperwork, and train the child and family on use of the mobility aid. The AT Mobility Clinic is currently staffed by an occupational therapist (OT) and physical therapist (PT) as well as a speech-language pathologist (SLP) when needed. These therapists work together with the client and family to identify barriers to communication and access to the world around them. The therapists complete an AT assessment to determine what type of device would benefit the client based on trials of demo equipment. Examples of equipment range in function from wheelchairs, power chairs, communication equipment, seating devices, adaptive car seats, adaptive strollers, standers, alternative bed/sleep positioning and lift systems.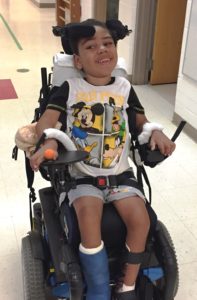 For clients who have less complex needs such as the need for a basic power chair, on average the client will require a minimum of three, 2 ½ hour Clinic visits to include the assessment and evaluation; trial of equipment and formal equipment request; and training on usage. Therapists also provide education for families and help them evaluate funding from sources, such as insurance and/or Medicaid.
LeafBridge has already served 35 clients this year in the clinic and hopes to expand the clinic to serve others in the community.