Throughout the history of United Cerebral Palsy of Greater Cleveland we have had many conversations regarding whether or not our agency name is a true reflection of whom we serve and what we do. We have always served individuals that have had many different kinds of disabilities through a wide variety of programs. But we also know that our agency name has history and a positive reputation in our community. Through a recent rebranding process, we have chosen new names for our two distinct branches of programming. Our agency name will stay the same, but with new program names that better communicate whom we serve and the role we have in empowering them to become more independent, productive and included in the community. What also remains constant will be our high quality services that focus on the individual and family.
We are very excited to announce our two new Centers of Excellence for our distinct branches of programming: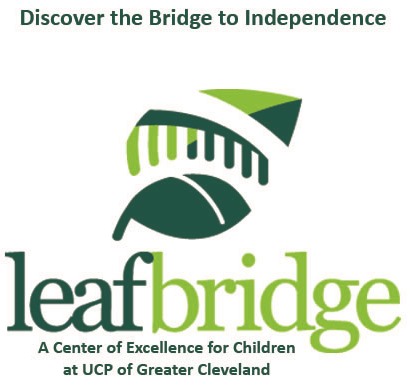 LeafBridge: Inspiration is a canopy bridge, providing a pathway through the trees. It is also a moving bridge, which extends to the opposite shore, providing a way to cross obstacles.
"LeafBridge fosters the physical, mental and emotional development of children with disabilities. LeafBridge reaches out to families of children with disabilities, providing a bridge to independence through comprehensive therapy services and support."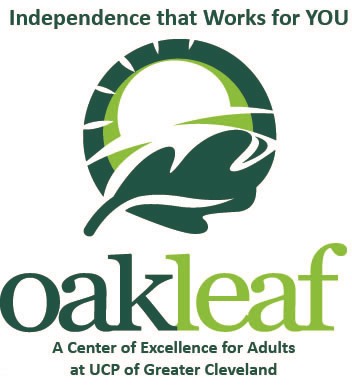 OakLeaf : Inspiration comes from qualities associated with an oak tree: strength, courage, tenacity and endurance. The leaf is where photosynthesis takes place, where trees are nourished and gets its strength.
Oakleaf brings strength, courage, tenacity and endurance to support adults with disabilities in reaching their full potential in the community and in meaningful employment. Oakleaf Partners also joins business in building a diverse workforce with quality candidates that promotes positive outcomes for the business and employee."
Over the next five months, we will be doing a soft release of the new names and logos. You will begin to see new materials, posters, brochures and banners.  These activities will culminate at a celebration for the new names during our Annual Meeting on June 16, 2016.
All of us at UCP of Greater Cleveland are excited to continue our journey under our new programming names, and look forward to the opportunity to continue to serve our clients and families.
If you have any questions about our two new Centers of Excellence, please contact Tammy Willet, Director of Development, at 216-791-8363 ext. 1228 or twillet@ucpcleveland.org.