Project SEARCH is a school-to-work transition program for students with disabilities who are in their last year of high school. After the students have finished all of their high school credits, they spend an additional year discovering their passions and learning hard and soft job skills by completing three internships, each for 10 weeks. The students receive individual guidance from their school's special education teacher and a UCP of Greater Cleveland Job Coach. The guidance lessens over time until the student is working independently. Though many students complete three internships, Project SEARCH participant Julie Tanner only needed one to impress everyone around her.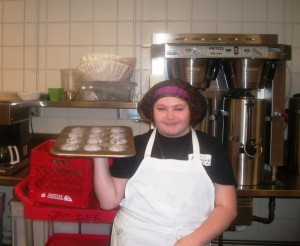 Even before Julie Tanner joined Project SEARCH in September 2014, she was demonstrating her dedication to doing all of her work with quality and enthusiasm. Julie's Project SEARCH Job Coach, Maria Stearns, got a glimpse of Julie's work ethic before they formally met, when Julie worked at Lorain County Community College's "Marketplace" for a few days through the Lorain County JVS program. The JVS program provides job training during high school. Maria remarked, "She didn't see us, but we saw how awesome her skills were and we hoped she would apply to Project SEARCH." As it turns out, Julie did join Project SEARCH and brought her infectious positivity along with her.
Julie began interning at Lorain County Community College (LCCC) working in food preparation under Executive Chef Chase Wilcox. In the kitchen, she prepares box lunches, Grab n Go snacks, salads and sandwiches, and bakes cookies and muffins. Her favorite part of the job is learning all of the different techniques from Chef Chase on how to cut fruits and vegetables. As Julie's skill set has grown, she has become more than ready to take on new tasks. She is the first intern at LCCC to help grill peppers and has done so well that she now trains the new Project Search interns. Chef Chase recalled that, "She really was trying, and succeeding at doing her best at any task. She learned quickly and wanted to learn more so she didn't need to ask questions. She wanted to run her own show. She really impressed me by trying."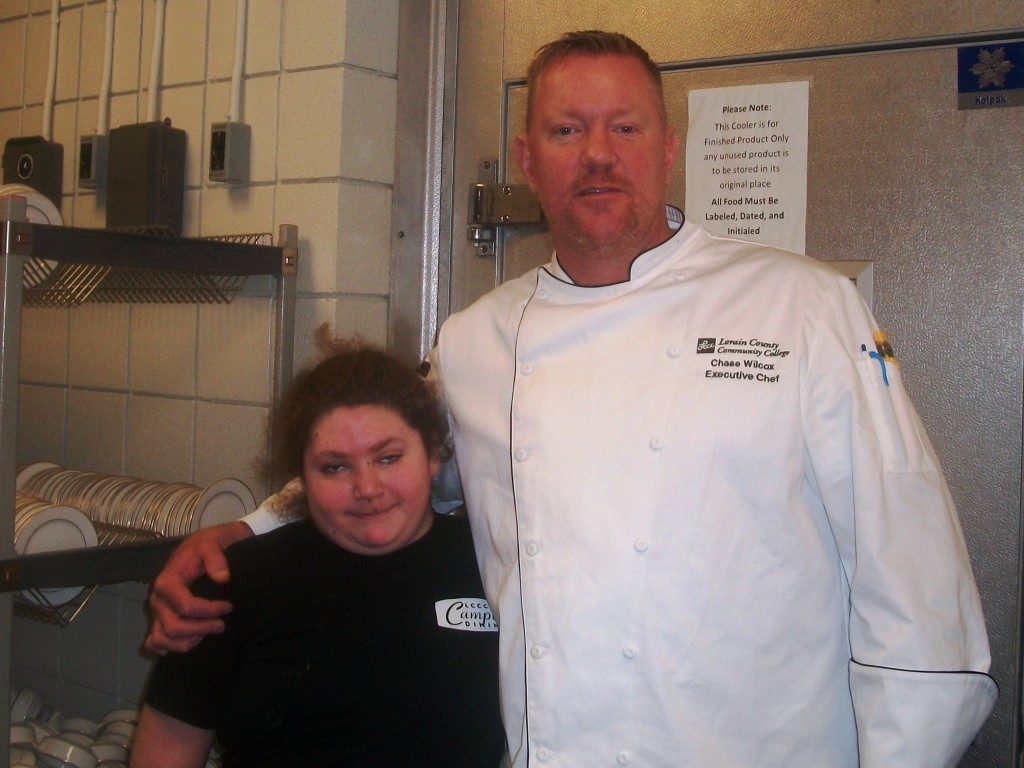 Julie continues to do well at her job even though she finds it difficult to do these tasks with a time limit, but says that she "stays focused and keeps moving." Her great work in the kitchen is just as remarkable as her fantastic attitude. All of her coworkers comment daily about how wonderful it is to work with her. Julie doesn't just have a "can-do" attitude, she has a "can-do it with a smile attitude." Chef Chase recognized this, and cited it as the main reason he hired her – and hired her quickly, as she is the first intern at LCCC to be hired so early in the program.
Julie graduated from both high school and the Project SEARCH program and continues to work at LCCC under Chef Chase. According to Chef Chase, "[Julie] is one of the hardest workers in my kitchen. She has succeeded at everything that I have thrown her. She really is proof of someone with a disability not letting that get in their way." Julie has not let anything stop her from thriving in her work environment or elsewhere. In the near future, she looks forward to taking LCCC classes that center around sign language and working with children. It's Julie's positivity and talent that will carry her into her very bright future.