March 25, 2011
by: Renee Canfield
Keri Reid, Organizational Employment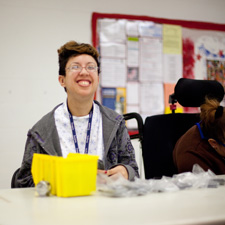 At the age of 21, Keri Reid was accepted into the Vocational Services Program at UCP. She came to UCP on that first day ready to begin work and contribute to her own livelihood! The Organizational Employment Program at UCP contracts with area businesses, allowing individuals with disabilities the opportunity to work in a safe setting with the necessary supports. Keri is legally blind and has cerebral palsy, which made this program ideal as she worked to gain more independence in herself and her abilities. Her disability has not affected Keri's ability to complete almost every job available on the work floor at UCP, including things like packaging, shredding and collating. She was also one of the first individuals to learn a new and exciting job that came to UCP – Cosmic Bobbins!
Cosmic Bobbins is a unique product line of handbags and accessories manufactured from recycled materials. Magazines, annual reports, books and other products are re-used to create one-of-a-kind items. UCP clients take thousands of magazines and other print materials and sort through the pages by like color and style which then go through the manufacturing process. The partnership between Cosmic Bobbins and UCP has been a great match, and Keri has connected with the project and thoroughly enjoyed participating.
Despite her visual impairment, UCP employees could see that Keri wanted to be a part of this unique project as part of her workday. She took to the task without a problem, sorting the papers with extreme accuracy independently or assisting individuals with different abilities to complete the job. If another client cannot physically manipulate the papers, Keri will do so for them as they correctly sort the pages, allowing more individuals to earn money as a result of this project. Individuals are paid piece rate – for each pound of sorted paper, and everyone loves this work! This is one of Keri's favorite jobs, as it is easy and allows her to make a lot of money! She is also learning how to problem solve as part of a team in a work setting. She has been dubbed 'the Cosmic Queen' and is very proud of the work she does.
Keri is building confidence at the same time as learning new skills. Her long term goal is to work in the community with children, which she is working towards by volunteering in the UCP Children's Services Department each week. She is very friendly, has a positive attitude and is always willing to help others. Keri also participates in other social skills groups at UCP, allowing her to interact with her peers and build confidence. The work opportunities and other supports at UCP have helped Keri build her confidence, preparing her for a bright future led by self-determination, independence and inclusion in the community.
---