March 25, 2011
by: Renee Canfield
Logan Green, Children's Services Therapy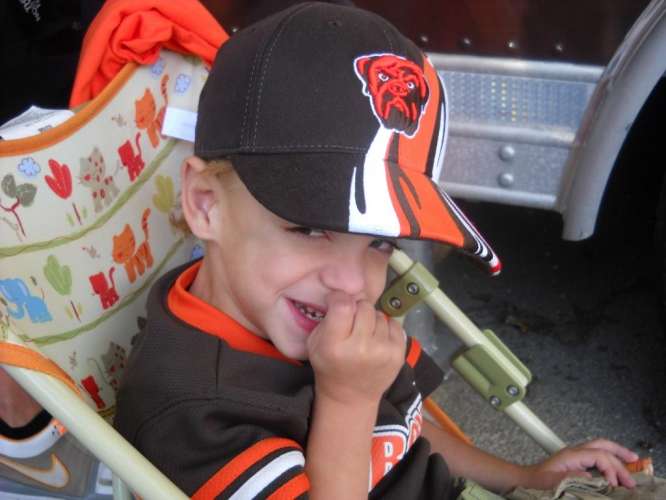 When asked to describe what UCP of Greater Cleveland means to them, many parents of children in agency programming use the word hope. This small and seemingly simple word can mean so much when you have a child with a disability, and Meghann and Lance Green credit UCP for helping bring hope back into their lives. The future seemed uncertain for their son Logan, born sixteen weeks premature at just 15 ounces and ten inches long. He spent the first six months of life in the hospital, undergoing heart and eye surgeries, coping with kidney failure and enduring endless blood transfusions and tests. He was diagnosed with Periventricular Leukamalasia and cerebral palsy and doctors predicted that, due to brain damage, Logan would never walk or talk, and that he would grow up with severe cognitive delays. Logan and his parents refused to give up.
After a year and half of traditional therapy services at a local medical institution, Logan's mom heard of UCP of Greater Cleveland through her participation in the Cleveland Triathlon. She knew that with the right tools and people, Logan could be pushed to do more – and after one visit to UCP, she knew it was worth a shot.
When he started at UCP at the age of two, Logan could not hold his head up or sit up independently, making it difficult for him to play and interact with the world around him. After his first four-week Steps to Independence intensive therapy session, Logan built up the strength to reach these milestones. Up until this point, his parents could not imagine what his true potential was; and while they were not planning to make the switch to UCP for all therapy, they decided that 'this was where he needed to be.'
After eighteen months of therapy at UCP, Logan can now move from a sitting position into a standing position without any assistance. He is able to reach for toys while keeping his balance and is crawling all over the place! Logan has built confidence and makes it clear that he WANTS to do more. His parents have even more confidence in him today as well. Logan Green is an amazingly strong, smart little boy. He is a true bookworm, loves to sing songs, take walks and blow bubbles.
Logan's parents could not be more proud of him, and everyone at UCP shares in their joy. As he develops and continues to explore the world, there is no telling just how far Logan will go.
---