May 25, 2011
by: Renee Canfield
Planning Ahead for a Restful Vacation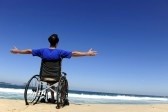 Summer vacation season is almost upon us and with it brings planning for children and adult camps, group outings, family reunions and vacations.  If you are planning to go out of town this summer, either alone or with family, here are some helpful tips and things to consider if you or a family member have a disability:
1. Accommodations
Ask what rooms are available on the first floor. If not verify that the elevators are not under repair (you don't want to know how many times people have gotten to a hotel to find it under construction or without a working elevator), Check to see if they have wheelchair accessible bathrooms and any additional equipment on site such as a shower chair for use while there.
2. Air Travel
Let the airline company know about any special accommodations you will need. Things to you might want to consider include wheelchair assistance, special meals and seating near the bathrooms.
Also think about purchasing any cancellation insurance incase you have to cancel the trip at the last moment.
3. Transportation
If you plan on renting a car while on your trip consider contacting rental companies that specialize in modified vans and cars. Check with your rental car company to what types of car seats they carry if you child requires a specialized seat (such as one with trunk support).
4. Documents
Check with your insurance company to see if you are covered in different states and or internationally.
Keep two copies of all of your documentation including emergency contact list, insurance information and credit cards. Leave one copy at home or with a loved one.
5. Medications
Make sure you will not run out of any medications while on your trip. Check with your pharmacy to see if you can re-fill from a different location in case you need to. Pack all medications in your carry-on luggage. Any liquids will need to follow airport regulations. It may also be helpful to have a note from your child's doctor in case you get questioned about the medications.
6. Clothing
Bring a full change of clothes on your carry one bag. If you child has frequent accidents you may also want to consider bring blue pads just in case.
7. Equipment
Most major attractions in the United States are ADA compliant. Call ahead to see if there is they have wheelchairs, strollers, wallkers or any other mobility equipment that you'll need. Traveling with less equipment can make the trip easier on the whole family.
8. Other things to think about
Find out what the busy times or seasons are and avoid them if you can.
If your child is sensitive to loud noises or over-stimulations make sure there are places to go to relax and regroup.
And Remember: If your itinerary is too full it can make a vacation feel like a forced march. Slow down and have fun.
Enjoy time with your family and friends–that is what it is all about!
---