June 15, 2011
by: Tammy Gibson Willet
Protecting Your Right to Vote
Even though it is not a traditional voting month, being that June falls between Memorial Day and the Fourth of July, I find that my thoughts often turns toward citizenship and civic duty during this time of year.  Voting has always been an automatic response for me, something that I do as a part of my community, an inherent RIGHT that I have as an American citizen.  I have never faced difficulties in voting, whether that could have potentially been being able to access my polling place, understanding clearly my options or being questioned on my ability to participate in voting.  In the last six years, as I have worked at organizations that support citizens with disabilities and made a great many amazing friends and coworkers with different abilities, I have been faced with the reality that not every individual has had the ease of opportunity to exercise their right to vote as a citizen of our country.
This week I have the pleasure of introducing Tim Sokol, UCP client and writer, who agreed to share his experience with voting and his strong conviction about the importance of participating in the election process.  Tim has been a client of both the UCP Independent Living and Vocational Services Programs for three years.  He loves reading and writing, especially historic fiction and mystery novels.  On most days at UCP, you can find Tim working in the on-site workshop or talking to his peers as the Client Representative for the Organizational Employment Program. Tim is pictured below accepting the 2010 Boots Fisher Memorial Award for Residential Services.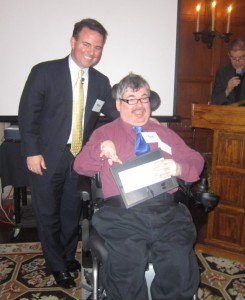 Ever since we as a Nation have established ourselves as a country we have had an electoral process.  This process has of course always been helpful when it comes to maintaining the process we now refer to as citizenship.  As citizens of every state within our nation we elect politicians and local officials not only to maintain our sense of advocacy as a nation, but to maintain this principle of individual rights when it comes to other nations in the world as well.  As a modern amateur author and citizen of this great nation of ours, I personally believe that the sentiment was once best put forth by the American Revolutionary War Hero, Patrick Henry, who stated, "Give me liberty, or give me death."
As a physically handicapped or challenged citizen, the two major challenges that I have had to face with my own ability to vote was the inaccessibility of my polling place, which was located in the parish of the church I attended as a young man.  Also once in my history as a registered voter I forgot to mail my application for an absentee ballot on time, which meant that I did not get to vote in a county election on issues that may have affected me directly.
The right to vote can of course lead to the preservation of our civil liberties, which I feel can lead to the equalization of the world's injustices.  I maintain the assertion that voting is not only a matter of civic pride, but that we as a nation should also consider voting to be a matter of civic duty as well.
Timothy M. Sokol, aka Wheels Always on the Move
 
Ohio voters with disabilities are assured the right to vote by state statute. Each polling station in Ohio must have at least one handicap accessible voting machine and wheelchair ramp for voters with physical disabilities. If you need assistance with voting you have the right to bring a person with you to help you.  If you have questions about your voting rights, or would like to submit an issue with your ability to access voting, please go to the Ohio Secretary of State website for more information on voting rights.
 
---