July 13, 2011
by: Blackbird
Team Niko Spotlight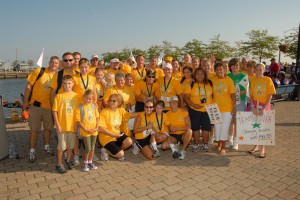 Mike and Kasia Lanzarotta realized that their son, Dominik (Niko), still had not started rolling over and sitting up at eight months old – the 'typical' milestones for his age group. After spending an emotional weekend in Rainbow Babies and Children's Hospital that included a video EEG, MRI, spinal tap and various other tests, the Lanzarotta's made a life-altering discovery – Niko had cerebral palsy.
The Lanzarotta's did not give up. They committed to making sure their son would receive everything he needed to lead the most independent and productive life possible. In 2008, they entered three year old Niko into UCP's Steps to Independence® intensive therapy program, a four week session of vigorous physical and occupational therapies. Over the past three years, Niko has participated in traditional therapy combined with with multiple 'Steps' sessions, all of which help him reach his fullest potential.
In 2010, Mike and Kasia made the decision to pursue something they had never done before – participate in the 24th Annual Cleveland Triathlon! This decision was not for the thrill of the sport, or even for the desire to get in shape. This was a way that they could show Niko that anything is possible with hard work and determination.
They created Team Niko, a group of 21 participants and 42 spectators. Together, they raised over $11,000 to support the services and programs that Niko and over 1,000 other children access to continually improve their lives.
Since he began at UCP three years ago, Niko has made tremendous progress in his development. He is now able to ride his tricycle on his own, and is able to walk with use of his walker.
Today, Niko is one of the happiest kids you will ever meet.
Mike and Kasia stated, "We are glad to have United Cerebral Palsy as a part of our lives. Not only has UCP helped Niko Change some of his Disabilities into Abilities, they are also providing a great support network for us as a family. With the help from UCP, the best grandparents in the whole world, along with the support from our families, friends and co-workers, we can provide a much brighter future for our son Niko."
---