July 19, 2011
by: Blackbird
Team Benjamin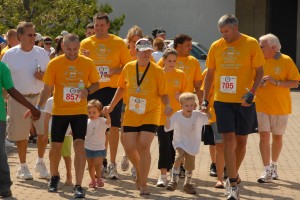 Benjamin Cox is a shining example of success in therapy at UCP of Greater Cleveland, and his family and friends are proof that almost anything is possible when you work together as a team. Ben was born with a heart defect, and during his first 18 months of life, he endured twelve surgical procedures including three open heart operations. The toll it took on his development was significant.
Ben's parents Matt and Diane did not know what the future held for their son. They had worked with various physicians and service providers throughout the area and were not seeing Ben being pushed to reach his full potential. After Ben's aunt visited UCP of Greater Cleveland on a workplace tour, they heard about UCP's intensive therapy program, Steps to Independence, and enrolled him. Within two weeks, he began crawling. From that point, he quickly began pulling himself into standing position independently.
Ben began to access traditional physical, occupational and speech/language therapy at UCP in addition to intermittent Steps to Independence sessions. He continued to progress. Inspired by their son's advancements, the Cox's decided to show Ben just how proud they were. Matt made the decision to race in the Cleveland Triathlon as a member of Team UCP. He was not a triathlete when he started out in 2008, but was excited at the prospect of pursuing his first athletic challenge to train with his son. And while he was not able to make it on the actual day of the race, he was determined to complete it. He connected with his local gym, and valiantly swam, biked and ran his way to the 'finish line.'
What was a one man team in 2008 grew leaps and bounds in 2009. Matt, Diane and Ben, along with over a dozen members of 'Team Benjamin,' completed the 23rd Annual Cleveland Triathlon. Matt pushed Ben in a stroller across the finish line, being cheered by family, friends, UCP staff and the community at large. You could easily see the joy and excitement radiating from Ben's smile as he was rolled into a crowd of his biggest supporters.
Ben continued to work hard and reach milestones, and in 2010 – he took his first steps independently! Matt, Diane and Team Benjamin celebrated this by ramping up their fundraising and awareness efforts EVEN MORE than in the past! And after four years of Ben working hard each and every day to meet his goals, the joy and excitement once again radiated from Ben's smile as he walked across the finish line amidst cheering spectators alongside family and friends.
This year, while Ben is recovering from hip surgery, Team Benjamin will be back at the Cleveland Triathlon on August 7th with all the other Team UCP families! Why do the Cox's race in the Cleveland Triathlon? As they put it, "The purpose of 'Team Benjamin' is to help raise awareness for UCP and other important organizations, and to provide parents or siblings of individuals with disabilities the educational tools that can help improve their quality of life. We hope to inspire those who deal with disabilities every day so that they can live their life and be special."
---