July 27, 2011
by: Renee Canfield
Joining the Race to Honor Clients and Employees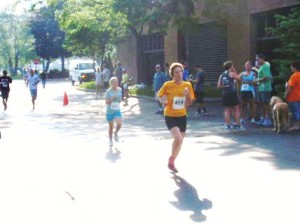 At the last three Cleveland Triathlons, I watched athletic novices, some of them parents of the children we serve, swim, bike and run…many with their children in tow for part of the race. They talked of their many hours, days, and weeks of training. I watched them cross the finish line with joy and unity with their family and friends. I saw several UCP staff in the race and was so proud of their commitment. Here they all were, doing this wonderful thing in support of UCP. Last year, I stood there thinking, "I may be in my fifties and am certainly not an athlete – and definitely not a runner, but maybe I should consider doing this next year."
I had been walking on my treadmill in my bedroom and decided to begin to pick up the pace. Between August of 2010 and now, I have progressed from walking to running, from the treadmill to my neighborhood, and from "there is no way I could do that" to "perhaps I can do this." When I showed my stepson what I would be wearing to run through the neighborhood, he responded with, "Oh my God, get in the car." He took me to Dick's Sporting Goods and helped me to pick out some running clothes.
My husband rode his bike alongside me as I ran through the neighborhood one day and commented afterward that he hated to see me walk a piece of it. I told him to encourage me NOT to walk the next time. Next time out together: he saw me waning and encouraged me to continue and I told him to mind his own business! Not only has he tolerated that but he eats a much later dinner now thanks to my training when I arrive home from work each day.
I ran a 5k with my brother, Mike, who lives out of town. He started running just a few years ago and is the one who encouraged me to get a treadmill in the first place. In fact, he taught me a trick: when on the treadmill, watch taped shows and movies to pass the time. It really is what got me started down this road.
At the end of every 5k I run, I am completely whipped. During the run when I feel I need to walk or take a break, I think of all the parents and especially their kids who have so many obstacles both physically and emotionally, and I think to myself, "oh c'mon, you can do this."
While leading this organization is a privilege and a challenge, this running thing has tested me like nothing else. I am so proud to run my leg of the relay and hope that the staff and clients of UCP will know that they inspire me to run daily and to cross the finish line on August 7th with all of the Team UCP members.
Trish Otter is President & CEO of UCP of Greater Cleveland. She has participated in two 5K runs this season and trains at least five days a week.
---