August 26, 2011
by: Tammy Gibson Willet
Adult Day Support Open House on October 19th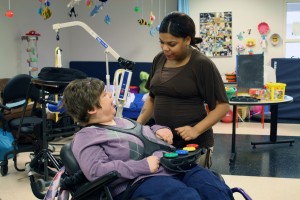 UCP of Greater Cleveland would like to invite developmental disability professionals, families, parents, guardians and potential clients to an Open House to celebrate the opening of our newest Adult Day Support Activity Room. The UCP Adult Day Support Program is designed to assist individuals with multiple and severe disabilities to acquire, improve and retain their highest potential quality of life and development. UCP has a commitment to person-centered planning which ensures that each individual receives support tailored to their individual needs.  The program offers a variety of individual and group activities such as music, art, horticulture and aqua therapies as well as community outings and social events.
The brand new Adult Day Support activity room has availability for up to twelve new individuals.  Please join us on October 19th for an opportunity to view the new activity room, tour the agency and gain information on what makes the UCP Adult Day Support Program unique.  Two sessions will be available:  11:30 am to 1:30 pm with a light lunch provided and from 5:00 to 7:00 pm with light refreshments provided. The open house will be held at the Iris S. and Bert L. Wolstein Center 10011 Eulcid Avenue Cleveland, OH 44106.   Brief information sessions will be offered at 11:30 am, 12:30 pm, 5:00 pm and 6:00 pm. For questions or to RSVP for one of the sessions, please contact Elizabeth Lashley at 216-791-8363 ext. 336 or elashley@ucpcleveland.org.  Download the flyer.
UCP of Greater Cleveland is opening our new Adult Day Support activity room in partnership with the Cuyahoga County Board of Developmental Disabilities.
---