September 9, 2011
by: Blackbird
Team Benjamin Prepares for the Columbus Marathon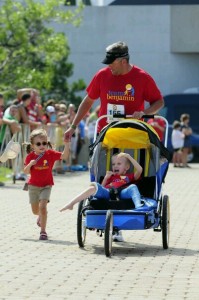 Team Benjamin will be running in the Nationwide Insurance Columbus Marathon on Sunday, October 16th 2011!   Ben's dad, Matt, will push him the entire 26.2 miles all the way to the finish line in support of UCP of Greater Cleveland and Nationwide Children's Hospital.
"We are excited about participating in the Columbus Marathon because it provides a great platform to raise awareness and funds for two great organizations – UCP of Greater Cleveland and Nationwide Children's Hospital in Columbus – that are changing the lives of hundreds of disabled children and their families," says Matt. "The money we raise from running in the marathon will help UCP and Nationwide Children's continue to provide physical and occupational therapy, medical support and other programs to children with cerebral palsy or other physical and mental disabilities."
Team Benjamin's fundraising goal for the Columbus Marathon is $50,000. Whatever total is raised will be split between UCP and Nationwide Children's.
Ben began the Steps to Independence program at UCP when he was just three years old.  At that time he was unable to sit up or eat without the use of a feeding tube. Through the intensive therapy provided by the program, Ben learned to sit up on his own and began to crawl within just a few weeks. Ben is seven years old now and has made such great progress that he is even able to stand and walk with assistance.  "The people at UCP have made a tremendous difference in our lives by greatly improving Ben's physical abilities and quality of life. Every day, Ben does things that we once thought would be impossible – simple things such as walking, holding a cup, or even pointing. Ben's progress has allowed our family to live more empowered, independent lives," says Matt. 
Everyone at UCP is very proud of Benjamin and hope that you will support him and his family as they take on the tremendous challenge of running the Columbus Marathon.  You can support Team Benjamin's efforts at the Columbus Marathon with a donation. 
Anyone wanting to join Team Benjamin at the Columbus Marathon on October 16th is encouraged to contact Ben's dad, Matt, via email at teambenjaminucp@gmail.com. 
Find out additional information about Team Benjamin, including how to create more success stories like Ben's through a donation  by going to the Team Benjamin website or on Facebook .  To go directly to Team Benjamin's Columbus Marathon donation page, click here.
---