November 3, 2011
by: Beth Lucas
Finding the Right Words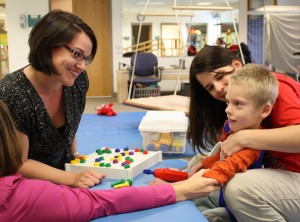 This month, as the end of year approaches, we will be focusing our blog posts on philanthropy, fundraising and ways to impact UCP and the community.  As I considered how to begin this series, I thought about the vehicles I have employed to raise dollars over the years.  I have observed and learned effective methodology from mentors, colleagues and friends throughout the years that have allowed my efforts and my career to be successful.  Yet as I considered what message would best kick-off the month, I felt there was a better way to begin.
It is common sense to me that the best development professionals are those who keep the mission of their organization in mind as motivation throughout their daily work.  Connecting and attempting to empathize with those who are served by the funds they raise (whether directly or indirectly) are primary.  The methodology and delivery are incredibly important, but over the years I have learned that they play a supporting role to mission and purpose.  I have countless times fallen into the trap of drowning in technicalities.  It is easy to do; we all work long hours and are focused on the stress of the economy, the rates of unemployment – and of course when that next gift will make its way into the agency (and where it will come from).
This happened to me just a few weeks ago as I worked to re-write our basic case for support.  I could not find just the right words on my own, so I began talking to others.  I asked the mother one of our children's therapy clients to describe UCP in one word.  She very simply replied "inspirational."  She told me that when she spreads the word about UCP to friends, family, donors and other community members, she does so thinking about the inspiring progress of her daughter, as well as the look of pride on the adult clients' faces and the sheer dedication of the employees she has encountered over the years.  For this parent, one word wrapped all of that up.
I continued to walk around our headquarters and talked with employees, with clients and even with vendors who work with us on a regular basis.  They described UCP using words like committed, close-knit, family-centered, compassionate – and even fabulous.  Partners described our employees as hard working and dedicated, and the programs were touted as innovative.  I came back to my office and stared at the long list of words provided by others.  It was a sampling of a handful of people, but the sentiments are shared by many.  And it was enough to remind me why I do what I do.
There are statistics to back all of this up – service numbers that grow each year and awards from partners agencies and accrediting bodies.  The case to support UCP of Greater Cleveland certainly lies within these, but the true motivation to be a part of the agency's story can be found within the simple words shared by others.
I am fortunate to raise dollars for a cause where I can see the impact daily within the building where I work.  I can see concrete results in the progress (and smiles) of our clients.  This is why I do what I do.  And this is the reason that I have spent years learning how to effectively acquire, manage and retain donors.  That being said, there is a lot more to development than the warm and heartfelt stories or the simple thoughts and words of those who have been impacted.  It is about balance – so as we look at the research, the techniques and the specifics throughout November, keep that in mind.
---