March 8, 2012
by: OakLeaf Services Contributor
Disability Awareness on the LCCC Campus
March is National Developmental Disabilities Awareness Month!  This month all of us at UCP and throughout the nation are celebrating the accomplishments and contributions of individuals with disabilities in our communities.  This is the first year for the Project SEARCH site at Lorain County Community College (LCCC), and the student interns are already doing a great job at putting their best foot forward, demonstrating that individuals with disabilities are just like their peers–individuals who have a great deal to share with their communities as coworkers, friends and neighbors.  Project SEARCH Site Supervisor Kali Neundorfer is our guest contributor this week, sharing her experience with the Project SEARCH interns as they not only learn new work skills, but also spread disability awareness on the LCCC campus.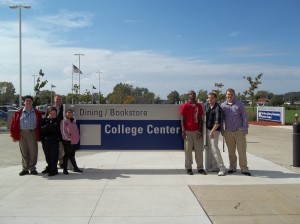 The Project SEARCH site at Lorain County Community College has seven extraordinary interns who have truly become ambassadors for people with disabilities and have promoted Disability Awareness on this campus in such a positive way. This made it very exciting for me to "guest blog" during Developmental Disability Awareness Month.
Since we are on a college campus our Project SEARCH site has a different feel than those of other sites that are located in hospitals. Hospitals, in my opinion, are places which foster an attitude of "helping", which is why the pilot Project SEARCH was started at Cincinnati Children's Hospital many years ago.  Now that Project SEARCH has grown to sites across the nation, as well as international, and moved to many other types of venues this same foundational value has morphed to fit the different business values of the specific Project SEARCH site.  At LCCC, similarly to many other collegian institutions, the attitude and value is placed in the area of "education." Inside the classroom and out,  education is clearly what this college stands for, and these interns have been educating the people of this campus in many ways about disabilities.
The internships are very visible to the students and staff on campus, this helps people see the capabilities of individuals with disabilities. The interns have made friends with people outside the departments they work in as well as within and have proven themselves as a valuable part of the workforce. They have become an undeniable asset to this college community and its employees.
The interns are working with many different and diverse departments, specifically The Office of Student Life, Starbucks, Dining Services, Physical Plant Services, The Bass Library, The Children's Learning Center, Health, Physical Education and Recreation Center and The Stocker Arts Center.  The responsibilities of the interns range from slicing vegetables for the Market Place Salad Bar to maintaining the restrooms throughout some of the buildings. The departments have accepted the interns into their culture and made them feel welcome as though they were any other new employee.  Whether they are enjoying the benefits of free drinks at Starbucks or being able to wear jeans as an employee of the Physical Plant the interns have immersed themselves in the departments.
I am so proud of all of the interns here.  They have all impressed me, their coworkers, supervisors and generally anyone they meet. They have exceeded all expectations and continue to grow, learn and improve their skills daily. They are a wonderful, caring group of individuals that LCCC and Elyria High School should be proud to call their first Project SEARCH Graduating Class.  If these interns and this experience are indicative of what the future holds for Project SEARCH, UCP, or people with disabilities on a broader scale, the future looks very bright!
Kali Neundorfer,
Site Supervisor for Project SEARCH at LCCC
The Project SEARCH location at Lorain County Community College, is a partnership between UCP of Greater Cleveland, Elyria School District, Lorain County Board of Developmental Disabilities, Ohio Bureau of Vocational Rehabilitation and LCCC.
---