April 18, 2012
by: OakLeaf Services Contributor
Adult Clients Love Working with Volunteers!
It is National Volunteer Week and the perfect time to celebrate volunteers and extend a VERY BIG "Thank you!" to everyone who shares their time and talents with UCP clients and staff.   Over the next few weeks we will be sharing volunteer stories, client appreciation and information on how YOU can get involved.   Here at UCP, we use community volunteers in a variety of different ways and we are always looking for new ways to engage both volunteers and clients together for a meaningful experience.  We have had great one day volunteer experiences with various middle school groups from Hawken School, including an adult client carnival created by the students in January each year.  We also have a few adult volunteers that have been with us on an ongoing basis conducting cooking, crafts and other weekly classes, as well as volunteers that come in for a specific project like the Cleveland Triathlon on race day.
In her role as the Activity Coordinator, Lakesha Porch comes in contact with a lot of volunteers working with adult clients at UCP.  She is taking just a moment this week to share her experience with UCP volunteers.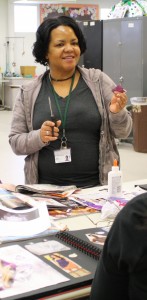 As an Activity Coordinator, I plan outings and activities for the clients at UCP. I plan these outings and activities based on what the clients like, for those who can speak for themselves and based on what I think is age appropriate and the client's personality for those who cannot speak for themselves.
I utilize volunteers to help with activities, such as playing games, reading, cooking and arts & crafts.  Volunteers also provide extra hands to move clients from place to place.  Volunteers are great to have during special events such as Christmas, The Luau and Mothers Day and do things like putting up decorations and helping with serving.
Volunteers can be a huge asset to the agency, especially with increasing the types and number of fun activities we offer clients.  Volunteers help the agency make sure that activities and outings are possible, providing the best possible quality of life for our adult clients.  With more people and hands the clients have more activities, much more fun and a great learning experience.
The clients welcome the volunteers because they know that they are about to do something different and also gives them the opportunity to socialize and to be a part of the community.   Many of the clients love meeting new people and interacting with them.  One of the ways we are looking to expand our volunteer opportunities is by having volunteers go on community-based outings with clients in our adult day support program.  This would be doing things like going to a museum or a concert.  The adult clients and staff of Vocational Services really enjoy having volunteers work with us, so if you are interested in volunteering, we would love to have you!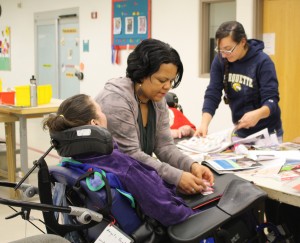 Lakesha Porch
Activities Coordinator
Vocational Services
If you are interested in volunteering with any of our adult client programs, please contact Ruth Polomsky at 216-791-8363 x232 or rpolomsky@ucpcleveland.org.  Next week we will be sharing an expanded look at the volunteer opportunities at UCP on the blog and examples of how YOU can get involved!
---