May 14, 2012
by: Renee Canfield
"Get Fit with Rose"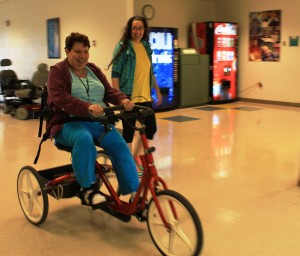 UCP of Greater Cleveland has been very lucky to have Rose D 'Angelo working with our adult clients as a part of the Jesuit Volunteer Corps for the last nine months. As a member of the JVC, Rose accepted a one year service commitment and agreed to live by four core values—simple living, social justice, community and spirituality.
Rose's position at UCP is part of partnership between UCP and Youth Challenge. She spends half of her time with Youth Challenge leading recreational activities for youth with special needs and half of her time as the Wellness Recreation Facilitator at UCP working with adult clients. Her past experiences included working with children with special needs in settings such as summer day camps and the Special Olympics, however she indicated that she loves working with the adult clients.  Adults may not be as fearless as kids, but  once they try something they usually really enjoy it.
As the Wellness Recreation Facilitator, Rose has the opportunity to get clients moving and participating in recreational activities. She swims with clients in the mornings and then does a group class the clients refer to as "Get Fit with Rose." With Rose encouraging them, clients get to ride adaptive bikes, go for walks, do chair yoga and even lift weights. It's all about getting clients moving and finding ways that they enjoy exercising. During walks, Rose may take clients outside and teach them the Spanish names of things they encounter. She talks to them about nutrition and why it is important to exercise a little bit every day.
The clients are way past their shyness now and are excited when they know it is a day Rose will be with them. Smiling, they ask, "What are we going to do today, Rose?!" They have even begun asking her for advice about what they can do at home to stay active. This spring in addition to wellness, Rose is using UCP's adaptive garden as another opportunity to get clients outside and talking about gardening, recycling and environmental issues. In the afternoons you can often find a group of clients attending "Going Green with Rose."
The clients and staff have truly enjoyed having Rose at UCP. Rose will be completing her year of service in August and moving on to graduate school to study Therapeutic Recreation and everyone, staff and clients alike, will miss her, but wish her the best. Rose's work at UCP will be continued by a new JVC volunteer starting in September.
---