July 3, 2012
by: Client Contributor
Why the Cleveland Tri?
The Cleveland Triathlon is less than five weeks away!  Team UCP members are busy training and completing their last push to raise funds to support the critical services provided to children and adults with disabilities.  In honor of Team UCP, over the next several weeks, we will be focusing on a wide variety of Team UCP members and their participation in the Cleveland Triathlon.  This week, we are very grateful to hear from Robin Muskopf, a community member participating as a part of Team UCP for the first time this year.
Why?
It's such a simple question.  Three letters.  Kids ask "why?" and they want to know the reason, plain and simple.  When you get older and you're asked "why" by a peer, they secretly want to know what level of "weird" you are.  There's always a hint of cynicism in the question.  (Well, I found that to be true of me anyway.)  When I'm asked what my profession was (I'm currently a professional mom) and answer "middle school math teacher", people automatically twist their faces and ask "why?" with a sound of disgust. They don't want to really know that I love working with numbers, following algorithms or that you can have fun with middle-schoolers.  People want to know what made me so strange–how far off I am from everyone else.
Why?  Why triathlon?  Why a sport that is a three-headed monster?  Why a sport, that when I cross the finish line, I smell as if I've been dragged through a sewer (and feel like it, too)?  Why couldn't I pick something normal like walking? Or tennis? Or underwater basket weaving?  My answer is simple.  Because triathlon not "normal". I've always enjoyed doing things that are "one click off" from others.  Sure, people swim.  Yes, lots of people bike.  Yep, many people love to run.  Not many want to do all three in one day in the blazing sunshine–in the Cleveland harbor.
But why the Cleveland Triathlon?  This requires some explanation.  I have several reasons.
It's my hometown!  I want to race in the best city EVER!  This was my motivation my first year racing in 2010.  However, my reasoning changed with that first year.  I knew UCP Cleveland was the charity of the race, but typically, (this is my opinion, remember) most charities are regulated to the background and it's just an event "to do".  That's how I assumed it was going to be.  (You know what assuming does.  Wink, wink.)  Boy, was I blown away that first year!  Team UCP and their families had representatives streaming out of the woodwork!  Racers, team cheerleaders, grandparents, siblings.   You could feel their teamwork, experience their passion, and get swept up in the emotion of what the families of UCP were accomplishing that day and in their lifetime.  This went from "just a race" on my schedule to THE RACE on my schedule.  There is an electricity here that cannot be replicated.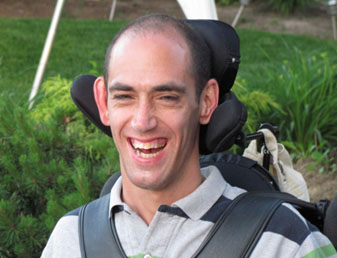 Why get involved?  My cousin, Mark, was living with CP.  The only motor control he had was limited to his left arm and some neck/facial muscles.  Life happens and we lost contact until last year when he "friended" me on Facebook.   I had many memories of doing many things with him and his four siblings when we were little.  I wanted to become involved.  However, I'm a shy soul, and hate asking people to donate to things;  I feel like I'm burdening them somehow.  The 2011 race went on as usual—participation but no involvement in UCP.  Third time's a charm.  For the 2012 race, I was determined to raise funds.  The worst people can say is "no", right?  I registered for the race, signed up to be on Team UCP, and proceeded with my daily task to check Facebook.  I learned from Mark's sisters that almost at that very moment, Mark passed away from complications.  I kicked myself for the last two years.  I was bound and determined to make this Mark's year and race in his honor.  He was such a bright light, full of love and joy for myriads of people.  I could at least do this.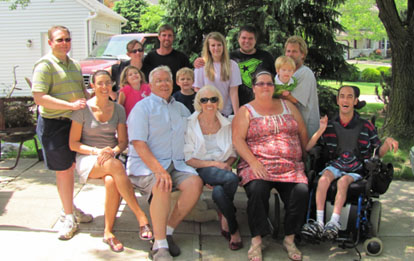 So… Why you ask?  It's not something I can describe in words.  No one would understand until they've witnessed it.  The guts, the bravery, the hard work, the struggle, the tears–the smile, joy, the victory.  I'm not just talking about the racers, but those with CP.
Are you insipired to tri?
Pictures: Robin's cousin, Mark Zehnder and Mark with his parents, siblings, and their families
(I would also like to thank Candy Cookson for the use of the pictures and heartfelt email helping me with this blog, and also to Penny Acton, for their help and humongous support through this process.)
Robin M.
---