July 25, 2012
by: Guest Contributor
Inspired to Volunteer
Anne Marie is a long-time volunteer and supporter of UCP of Greater Cleveland.  She first became involved with UCP through a friendship with a UCP employee.  After participating as a member of Team UCP as a volunteer the first year, she discovered that one of her coworkers, Greg Pajak, was a UCP parent and had a son with a disability.  Greg's son, Matt Pajak, passed away two years ago, and his family and friends still race in Matt's honor as Team Turtle.  This connection has made being a volunteer for Team UCP each year even more special for Anne Marie.  This week, she shares with us why she first became invovled and how important it has become to her.
Back in 2007, a friend who works at UCP invited me to hear Dick Hoyt speak in Cleveland.  At that point, I had not heard of him or of Team Hoyt and I was expecting a more typical inspirational speaker.
Was.  I.  Blown.  Away!
I am still amazed at what all he & his son have done – it truly is inspirational to think that one simple request from his son – who wanted to help someone else – has led that father and son team to achieve so much and inspire and support so many.  That evening, still motivated from hearing Team Hoyt's story and hearing other UCP parents speak about their participation in the next triathlon, actually doing the 'Sprint' version of the triathlon seemed possible to me.   Then reality started settling in and the 'Super Sprint' started sounding like a better idea.  More reality set in – and volunteering sounded like a great idea (I should have learned to swim with better form!) and a really good fit for me.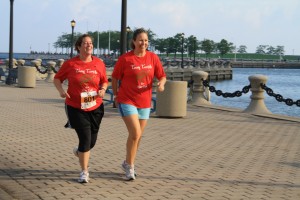 As it got closer to the date of the triathlon, I was excited to see the event – especially the families of UCP that had committed to participating.  At some point too, it was sinking in just how early I would have to get up to be there.  I am not a morning person and these are times my brain does not like to think about, "If the sun is not up, why am I?  Should I even go to sleep? – because it seems like it will be more of a nap than sleep…."  Somehow the morning of the race I did wake up and was only a little late getting to my post (people that know me know that early mornings  means I am not on time).  That first year, it rained a little bit as we were waiting for the runners, but I was so impressed once they started going by.  I was so impressed that they could participate in a triathlon and amazed by the ones that were running with their children and the ones wearing team shirts.  Those shirts showed that they were out there because someone with a disability had so touched their life, they wanted to give back.
Each year it just grows.  I still dislike the waking up to get there, but am so happy once I am there.  The number of teams keeps growing along with the number of members on each team.  I still choke up whenever I see children with a disability going by – there is so much joy and excitement on their faces – it truly is priceless.  I am still overwhelmed to see the teams and know that each person is there because they want to show love and support for their friend or family member that is affected by disability. 
It is an inspirational day – and I will keep going back each year to help.
Anne Marie
Team UCP Volunteer
You can support Anne Marie's efforts at the Cleveland Triathlon through a donation to UCP of Greater Cleveland and Team Turtle at http://www.active.com/donate/teamucp2012/mattpajak.
---