August 8, 2012
by: Tammy Gibson Willet
Transitioning Back to School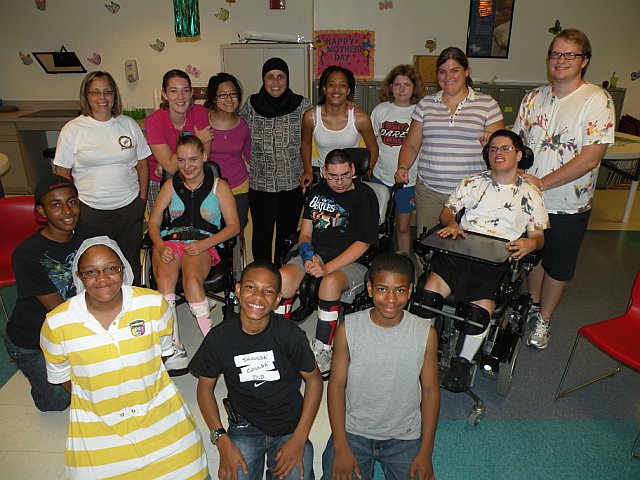 UCP Teen Group–The PAC is ready to go back to school!
The Back-to-School season for children with special needs and their parents is a dynamic time marked by excitement, anxiety, anticipation and undoubtedly-expense. And as parents, back-to-school often comes with a whole set of worries. We worry about the class work and if our children will be able to keep up. We worry about the start of homework and the battle of wills that comes with it. We worry that our children will be bullied, and if not bullied, that they won't be able to interact successfully with their peers. We are concerned about the transition and wonder if halls full of students will be too much for our children. We also worry that our kids won't be able to connect with their teachers, and hope that those teachers will understand and welcome them.
There are things that you can do to prepare yourself, your children—and their teachers—to help them have the best year possible.
Get your child excited about going back to school by talking with them about it. Be positive and listen to their concerns and excitement.
Build their confidence. Talk with your child about all of the things they learned last year and goals they met. Read age appropriate books about going back to school, making friends and meeting age-specific challenges. (See the list at the end to get started.)
Prepare your child for the routine of school—for many families, the drastic change from summer's ease to more rigid morning and bedtime routines is the most difficult part of the back to school transition. It can lead to fights, frustration, and learning losses associated with a lack of sleep. A week or two before school begins, get your child used to her school schedule. Whether that means getting back in the habit of waking up at 7:00 am and leaving the house at 8:15, or maybe practicing an evening homework-dinner-bedtime routine, working out the kinks before school starts can prevent first week emergencies.
Do a trial run. To relieve first day anxiety, try doing some trial runs in advance of the first day. If you will be dropping your child off by car, drive the route the week before, but park and walk him to his line-up spot, so he has muscle memory of the route. Obviously you can't put your child on a bus early, but walk her to the bus stop, then drive to the school and walk her from the bus drop-off to her classroom. If your child is starting middle or high school, have him walk to his locker and then to his first class, back to the locker, then to his second class, and so on. Make sure he knows his locker combination and the lunch routine. Be sure to check in with the school first to let them know you'll be doing this.
Consider skipping open house. Some schools offer a meet and greet time for students and their families to meet their teachers and see their classrooms, but for some kids this may be a sensory overloading nightmare. If your child doesn't do well with a school stuffed full of kids and their parents, see if you can make an appointment to meet the teacher at an alternate time. Chances are that the teachers and or other school staff are spending that whole pre-first day week at the school.
If your child receives specialized transportation, make sure it's arranged in advance and that your child is fully informed so that they are comfortable with it.
Research grade level standards for your state in order to prepare your child for what they will be learning in the new school year. If your child is working on a modified curriculum familiarize yourself with the differences. (Ohio standards can be found here.)
Be friendly and open with your child's teacher. Let your child's teachers know that you value their ideas and what they do, and that you want them to know that you will be their partner as an involved and committed parent.
Remain proactive and vigilant. That said your child comes first. Demonstrating that you are an involved and committed parent not only shows that you are willing to work with the teacher and school, but it also lets them know that you are ready to take action if they are noncompliant or are not meeting expectations.

Children, like adults, can learn best when they are comfortable and have the tools they need to be successful. Read your child's current IEP again and create a list of accommodations and services. Provide a copy of this list to the teacher.
Tell your child's teacher about your child. Take an extra step and photocopy your child's IEP and hand it to the teacher the first day of school.
If you have an annual IEP to be held early in the school year, make sure an assessment plan is created and signed in a timely manner.
Arrange a one-on-one parent/teacher conference early on to discuss your child's disabilities, accommodations, services and personality.
Take a deep breath, hug your child and get ready to have a great year!
Great books for tweens and teens:
http://www.anniefox.com/books/index.html
http://www.amazon.com/Owning-It-Stories-About-Disabilities/dp/0763632554
Books about teens with disabilities:
http://www.goodreads.com/shelf/show/teens-with-disabilities
http://www.disabilityworld.org/07-08_01/children/books.shtml
http://www.amazon.com/s?ie=UTF8&keywords=People%20with%20disabilities&rh=n%3A28%2Ck%3APeople%20with%20disabilities&page=1
Back to School Books:
http://www.parents-choice.org/article.cfm?art_id=166&the_page=reading_list
Books about making friends:
http://www.playdoughtoplato.com/2012/04/01/the-bff-childrens-book-list/
Books about being different:
http://www.notimeforflashcards.com/2012/04/booksaboutbeingyourself.html
Children's books on disabilities:
http://www.amazon.com/Best-Childrens-Books-on-Disability/lm/2Q14RZ7KB6IET
http://www.uwosh.edu/library/emc/Bibliographies/disabilities.pdf
http://www.amazon.com/Books-about-kids-with-disabilities/lm/1S06X72Z8SHTS
http://www.disaboom.com/children-with-disabilities/books-for-kids-with-disabilities-helping-kids-understand-disability
http://www.our-kids.org/Books/kidbook.htm
http://www.amazon.com/When-Worries-Relaxation-Children-Anxiety/dp/1931282927/ref=sr_1_3?s=books&ie=UTF8&qid=1311900254&sr=1-3#_
http://www.amazon.com/Lets-Talk-About-Needing-Attention/dp/1605772224/ref=sr_1_1?s=books&ie=UTF8&qid=1312290874&sr=1-1
http://www.amazon.com/Dustins-School-Concept-Albert-Whitman/dp/0807517410/ref=sr_1_1?s=books&ie=UTF8&qid=1312291003&sr=1-1
http://www.amazon.com/Does-Cover-Dealing-Sensory-Overload/dp/1934575461
http://www.amazon.com/gp/product/0142407097?ie=UTF8&tag=thearealist-20&linkCode=as2&camp=1789&creative=9325&creativeASIN=0142407097
---