October 10, 2012
by: Renee Canfield
National Physical Therapy Month-Get Moving!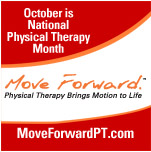 October is a busy time for UCP of Greater Cleveland!
The American Physical Therapy Association (APTA) is celebrating National Physical Therapy Month.  While we certainly celebrate the physical therapy staff at UCP of Greater Cleveland for their dedication to the families, children and adults we serve, this is also a time to promote a more broad topic that has become the APTA's brand:  "Moving Forward:  Physical Therapy Brings Motion to Life".
We encourage everyone to grab a friend, grab your family and get moving!  The fall in Northeastern Ohio is a wonderful time to go for a walk in the park or your neighborhood and enjoy the sounds and colors of fall, from the crunching of the leaves under your feet or wheels, to the vibrant yellows, oranges and reds of the leaves.  Bike around the block, go on a hay ride, pick apples, pick a pumpkin…The APTA, Centers for Disease Control (CDC), and World Health Organization (WHO) recommend that children between the ages of 6-17 participate in 60 minutes of activity daily for a healthy lifestyle.  The APTA, American Heart Association, CDC and National Center on Health, Activity and Disability (NCHAD) recommends that adults with and without physical disabilities aim for 150 minutes of vigorous activity a week.  Some children and adults have a more difficult time being active.  So grab their power chair, stroller, gait trainer, tricycle, manual chair, walker and get outside.
Treat a child and yourself when you get up and get moving with them!  For inspiration and ideas, check out Smart Moves for Families at  www.moveforewardpt.com!
---