February 25, 2013
by: Renee Canfield
Giving Back Group Kicks-off 2013 Harvest for Hunger Campaign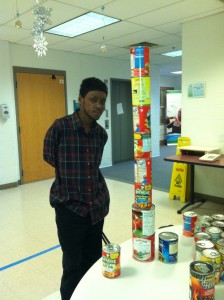 UCP's Giving Back Group will be leading the agency's Harvest for Hunger campaign again this year!  Last year, they raised over $700 and 300 lbs of food.  The group's goal this year is to raise $850 and over 300 lbs of food.  All employees and friends of UCP are welcome to join the campaign by participating in the events planned by the Giving Back Group, as well as by donating non-perishable and NON-EXPIRED food by May 3rd.  The following events are planned:
xx
xxx
xxx
xxx
xx
xx
xx
Wednesday, February 20th through Tuesday, March 6th Malley's Easter Candy Fundraiser
You can buy Malley's Easter Candy by going to our online order page at  www.malleys.com/united-cerebral-palsy-giving-back-group. You can also encourage your friends and family to order online as well!
Friday, February 22nd– Tuesday, March 12th Hunger Brown Bag
Buy a Harvest for Hunger Brown Bag with money you would normally spend on lunch and join your coworkers by "Brown Bagging It" on Wednesday March 13th.  Employees can see Teresa H., Zalman D. or Kim B. to purchase your brown bag.
Thursdays March 21st & 28th and April 4th and 11th Bake Sales
Stop by the UCP client lunch room and buy delicious baked goods for breakfast and snacks!
Friday, May 3rd at 11:30 a.m. UCP Potluck/ CookOff
Prepare your best dish and compete in one or all three categories:  Best Appetizer/Salad,  Best Entrée, and Best Dessert.  Employees and guests can pay $5 to taste and judge the cook-off the day of the event.
---