April 8, 2013
by: Renee Canfield
Charles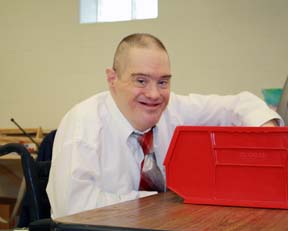 Fifty-year old Charles has come a long way in the last few years. About five years ago, Charles lost his mother, who was also his primary caregiver. The stress of losing a parent was very hard on Charles. But it was made even more difficult by the fact that Charles has down syndrome and he had lived with his mom for his entire life.
After enduring the loss, Charles' niece became his guardian. This meant that Charles had to move from West Virginia to Cleveland, Ohio. He then faced the very difficult decision of whether to live with his family or become more independent and move into a home on his own.  Charles, well admired for his positive attitude and strength of character, decided along with his niece, that the best situation for him would be to live more independently. So in November 2012, Charles moved out on his own for the first time, into one of UCP's Group Homes, Memphis House.
Since his move to Memphis House, Charles has adjusted to living with adult roommates and made friends quickly. He has adapted to a more structured daily routine and even goes to work five days a week at the UCP Organizational Employment Workshop.  He has increasingly become more social and loves going out to dinner and the movies with his roommates. Just this last week he was making everyone on the work floor in the UCP workshop smile and laugh by dancing to Michael Jackson during a break.
Despite all of the difficult transitions over the last few years, Charles continues to demonstrate courage, tenacity, optimism and an extremely positive attitude. It also comes as no surprise that he brings great joy to his housemates and coworkers because of his sense of humor and caring attitude. Charles is an inspiration to many others that are going through similar challenges and reminds us all that you are never too old to work toward greater independence and productivity or to become an active part of the community.
---