May 28, 2013
by: Renee Canfield
Summer Fun
This post was originally shared last year, but has been updated with information on summer fun for 2013.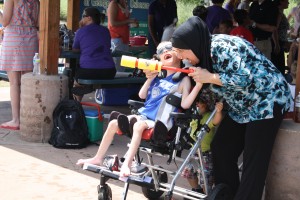 Summer is already here, can you believe it!?  We are all looking for fun activities for our families and kids.  So get out the sunscreen and let's get started! Cleveland is full of opportunities for art, music, adaptive sports, day camps and even overnight camps. Here are a few local resources to help you with your search.
Preston's Hope (Helping Others Play & Enjoy)
Description: The largest fully accessible playground park in Northeast Ohio where children of all abilities can play together. FREE and Open to the Public
Location: 26001 South Woodland Road, Beachwood, OH 44122
Contact: info@prestonshope.com
Friendship in Teams (FIT) Social Communication,Western Reserve Speech and Language Parners,
Location: Beachwood
Contact: 216-292-7370 *Asperger only or http://friendshipinteams.com/
Funutation Tekademy Computer Technology Camp
Description: This program teaches children from the ages of 6-14 different computer skills. *Aspergers only*
Location: 24700 Chagrin Road, Suite 201A in Beachwood, OH 44122
Contact: Michelle Connor, (216) 236-3336 or info@abaoutreachservices.com
Help Foundation
Description: This organizations offers support to those who have a family member with special needs, as well as offers supported living programs.
Location: Beachwood Residence Inn Conference Center, 3628 Park East Drive, Beachwood, OH 44122
Contact: (216) 432-4810
ID Tech Camp
Description: One weekday or overnight camps for kids from the ages of 7-17 who will be given the opportunity to learn about video game design, web design, game modding and programming programs
Location: Case Western Reserve, among many other locations
Contact: (888) 709-8324
Middleburg Early Education Center Summer Speech Camp
Description: Children from the ages of 18mo- 6 years old attend classes in order to gain speech-language therapy.
Location: 7171 Pearl Road, Middleburg Hts., OH 44130
Contact: (440) 888-9922
Monarch Summer Social Language Program
Description: This program offers an array of comprehensive programs for individuals ages 3-22.
Location: 22001 Fairmount Blvd, Cleveland, OH 44118
Contact: (216) 320-8945
S.M.I.L.E. Summer Camp (Special Memories Include Laughter & Enrichment Summer Camp) facilitated by Holly Reimann, MA, CCC-SLP
Description: This is a therapeutic program developed specifically for children with disabilities to provide them with a fun and interactive way to develop social skills and communication.
Location: 8848 Commons Blvd., Suite 101 in Twinsburg, OH 44087
Contact: local, (440) 424-5841 or toll free, (888) 497-8885
Summer Speech Programs/ Therapeutic Services/ Cleveland Hearing and Speech Center
Description: The center strives to aid and empower those with communication disabilities and raise awareness about the sensitivity of hearing loss, deafness, and speech-language literacy issues.
Location: 11635 Euclid Avenue, Cleveland, OH 44106
Contact: (216) 231-8787
Academic and Fun Fitness Summer Camp
Description: At this camp, instructors and aids use different types of games and systematic instruction to improve basic learning skills in kids with learning differences.
Location: 31300 Solon Road, Suite 1 in Solon, OH 44139
Contact: (440) 914-0200 or info@northcoasted.com
Dancing Wheels Dance Company
Description: Through weekly in-studio classes and community outreach programs, The School of Dancing Wheels uses movement and performance in a unique approach to education and therapy. Individuals who previously found limited access to the arts due to physical, sensory, or developmental disabilities will enjoy inclusive dance and participatory learning with their disabled and non-disabled peers..
Location: Cleveland, OH
Contact: 216.432.0306
"Music As Therapy for Autistic Children" – A Helpful Introduction
Center for Therapy Through the Arts-The Arts Studio
Description: In the safe, creative space of the studio, a person is invited, guided and encouraged by the highly trained, credentialed art therapist to rediscover him or herself through the art making process.
Location: 12200 Fairhill Road, Cleveland, OH 44120
Contact: (216) 791-9303
Creative Arts Therapies at the Beck Center for the Arts
Description: Theater, Art and music programs; including the Creative Art Therapies program for individuals with disabilities.
Location: 17801 Detroit Avenue, Lakewood, OH 44107
http://www.beckcenter.org/what-we-do/arts-education/creative-arts-therapies/
Contact: (216) 521-2540
Fine Arts Association
Description: Our mission is to enhance lives through arts education, performance and advocacy. We reach out to the community, soliciting their needs and incorporating them into our curriculum and our performance season.
Location: 38660 Mentor Avenue, Willoughby, OH 44094
Contact: (440) 951-7500
Mousikotherapeia Music Therapy, Lyndhurst 216-291-4072
Cleveland Music School Settlement
Description: The purpose of the organization, as stated in the articles of incorporation, were to make musical instruction possible for all by offering to both children and wage earners – unable to pay studio fees – the best instruction, at a modest price; to provide scholarships for talented pupils who were not able to pay for lessons; to stimulate a love for music, and to become a factor in the musical life of the city.
Location: 11125 Magnolia Drive, Cleveland, OH 44106
Contact: (216) 421-5806
Premier Music Therapy Services, LLC, Westlake (440) 221-4497
Music Therapy Enrichment Center, Inc
Description: Each Music Therapist aims to consider all aspects of their clients' lives, and strives to work closely with all others involved in the individual's care and treatment.
Location: 29160 Center Ridge Road , Suite B, Westlake, OH 44145
Contact: (440) 250-0091 or alane@mtecincorporated.com
Music Therapy Individual Sessions
Description: Individual sessions
Location: Medina, OH
Contact: Leslie Meadows, (330) 421-3644
Pediatric Neuropsychology Center/ Rainbow Babies
Description: Both art therapy and music therapy reinforce the value of family interaction, and support the health needs of the child's mind and body.
Location: Cleveland, OH 
Contact: (216) 844-3230
Royalton Music Center
Description: Our store currently offers private sessions for all interested parties. Each session is designed for the individual and is based on their needs. Goals may address communication, social skills, and academic, psychological and physical needs.
Location: 10167 Royalton Road Suite A, North Royalton, OH 44133
Contact : (440) 237-9400
Ursuline ArtSpace
Description: The Ursuline Art Space Program, initiated by the Ursuline Sisters of Cleveland, offers year-round studio art sessions for children, teens, and adults, in collaboration with community artists and professionally credentialed art therapists.
Location: 2600 Lander Road , Pepper Pike, OH 44124
Contact: (440) 449-1200 ext. 285
Achievement Centers for Children, Adapted Aquatics Program
Description: Each child receives individualized, progressive strategies that make learning achievable, sensory integrative and fun.
Location: 24211 Center Ridge Road – Westlake, OH 44145
Contact: (440) 250-2520
Adaptive Swimming,
Location: Middleburg Heights
Contact: Karen Kashalk at 440-816-4208
Life Center Plus: Adapted Swim Program
Description: Our SPLASH swim lessons are for children and teens with mental and physical disabilities.
Location: 5133 Darrow Road, Hudson, OH 44236
Contact: Beth Lattime, ebethann@yahoo.com or Hudson (330) 655-2377 ext.156 or Strongsville (440) 580-3260 ext.5296
Download Hudson Program – Download Strongsville Program
American Bouncers for children with special needs/ASD, Bedford Heights 440-439-2805 or Download Flyer
All-Star Training Club's Summer Academic Sports camp
Description: See brochure here
Location: Akron , OH
Contact: Dan, (330) 352-5602
Weekly from June 23rd to August 1, Akron 330-352-5602
ASK (Adaptive Sports for Kids with Disabilities)
Location:  Middleburg Heights
Contact: 216-433-0811
Challenger Baseball
Description: Little League baseball
Location: 1712 E. Royalton Road , Broadview Heights, OH 44147
Contact: (440) 526-0394 or jamescipriani@sbcglobal.net
Challenger Baseball- Greater Cleveland East Side 216-297-0420
Cleveland State University/Recreation Services
Description: Private and semi-private lessons available for children with special needs.
Location: 2420 Chester Avenue, Cleveland, OH 44115
Contact: (216) 802-3200 or recreation@csuohio.edu
CYO Recreation Respite Program (MR/DD)
Description: This program allows persons with disabilities to enjoy structured activities while families receive a much-needed break from care.
Location: Akron, OH
Contact: (330) 762-2961
Equine Adventure Club
Description: Students of all ages come to us with diverse backgrounds and ability levels. Whether they have physical, cognitive, sensory or emotional disabilities, they benefit from riding, driving or working with the horses at our center.
Location: Fieldstone Farm Therapeutic Riding Center, Chagrin Falls, Ohio 44023
Contact: (440) 708-0013, ext. 128
Michelle Star Yoga -Inside Out Yoga
Description: Yoga, Yoga Therapy, Yoga/meditation for artistic, sensitives/Indigo adults and Children with special needs, able children, adults and Seniors, all to bring peace to the world… one person at a time.
Location: Cleveland, OH
Contact: (216) 789-3765
Insight Learning & Wellness Center:
Description: Therapeutic Martial Arts for ages 3-21, Social Skills Groups for ages 6-18 for pragmatic language & friendship skills, Therapeutic Yoga for ages 9-19
Location: 25901 Emery Road , Cleveland, OH 44128
Contact: 216.765.4470 or info@insight-wellness.com
**Autism Scholarship
JAF's Therapy In Motion
Description: Therapeutic horseback riding program with a wide range of services tailored to suit children and teens with special needs from age 3 to 18.
Location: 5730 Lafayette Road, Medina, OH 44256
Contact: Judy Fox, (330) 722-2415 or jafsfarm@aol.com
Middleburg Heights Community Center FREE special needs aerobic classes, Middleburg Hts 440-234-2255
Powers Therapeutic Martial Arts Program
Description: Our special needs therapeutic martial arts program was formulated from Isshinryu Karate and it will enhance many of the lessons students learn in physical and occupational therapy such as: balance, coordination, and development of fine and gross motor skills.
Location: 34425 Lorain Road #3, North Ridgeville, OH 44039
Contact: (440) 327-3688
Soap Box Derby Racing Special Needs
Description: Each Special Division Driver is assigned an experienced driver as a co-pilot. The racer is able to participate in the driving of the car to his/her own abilities.
Location: 38567 Misty Meadow Trail, North Ridgeville, OH 44039
Contact: Beth Federico at (216) 661-7933 or befus1@ameritech.net

Soar! Sports Opportunities & Active Recreation
Description: The program is committed to helping each and every participant maximize their opportunities for personal growth and accomplishment through a variety of activities, each conducted in a safe, cheerful and positive environment.
Location: West Shore, West Park and Ridgewood branch locations, Cleveland, OH
Contact: Scott Montgomery, (440) 327-6454
Special Olympics of Ohio
Description: The mission of Special Olympics Ohio is to provide year-round sports training and competition opportunities for children and adults with intellectual disabilities.
Location: Ohio locations
Contact: Cuyahoga/Geauga/Lake/Lorain – Jeff, clevspoly@aol.com; Medina/Portage/Stark/Summit/Wayne – Ron, leonardr@starkmrdd.org
Summer Martial Arts
Location: Westlake
Contact: 440-892-2529
Summit Academy Schools-Therapeutic Martial Arts & Activity Program
Location: Akron/Canton
Contact: 800-442-5753
Valley Riding Program
Description: Therapeutic Riding is more than just sitting on a horse. The movements and shape of the horse allow tight, spastic muscles to relax to improve posture and balance. The horse can lend its strength and abilities to the rider. Therapeutic instruction improves eye/hand coordination, spatial relations, and an understanding of direction of varying complexity.
Location: Cleveland, OH
Contact: (216) 267-2525 or http://valleyriding.org/
ASGC Summer Social Skills Camp, Jim Wotowiec (216) 407-0139 or Eileen Hawkins (216) 524-0424
City of Independence Park
July 8 through July 13, 2013 ages 3 through 12
July 15 through July 19, 2013 ages 13 through 19
Building Behaviors Day Treatment Camp (Inner Health Ministries Child Center)
Description: We will be hosting our annual day treatment camp this summer for youth (ages 6-14) with pervasive developmental disorders (high functioning autism, Asperger's, PDD-NOS) and disruptive behavior disorders.  Kids will be exposed to educational classes that teach positive mental, physical, social, behavioral, and spiritual health through sports, art activities, music, relationship building, and more.
Location: Cleveland, OH
Contact: (216)-539-8202
Camp Can Do
Description: Our eight-week program is geared toward educating youth on a variety of positive and socially appropriate pursuits, as well as providing a high level of supervision for fun summer activities. Camp-Can-Do campers will participate in adapted recreational activities like art, music, reading, language skills, speech, socialization, swimming, field trips and special events.
Location: Cleveland, OH
Contact: (216)529-4081
Camp Happiness Day Camp
Description: This camp for children and young adults ages 5-21 is a fantastic 5 day a week program, with a staff ratio of 1 staff for every 4 campers as appropriate. Programming is based on parent input and the individual needs of the campers as stated in that person's IEP.  Recreational, social and educational activities are planned accordingly. Program activities are designed to allow individuals a chance to participate to the best of their ability as they develop skills learned in school.
Location: Cleveland Ohio
Contact: 216-334-2964
Camp L.U.C.K.Y. /Language Unlocks Communication for Kids- Yes!
Location: Fairview Park
Contact: 440-895-1309
Camp "Progress"
Description: A 6 week (Thursday's 10:00 am to 1:00 pm) summer program packed with exciting activities for children ages 3 to 6 diagnosed with developmental disabilities. A focused weekly community theme enhances your child's development in speech/language, gross and fine motor, and social skills.  Each child is paired with a trained volunteer who guides your child through the daily activities.
Location: Amherst
Contact: 440-984-2416, http://www.cdcamherst.org/
Champ Camp Day Camp / Achievement Center for Children
Description: We are an inclusive day camp for children with and without special needs who are post-Kindergarten age. Champ Camp features a variety of daily activities, including music, arts & crafts, and nature study. Campers also enjoy special guest performers throughout the summer.
Location: Highland Hills and Westlake, Ohio
Contact: (440)-238-6200.
Cheerful Days Day Camp / Camp Cheerful
Description: Now, children ages 5 and older with and without special needs can enjoy all that Camp Cheerful has to offer in a day camp setting! Cheerful Days includes all the activities of the traditional camp sessions, including swimming, horseback riding, archery, nature study, sports, canoeing and much more.
Location: Strongsville, OH
Contact: (440)-238-6200
Connect with Hattie's Friends
Description: We bring typically developing children from area communities together with the children at Hattie Larlham. This integrated atmosphere creates social bonds that dispel myths about disabilities. Daily activities include disability awareness and inclusion lessons and educational games and programs. 
Location: Mantua, OH
Contact: (330) 274-2272 ext. 3102
Sensational Day Camp / Camp Cheerful
Description: Our program is designed for school-aged children (post-Kindergarten) who are diagnosed with autism, PDD, PDD-NOS and Asperger's Disorder. Each week will include one hour of occupational therapy, one hour of speech therapy, two hours of therapeutic horseback riding and activities designed to further the goals of campers' Individualized Education Programs (IEPs).
Location: Strongsville, OH 
Contact: (440)-238-6200 ext. 222
STOP Program / Lakewood Community Recreation & Education
Description: This eight-week program is geared toward educating youth with special needs ages 14 to 22 on a variety of positive and socially appropriate pursuits, as well as providing a high level of supervision for fun summer activities. Campers will participate in a variety of experiences such as swimming, travel training, art, music, language arts, socialization, daily living skills, field trips, and special events.
Location: Cleveland, OH
Contact: (216)-529-4081
Camp Cheerful Camp
Description: Children and adults with disabilities participate in a variety of recreational activities that encourage confidence and independence, and create opportunities for lifelong friendships while having fun and improving their quality of life. Campers enjoy all the traditional camp activities including: hiking, swimming, fishing, canoeing, arts and crafts, nature study activities, games, campfire activities, music and sports.
Location: Cleveland, OH
Contact: (440) 238-6200 or tim.fox@achievementctrs.org
Camp Echoing Hills
Description: Campers reach beyond their limitations through participation in dozens of fun and therapeutic programs including swimming, horseback riding, fishing, archery, team sports, arts and crafts, a nature program, and much more. Our staff is well trained to care for our special campers with a staff ratio of better than one to three, so you can expect a safe, nurturing environment.
Location: Warsaw, Ohio
Contact: 1-(800)-419-6513
Camp Paradise Island Resident Camp
Description: We offer 2 weeks of themed vacations for school age youth with and without developmental disabilities and 6 weeks of themed vacation for adults with developmental disabilities during the summer months.  Both day and residential camp is available.  Campers enjoy swimming, crafts, indoor and outdoor games and theme related activities.
Location: Seville, OH
Contact: (330)-722-1900 ext. 165 or 1-(877)-546-8568 ext. 165
Extreme Sports Camp
Description: People with ASD can perform athletics at a high level when specialized approaches are used that leverage strengths and are intrinsically motivating – like kayaking and skiing! We utilize the latest techniques in autism and has developed many cutting edge approaches of its own. We offer advanced, rigorous, and age-appropriate physical activities which truly challenge our participants, providing a rewarding and successful experience.
Location: Aspen, Colorado
Contact: (970)-927-3143
Nuhop
Description: Through application questionnaires and pre-camp conferences, we can plan individualized programs to meet the needs of each camper. Unlike camps that ask youngsters to fit the mold of a pre-determined curriculum, Nuhop is whatever its campers need it to be.
Location: Perrysville, Ohio
Contact: (419) 938-7151
Operation Adventure ( Cuyahoga Valley National Park)
Description: We give children with ASD an opportunity to engage with others who are similar in age and interests to themselves, providing opportunities for adventure and exploration of new and sometimes challenging activities. By structuring the environment with supports that provide for their needs and utilize campers' strengths and build their skills, camp experiences can positively impact a child.
Location: Peninsula, OH
Contact: (614) 410-0321
Recreation Unlimited Residential Summer Camp
Description: We provide a full schedule of activities, lodging, meals and snacks, counselors, program leaders, on-site nursing and a great environment for fun! Examples of program activities during the summer are swimming, fishing, canoeing, climbing, sports, archery, creekin', nature exploration, arts and crafts, cooking, theater, campfire, dancing and more!
Location: Ashley, OH
Contact: (740) 548-7006
Rotary Camp for Children with Special Needs
Description: We offer children and adults with disabilities, the opportunity to experience all the friendship, fun and excitement of camp. Akron Rotary Camp is American Camp Association (ACA) accredited and provides a nurturing and enriching atmosphere where campers develop relationships, skills and memories that will last a lifetime.
Location: Akron, OH
Contact: (330)376-1335
Youth Opportunities
Description: Youth Challenge brings together children with physical disabilities and youth volunteers who enrich each other's lives through one-on-one participation in adapted sports and recreational activities.
Location: Cleveland, OH
Contact: 440-892-1001  or cgarr@youthchallengesports.com
Need more ideas?  Please check out the 2013 Summer and Beyond Activities Listing created by the Education Service Center for Children with Special Needs.
---