July 24, 2013
by: Guest Contributor
Team Scott is Inspired to TRI!
It is hard to believe that the Cleveland Triathlon is less than two week away! Team UCP members are busy training and completing their last push to raise funds that support critical UCP programming. This week, we are very grateful to hear from Lisa Sweany, a founding member of Team Scott, who will be competing for the first time this year.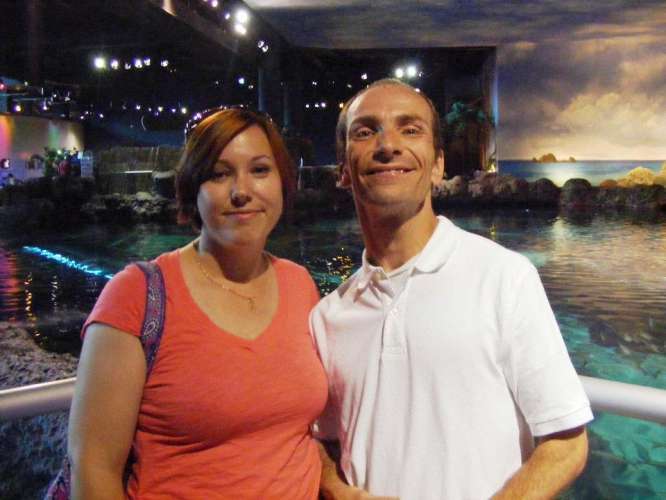 I am by no means a triathlete. I am just barely a runner and I'm afraid of water. So what in the world would lead me to do a triathlon? I started out looking for a 5k to run when I found the "Race to Empower." I immediately signed up and started a fundraising page. Although I had never been involved with UCP of Greater Cleveland, it is a cause close to my heart as my big brother Scott has Cerebral Palsy.
While on the UCP website, I found a link to the Cleveland Triathlon and my wheels started turning. Could I really do this? Could I find people to do this with me? If I can watch Scott on a daily basis conquer his obstacles, then the answer is most definitely YES! So, Team Scott was born. It amazed me how readily people were willing to join our team. Some joined to complete the triathlon with us, and others just to help wherever they were needed. How amazing to be a part of something so much bigger than we are.
Scott is such an inspiration to our family. He has even inspired my children to complete the kid's triathlon. Training hasn't been easy. Lessons learning to swim with my face in the water have been my biggest struggle. Team Scott will be completing the sprint distance at our first year in the Cleveland Triathlon. We have made many new friends, and learned ways to push ourselves and our teammates out of our comfort zones.
Seeing Scott's strength, determination, and unfailing faith is reason enough to push myself to the absolute limit. Every training session I tell myself that Scott will be waiting to cross the finish line with me on race day. What an incredible journey this has been so far. We look forward to many more years of being part of Team UCP.
Lisa Sweany
Team Scott
If you would like to support Team Scott and UCP of Greater Cleveland, please make a donation on their Cleveland Triathlon fundraising page at http://www.active.com/donate/teamucp2013/TeamScott.
---