August 12, 2013
by: Renee Canfield
Julia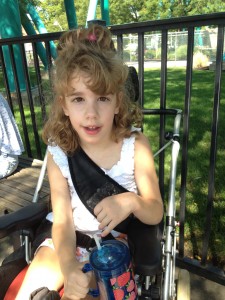 When people meet Julia for the first time, it is difficult for them to imagine that when Julia first came to UCP of Greater Cleveland at age one, she could not pull herself up and was unable to sit up or crawl. At six months old, Julia was diagnosed with Dandy Walker Syndrome and cerebral palsy. Her parents looked for options in the community for therapy and support, and decided to enroll Julia in both traditional therapy and the intensive Steps to Independence program at UCP of Greater Cleveland. She made great progress at UCP, and by the age of five Julia had achieved a very important milestone, learning to walk with her walker.
Julia is now a very vibrant and active-eight-year old! She continues to work hard in therapy on her physical challenges and surprises her family every single day with her cognitive skills and ability to communicate more effectively. She has an amazing sense of humor and loves making her family laugh with her one-liner jokes.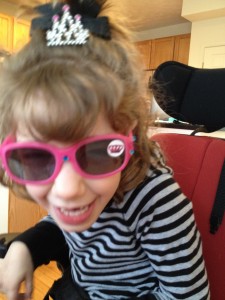 During her physical and occupational therapy this year, Julia was able to meet her physical goals of standing up from a sitting position by herself and balancing unassisted for ten seconds. She continues to steadily improve and her strength continues to grow. This summer Julia is working on being able to bear more weight with her arms and improve her core strength. Every goal Julia meets moves her toward greater independence and a higher quality of life for her and her family. Julia's mom, Kristen noted, "UCP is so supportive in their therapy methods and resources. We continue to work together to help Julia develop, grow and strengthen her weaknesses."
Julia and her family have a very busy summer schedule. Julia loves any kind of social activity and can often be seen cheering on her brother at his soccer games or riding horses at horse therapy. She also loves to swim and dance and participates in lots of fun activities as a part of Youth Challenge, a nonprofit organization promoting recreational activities for youth with disabilities. And to top it all off, Julia and her family are also training to participate in the Cleveland Triathlon as a part of Team UCP for the sixth year in a row! The family loves doing the triathlon together and feels the best thing about the triathlon is all of the different people, friends and families coming together for a greater purpose. The lesson of selflessness and determination over the long haul is motivating. "Life isn't a sprint, it's a marathon." No words could be truer when raising and loving a child with special needs.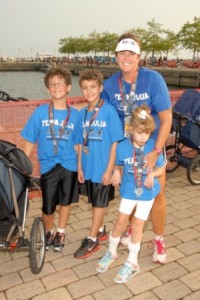 Training this year has been especially bumpy. The family lost Kristen's mom, Diane, who was a cornerstone of not only Team Julia, but of their family. They know that doing the triathlon this year will be a very emotional day, but also know in their hearts that Diane would not want them to miss out on Team Julia racing and finishing the race together with Julia. Be on the lookout for Julia, her parents Kristen and Jeff, and her brother as they cross the finish line on August 4th. Julia will be the one with the big smile on her face!
Support Team Julia as they work hard to cross the finish line! A donation can be made to UCP of Greater Cleveland and Team Julia at: http://www.active.com/donate/teamucp2013/teamjulia
---